Playboi Carti and the New Rockstar: Hedonism in Sound
"F**k that mumblin' sh*t, f**k that mumblin' sh*t, / Bought that crib for my mama off that mumblin' sh*t."
In the wake of Tyler, the Creator's anticipated album release Igor, perhaps one of the most stand-out features was Playboi Carti's verse on the track "Earfquake" (currently the most popular song on Tyler's Spotify page).  Employing his signature atmospheric, airy, melodic delivery, Carti blends perfectly with Tyler's heavily synth-based production, his pseudo-falsetto vocals (dubbed by fans as "Baby Carti") contrasting with the hard hitting percussion , embodying the juxtaposition of fairly despondent topical matter with saccharine upbeat melodies that permeate Igor.  
The collab comes as a surprise to many--Carti, for all his mainstream appeal, has largely been disregarded as a "mumble rapper", a sweeping term used to describe the vast majority of up-and-coming hip hop artists who found their success on smaller online streaming platforms such as Soundcloud, characterized for the most part as devoid of substance, with repetitive shallow content and a lack of musical ability, usually put in contrast with older established rappers that some, having grown up with their music, hold as the gold standard.  Yet here he collaborates with Grammy nominee Tyler, the Creator, who had recently made a drastic change in public identity, shifting from his older days as the edgy rebellious rapper with shock-value lyrics to an open, introspective, "serious" (for whatever meaning that term holds) artist, coming off the release of 2017's Flower Boy, a jazzy, romantic project in which Tyler reveals a more candid vulnerability, especially regarding his sexuality.  This feature is not the first of its kind--Playboi Carti had also recently collaborated with Grammy-winning RnB artist Solange, again to much popular and critical acclaim (with their song, "Almeda", also currently being the most popular track on Solange's Spotify page).
So, who is Playboi Carti? How can someone criticized so often for his inability to infuse his music with meaning sought after by artists viewed as more prestigious and creating what these same critics consider to be "real" art?  The answer lies within the criticism--it is not an inability to portray meaning that plagues the young artist.  It is his intent to portray the lifestyle he embodies throughout his music, and he is perhaps the best artist of this generation to perfectly achieve such a feat.  His rap delivery does not exist solely within the realm of rhythmic flow and wordplay--standards imposed by the traditions of rap.  His main weapon of choice is his unique cadence, an intentional slurring of lyrics closer to the beautifully unintelligible melodic vocalizations at the outro of Kanye West's magnum opus "Runaway" than the clearer, more focused punchlines and bar deliveries of contemporaries like A$AP Rocky.  He comes more from the school of Travis Scott and other self-proclaimed punk enthusiasts, emphasizing the delivery of meaning through sound over verse.  His live performances echo this mentality, more akin to a DJ blasting music at a nightclub than a more traditional concert.  Atmosphere is the name of Carti's game, and for good reasons.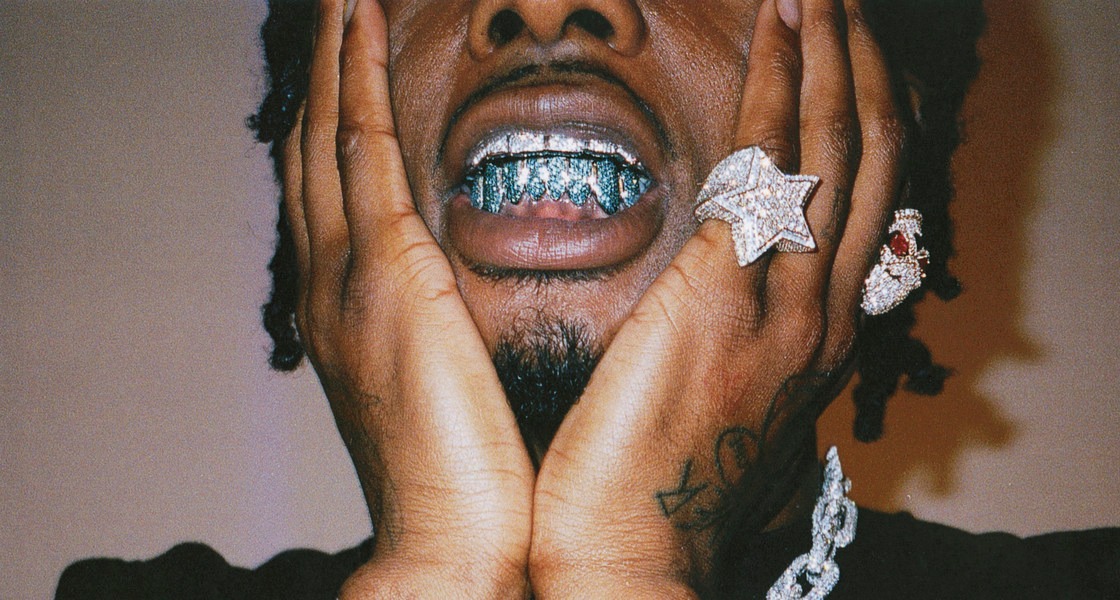 Art comes from life experience, and Carti's life experience is sheer sensory overload.  At only the age of 22, Carti is a high school dropout who abandoned education to pursue music and now boasts millions of monthly listens and followers on Spotify alone, a career in high fashion modeling, and a rabid fanbase that consumes every loose track that comes leaking through the internet before it's even released (as when, most notably, Carti performed the unreleased song Neon and could only respond in disbelief as his audience sang along word for word, the masses having played it endlessly on repeat before it even officially debuted).  Carti is the epitome of the modern artist in the digital era, a rapidly fluctuating network of clout and content able to wrench even the most niche and obscure of sounds into the limelight through the viral nature of social media. 
Our world is one of sensory overload--a constant bombardment of information and news, our fleeting attention spans scanning through an endless myriad of names and faces for those brief moments of reprieve and pleasure, and a race to discover the next big thing--to attain social rep in being ahead of the curve.  Playboi Carti is both a product and a participant of this era, a Soundcloud baby unleashing the only life he has ever known and creating a tapestry of sound that embodies the environment where he found his fortune.  His album was titled Die Lit for a reason: to perfectly encapsulate that idea of the fleeting candle burning half as long to burn twice as bright.  Carti only wants to  accelerates his rapid hedonistic lifestyle, and if it means he dies the way he's lived, he wouldn't have it any other way.