The perfect headsets in budget: ComfoBuds Pro by 1MORE
1More gives sound aficionados the perfect combination of its QuiteMax Active Noise Cancellation tech to ensure you get the most SOUND experience!
1-Size rarely fits all, I would say. But not with 1More ComfoBuds Pro. These earbuds are a "must buy" if you are on the lookout for:
The right size
Great Sound Experience
Need earbuds that offer active noise cancellation as per the environment
The right price - $99.99 (of course!)
The ComfoBuds Pro by 1MORE delivers a great experience with sound, packed with premium features with a very competitive price tag. Now it may not have the sleekest aesthetics, but you got to compromise a few things. Let's explore some things that make ComfoBuds stand out from the many players in the market.
ComfoBuds Pro - A Quick Overview:
When it comes to earbuds, my first requirement is the comfort of using them. The in-ear-style headphones tend to fall off or slip out. Like many quality headphones, ComfoBuds come with 4 silicon ear tips of different sizes, allowing a comfortable fit and seal in your ears. The touch controls allow you to play or pause, activate voice controls and opt for the different Active Noise Cancellation options. You also get the option to optimize these if you download the 1MORE Music App. The app allows you to monitor your earbuds' battery, toggle between different listening modes along with the different ANC (Active Noise Cancellation). All that in under $100 makes ComfoBuds worth every penny.
Adjustable ANC Modes And 6 Mics:
1MORE stitches its proprietary QuietMax Active Noise Cancellation technology with precise audio tuning, dual-band ANC, Wind Noise Cancellation, and hybrid ANC along with the AI-Powered 3 Mic environmental noise cancellation. Ensuring your experience is not compromised when it comes to listening to your favorite music, answering calls in a crowded place, etc.
As stated earlier, the ANC modes are adjustable allowing you to choose from WNC, pass-through, mild, or strong.

The other important thing is the mic. The ComfoBuds packs 6 mics (3 on each earbud), allowing for a crystal clear voice when attending phone calls. Something I often have a poor experience with many earbuds out there.
The Sound Quality
The preferences change based on who is buying the earbuds. Music buffs tend to have a very high standard for sound quality and while the ComfoBuds may not be the perfect option, they do a fairly decent job.
Not truly impressed by the bass and treble performance and if you are a big fan of thumping music, you may not rate the ComfoBuds high.
The earbuds also pack 22 Equalizer presets to suit your music experience. Some of those are:
Bass Booster that gives more depth to bass-heavy music.
Classical: If you are a fan of Beethoven and the likes.
Electronic
Pop and Acoustic
Connectivity
ComfoBuds come with the standard SBC Bluetooth codec and they support AAC (for Apple devices). The connection is steady and you don't experience disconnection issues, which is usually the case with brands in the same price range.
And since they are IPX4, they are water and sweat resistant!
How Long Does a Single Charge Last?
The brand claims that the earbuds give between 6-8 hours on a single charge. 6-Hours if you are using ANC modes and 8-Hours without it. Battery life for earbuds is critical and anything over 4-Hours is great for me, at least.
The case allows for up to 2-3 charges for the earbuds. Lastly, the fast charging gives you an additional battery life of up to 2 hours on a 15-minute charge, not great, but worth it.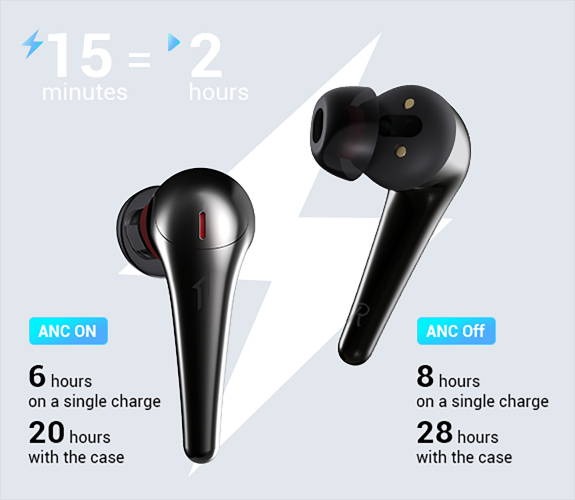 One thing I do miss is the option for wireless charging, but then you can live without that for that price.
Should You Buy the ComfoBuds?
Definitely! If you are planning to buy new earbuds on a budget, then the ComfoBuds are truly worth the price. For someone like me who is often commuting, the earbuds are the perfect choice (and I am very selective when it comes to this).
What's in the Box?
The ComfoBuds come in a sleek package. The box contains:
1x Headphones
1x Pair Charging Case
3 Pairs Silicone Ear Tips (XS / S / L)
1x Type-C Charging Cable
1x Carrying Pouch
1x User Guide 
1x Warranty Card
Case Protector (Only included in the black earbuds. )