Best of the Midwest: 4 Must-See Illinois Hiking Destinations
Look beyond your local trails this weekend and check out these must-do Illinois hikes
Whether you're searching for a beautiful day hike destination or somewhere new to spend a long weekend outdoors, these must-see spots in Illinois' wilderness won't let you down. Read on to learn more, and don't forget these essential items: appropriate footwear and clothing, a proper supply of water and food, headlamp/flashlight, bug spray, sunscreen (even in the winter!), a trail map and compass, first aid kit and a comfortable pack to carry everything. Depending on your experience and familiarity with the area you'll be in, you can always add to this list as you see fit.
Starved Rock State Park
Starved Rock State Park is a wilderness area in northwestern Illinois that runs along the vast Illinois River. With its abundance of native wildlife and trails leading to scenic overlooks, sandstone canyons and beautiful waterfalls, Starved Rock makes a perfect day trip destination. Or, if you're looking to get away for the weekend, consider camping in one of the park's designated areas or booking a room in the historic lodge. Starved Rock is heavily visited in the summer, but it should not be overlooked in the cooler months. Go in the fall to see the leaves changing to fiery reds and brilliant yellow hues, and you'll want to head back between December and March when hundreds of Bald Eagles migrate to the area in search of fish from the river. Hike to Lover's Leap Overlook to get a bird's-eye view! When your day is done, you can grab a bite to eat at the lodge's restaurant.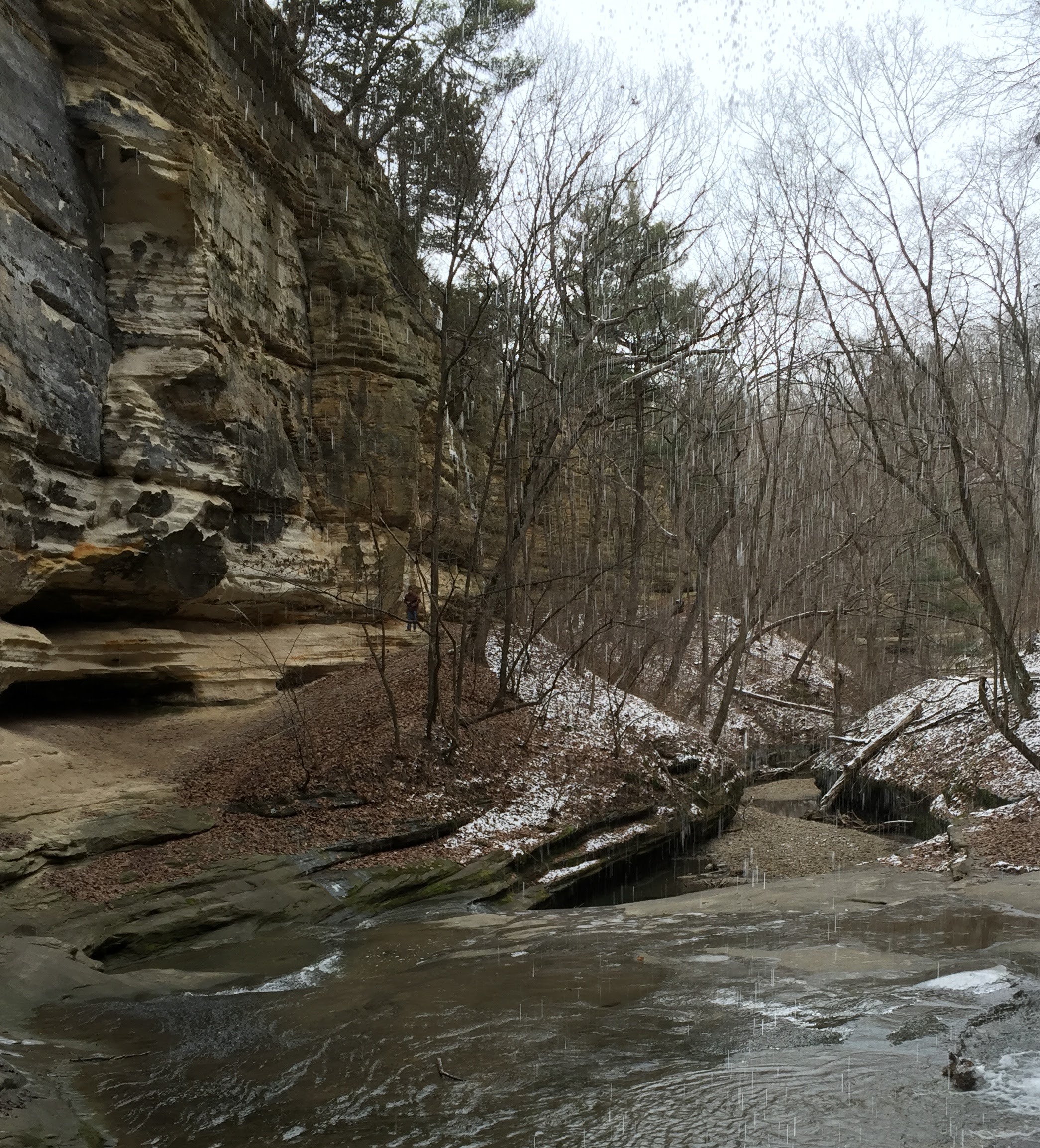 Matthiessen State Park
Matthiessen State Park is conveniently located just three miles south of Starved Rock, so you can easily do both in one day if you'd like. At Matthiessen you can see more of the gorgeous canyons and waterfalls that grace the area, and you will often run into less crowds as Matthiessen does not have a lodge or restaurant. They do, however, have an abundance of activities available that are not prohibited at Starved Rock, including equestrian-friendly trails, mountain biking, archery and cross-country skiing. There is camping available at the park, but please note that it is equestrian only.
Midewin National Tallgrass Prairie 
Located in Wilmington, Illinois, Midewin National Tallgrass Prairie is both a beautiful and educational nature preserve. There is no camping available, making this a better day trip destination, but with over 34 miles of trail to hike, bike, ride horses, cross-country ski or snowshoe, there is more than enough to do in a day. There is an abundance of native prairie plants to see on the trails, so be sure to take a moment to slow down and take it all in. Perhaps the coolest thing to see at Midewin is the herd of American Bison who were introduced to the preserve in 2015 as part of an effort to help restore the prairie. Today there are about 50 bison in the herd, but there is no guarantee you will see them when visiting ­– check out the preserve's website ahead of time to see where the bison are grazing, and you just might get a chance to see this iconic animal in the wild.
Shawnee National Forest
This destination takes us all the way down to southern Illinois, just north of the Kentucky border. Shawnee National Forest and the surrounding area offer an abundance of unforgettable sights to see and trails to hike, so it is highly recommended that you make a long weekend out of your trip. There are enough campgrounds to stay in a different area every night if you wish! While visiting Shawnee National Forest, you absolutely must make the hike to the Garden of the Gods. This is a wilderness area featuring sandstone cliffs and rock formations that offer an unbeatable view of rolling hills and forest in the distance. Climb to the tops and you'll swear you're not in Illinois anymore. After seeing the Garden of the Gods, you can visit an area beach to soak up some sun or even go waterskiing. Shawnee National Forest also has equestrian-friendly trails and campsites and designated fishing areas. With all of this to offer and more, Shawnee National Forest truly is an amazing hiking destination with something for everyone.