Ranavat Hair & Skin Formulas: Summer Masks to Use for The Perfect Glow
Get that glow this summer using my go-to face/ hair masks!
It feels almost impossible to find the perfect balanced mask for your hair and skin, that's also healthy and natural. If you're looking for a brand that suits your skin, I've got the fit for you! 
Natural is the way to go. 
Most skincare products have so many ingredients listed that we don't even know what we're putting on us! I've discovered my two favorite natural products, both from the brand Ranavat. The Forifying Hair Serum: Mighty Majesty and the Facial Polish: Imperial Glow. 
Much like me, Michelle Ranavat, the founder and CEO of the beauty brand Ranavat was not originally from India. She was raised in Wisconsin as a first-generation Indian American. After her visit to Jaipur, India Ranavat fell in love with their daily practices which sparked the idea of starting a skincare brand that drives connection. 
All the skincare beauty products sold by Ranavat consist of natural ingredients, that are locally sourced and made in India. Lets start off with all the ingredients the brand uses and how it can help you!
Sweet Almond Oil- A Hypoallergenic oil that makes it safe for almost every skin type.
 
Amla- An herb that brightens your skin and soothes any damage or irritation. 
 
Ashwagandha- An herb that's a stress reliever and keeps you looking young. 
 
Bakuchi- Gets rid of the patchy hyperpigmentation and evens your skin out. 
 
Damask Rose- Roses are luxurious, why not use something that smells amazing and brightens your skin. 
 
Jasmine- Holy Grail for hair and skin! Bonus: smells like heaven. 
 
Licorice Root- Anti-aging while reducing the hyperpigmentation. 
 
Lotus Flower- Keeps skin moisturized while preventing any clogged pores. No acne over here please! 
 
Manjistha- Brightening and blood purification. 
 
Triphala- A blend of 3 botanicals that protects, repairs and retains the skin. 
 
Saffron- Anti fungal/ Anti-inflammatory. 
 
Sesame Seed- Repairs and restores damaged skin. 
 
Sunflower Oil- A light weight oil that hydrates with vitamin E. 
 
Wild Turmeric- Not the one you eat and stains your skin, this one is for beauty application.  
Similar to most chemical ingredients on the back of the product box, I'm sure you're wondering what most of these ingredients are. I can assure you all of these ingredients are natural and healthy for the hair and skin to absorb!
Let's get into my simple two-in-one hair routine! 
Dull hair is not cute, let's wake it up and give it some life!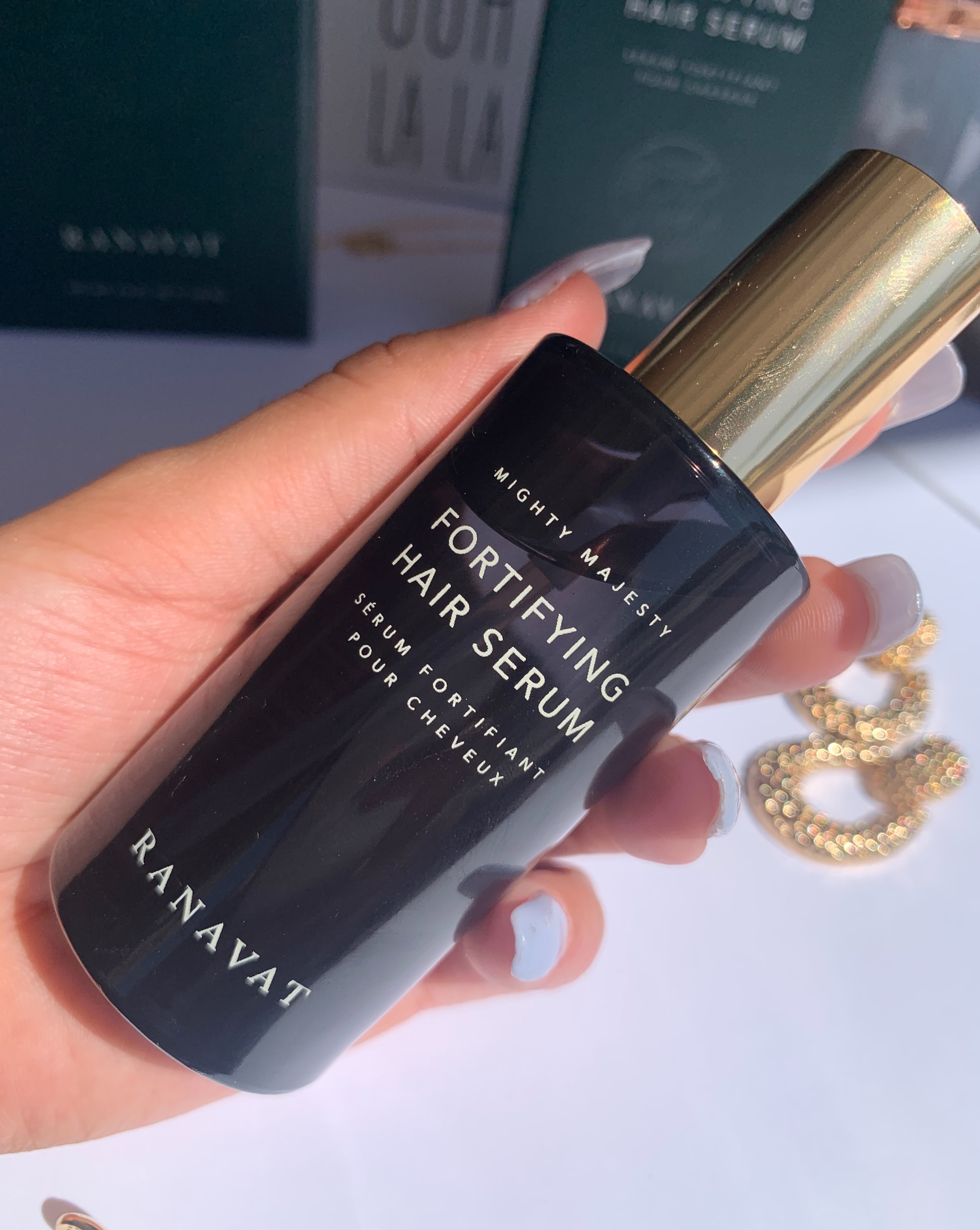 This product is a holy grail for my hair! The best part... it's a two-in-one! You can use it as either a serum for frizz control or a deep conditioning mask. 
Using as a serum: After I wash my hair, I apply 2-3 drops on the palms of my hand and smooth it onto my wet or dry hair from mid-length to end. 
Using as a hair mask: Massage the serum into the scalp, leave it on overnight (smells like jasmine- mmm yes!) and wash hair the next morning. 
The smell of this serum is so divine, clean, and rich that you'll want to use it everyday! Ranavat has made it that each time the wind blows through your hair, you'll get a whiff of natural jasmine that actually lasts! This serum has not only created a daily shine and physical beauty, it has also nourished and restored the life in my hair. I always had frizzy hair that needed to be styled after every wash, it was exhausting. Now, all I do is let this Ranavat Hair Serum work its magic and I've fallen in love with my natural hair! Trust me on this one, it'll change the way you look at your hair. 
Create a healthy canvas and be confident in your bare skin!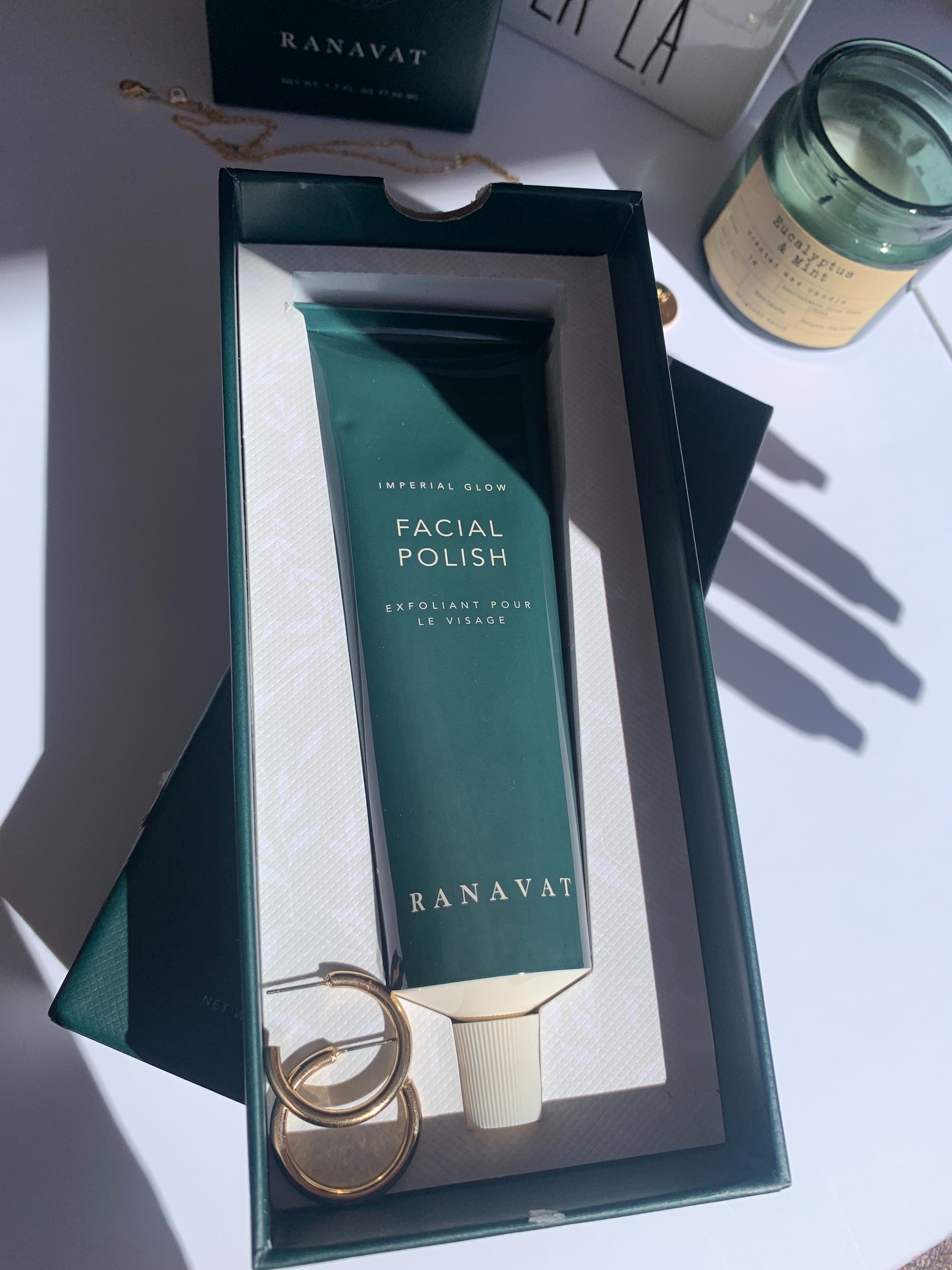 This mask... oh my, let me tell you. When I say it makes your face feel like silk, believe me.. I mean it. 
This facial polish is a balm to milk creamy type consistency. Made from milled rice powder and nourishing almond oil, it feels like a gentle yet effective product. 
How I use it: Apply a layer of the Ranavat Facial Polish onto your dry skin and massage onto face and neck in circular motions. I then hop into the shower and simply rinse it off. That's it! I use this facial polish about 1-3 times a week, takes me 5-10 mins to do and just like that I've taken care of my skin and look alive more than ever!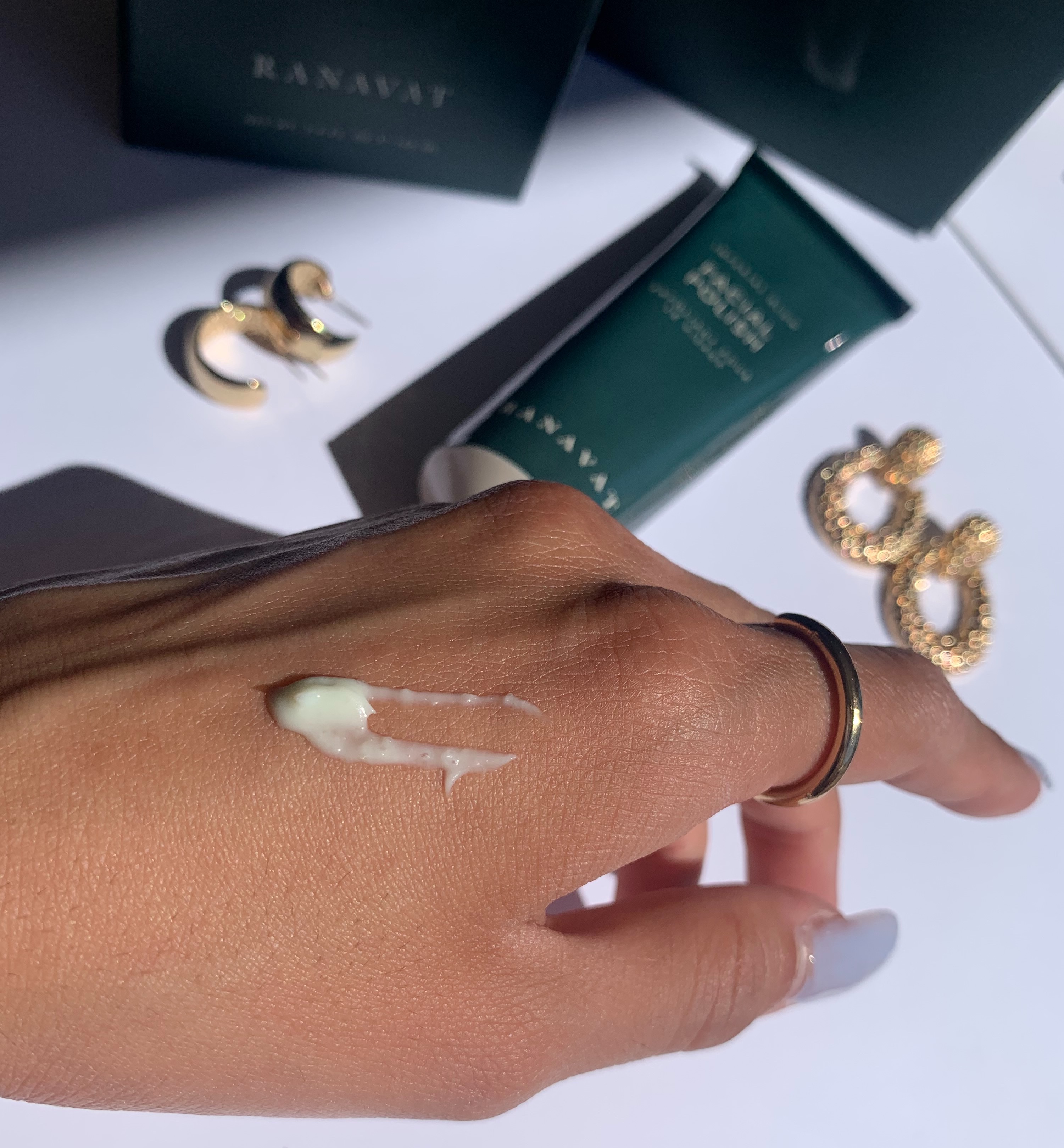 Think of it like a polish for your skin. Polish has a clean, sleek, and glossy finish. The little beads from the Ranavat Facial Polish that you're massaging into your skin do the job of exfoliating and brightening (Bye dullness, miss you never!). 
Get that healthy hair and skin! 
Like Ranavat states, skin and hair care is rooted in ritual. There is no way to gain results if we do not keep consistent. Try these two products out, I promise you... the glow is absolutely real! Healthy hair and skin comes from using healthy and safe products. So don't just wait for it to happen, work at it to get that glow! Get on Ranavat's website, discover the amazing ingredients used in their formulas and try one of my favorites!