The Top Three Airbrush Makeup Kits
For those who don't have the patience to fiddle around with messy sponges, brushes, and other traditional makeup tools, but do have a little extra money to invest in airbrush makeup, they probably already know that this new application system is a godsend. But with airbrushing's ascendance over the past few years, there is still some debate as to which airbrush kits are the best.
Fortunately for all of you, we've scoured the interwebs in search of the best airbrush makeup kits available to date.
#3 Iwata Airbrush Makeup Kit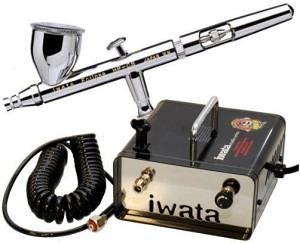 Credit: The Best Airbrush Makeup
The strength of this kit lies in its applicator. The relatively small, quiet airbrush machine will effortlessly apply smooth layers of makeup to your face, which are intended to stay on all day but come off easily at night.
The one drawback of this kit is the lack of concise written instructions. As Iwata was designed for and has been largely marketed towards professionals and only the most ardent of airbrush enthusiasts, the makers assume you already know what you're doing. So if you're worried about making mistakes while airbrushing foundation, we suggest selecting a cheaper, easier-to-use machine.
#2 Dinair Airbrush Makeup Kit Personal Pro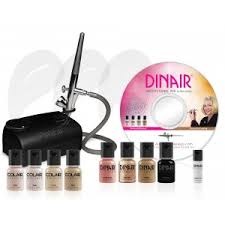 Credit: Airbrush Makeup
Probably the most well-known kit on the list, Dinair is an airbrush kit which is designed for beginners but can still be appreciated by pros. The package includes a series of eight easy blending makeup, a compact simple-to-use machine, and even a neat instructional DVD and practice sheets.
Since this kit is designed to use water-based makeup it's ideal for those who like a lighter product and enjoy blending colors to match their skin tone perfectly. This feature also makes Dinair perfect for those who only want to use their makeup regimen to cover up unsightly blemishes or dark rings under the eye. Just be ready to spend a little bit extra for this all-around superior makeup kit.
#1 Photo Finish Professional Airbrush Makeup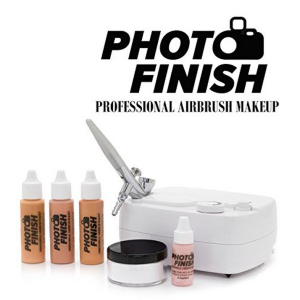 Credit: Best Makeup Brushes Guide
Designed for professionals but available to average airbrush enthusiast, Photo Finish is our choice for the number one airbrush makeup kit on the market today. And while its origins are probably the reason as to why this makeup kit isn't as well known among airbrush aficionados, it is none the less the superior airbrush application system.
The product is mineral, not water-based, so the makeup isn't as likely to over dry the skin. Just be careful, as some user's skin may be mildly sensitive to this oil-free product. Makeup is applied evenly and firmly, so there's no need for mid-day touch-ups and no reason to worry about late afternoon smearing.
Best of all, while this makeup kit is used by the pros, you don't have to be one to afford it as this system sells for right around 100 dollars. That includes the makeup set, the airbrush machine, along with a cute deluxe carrying bag, at only about a third of the price of competing kits. Talk about a killer makeup kit deal!