Audra Azoury — a Pittsburgh jewelry artist and designer with an impressive portfolio
Audra's designs go beyond cookie-cutter ornaments and jewelry. She is truly inspired by Pittsburgh and captures an emotional, spiritual connection with nature and life.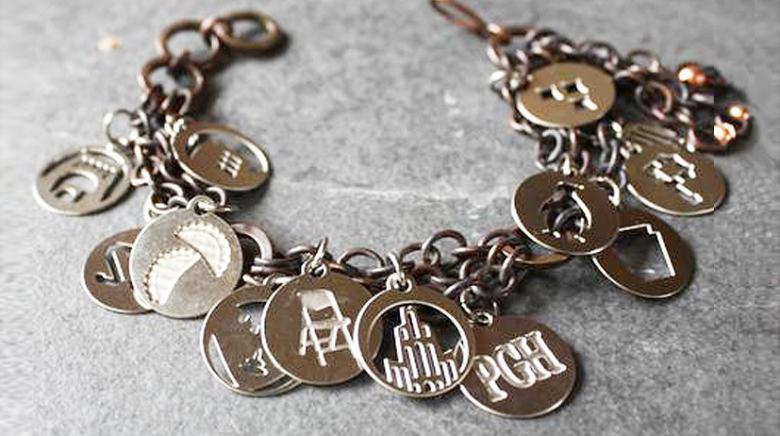 A new collection of ornaments capturing childhood memories
My dad is obsessed with Christmas. He was always the one in our extended family to dress as Santa, planning his visits, planning his look, and planning his gifts for months in advance. His collection of Santas from around the world and rare Christmas ornaments fills a massive chunk of square footage in his attic. 
Dad has already started growing his beard. I wasn't even thinking about Christmas—because it's July.
Last evening my friends and I captured lightning bugs in a jar. It was a first for our young kids, and it was a moment to remember. I immediately shared a video with my dad who called it "magic."
Then he sent me a link to Audra's online store, featuring an ornament shaped as a jar of lightning bugs.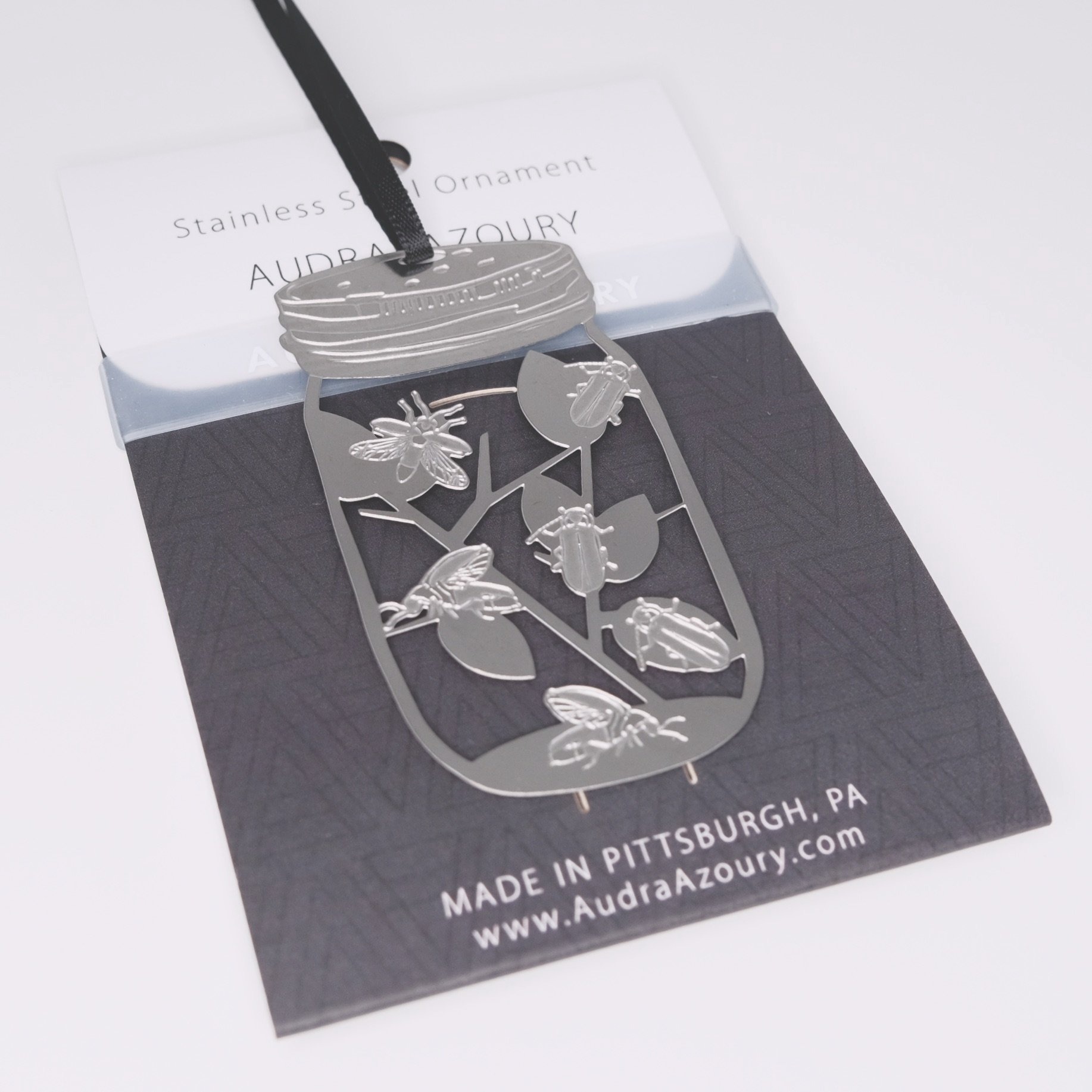 More childhood memory ornaments here
I immediately felt connected to it. It commemorated that beautiful moment with my kids that was shared with good friends and, although from a distance, also with my dad. 
From camping under the stars to traveling around the country, Audra Azoury's childhood memory collection is an amazing addition to her already impressive portfolio. She's spent years capturing the spirit of the Steel City through design and has expanded her portfolio to include her inspired take on everyday life and adventure.  
Designs that capture the spirit of Pittsburgh
Audra Azoury's love for her hometown shines through in her unique artwork. She has created custom designs for many respected museums in the area including The Warhol, The Mattress Factory, and Heinz History Center, just to name a few. 
While most of Audra's designs are beautiful, others capture the humor of our unique "Yinzer" colloquialisms and even our embarrassing moments. (I'm on the waitlist for the bus in the road.)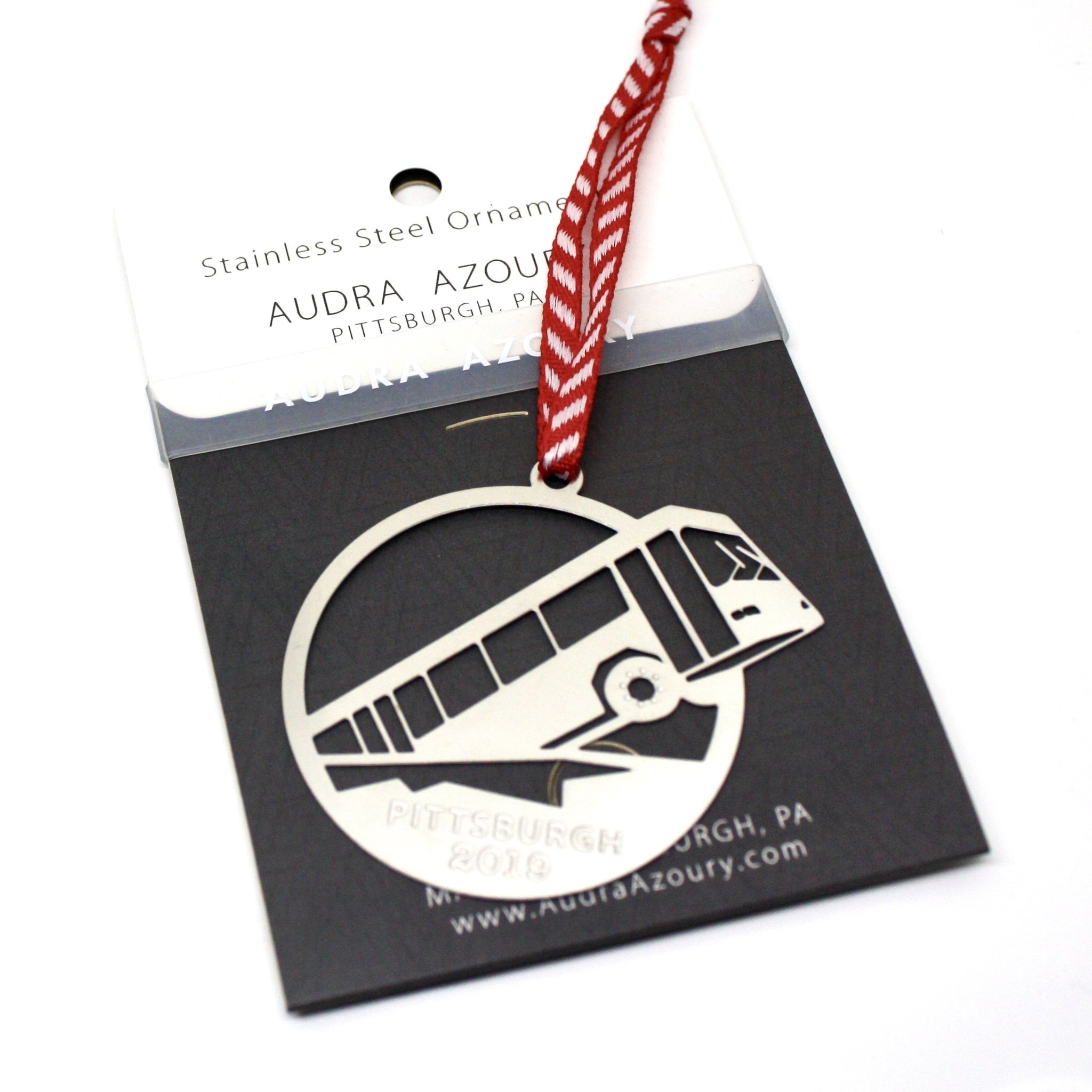 Audra's collection featuring Pittsburgh's iconic bridges is meticulously crafted to capture every detail of their architecture. They are truly unique to the Steel City: part of the history and continuous expansion and growth that makes us thrive. The bridges, to Audra, symbolize connection—a theme throughout her work.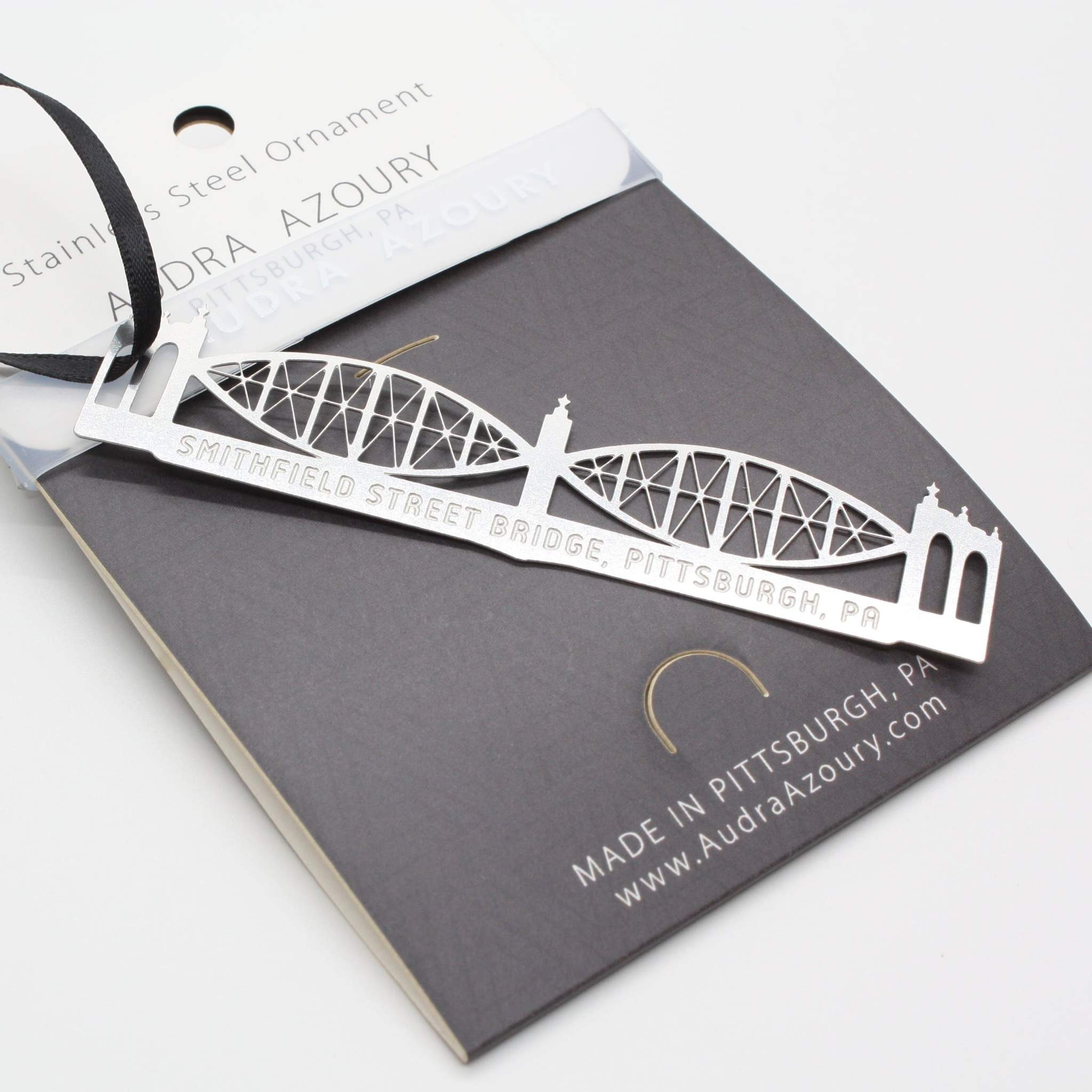 Pittsburgh Bridge Ornaments -8 Piece Set & Booklet sold here
Pittsburgh sports are heavily featured in her designs as well. Any fan would love the ornaments, but I am obsessed with the charm bracelet with all the team logos featured on one stunning piece.
Steelers, Penguins, and Pirates fans have a variety of designs to choose from among Audra's ornaments collection and her jewelry collection. Unique pieces are available for the fan who has everything, making gift giving easy for the holidays, birthdays, and other special occasions.
Beyond the Burgh: ornaments and jewelry inspired by nature and travel
The new National Parks collection captures the spirit of travel. Each commemorates a journey—shared memories with family and friends. Imagine traveling to Yosemite for the first time, a once in a lifetime trip, then having a piece of gorgeous art to keep the memory alive forever.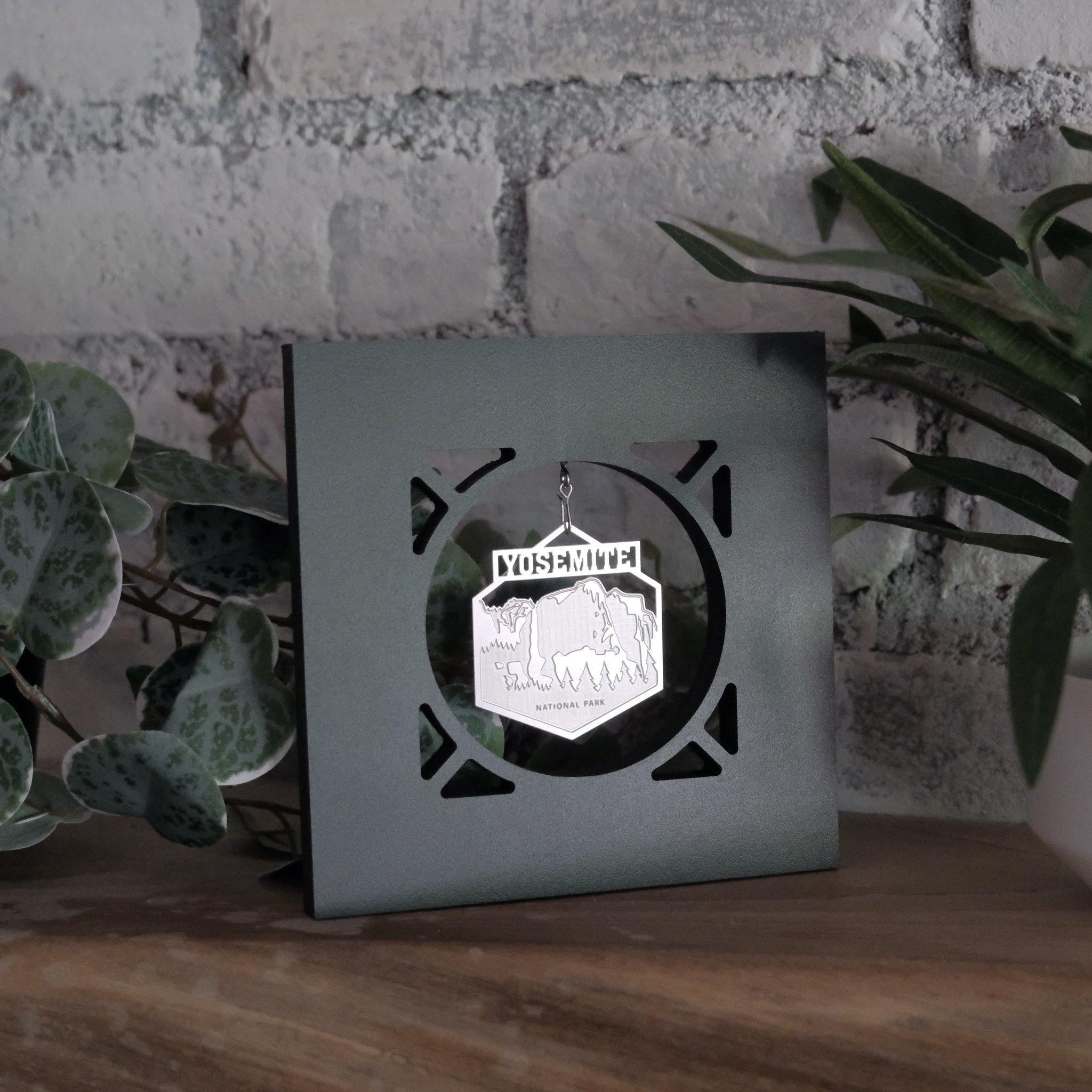 There is also an amazing collection inspired by plants, perfect for the home gardener in the family. This is by far one of my favorite inspired designs, as I love my patio, and I'm always looking for unique décor for my outdoor space. There are also several avid gardeners in the family, so it's an easy go-to gift idea.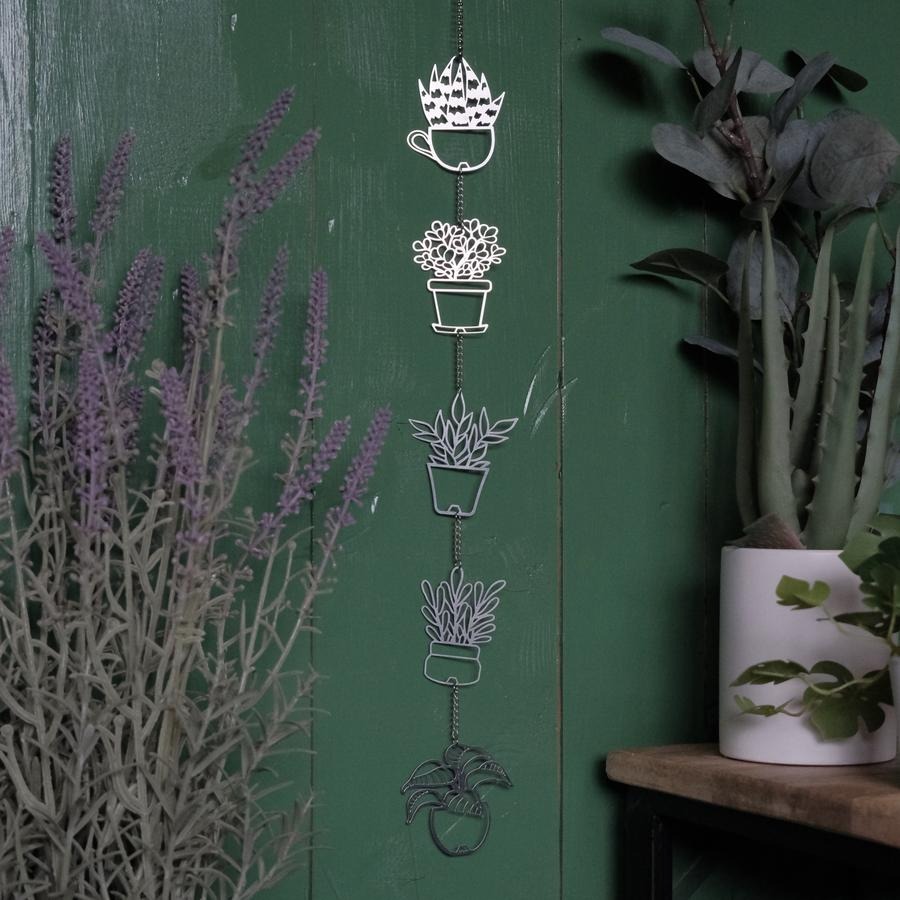 Audra's collection also features wind chimes and sun catchers, perfect decorations to add charm to a patio or sunroom. She carefully chooses designs to enhance the natural surroundings rather than to interrupt them, making them blend in beautifully while adding a touch of whimsy.
Overall, Audra Azoury's designer ornaments and jewelry serve as amazing gifts for the holidays and beyond. Her work is not just featured in many area museums, but she also shares rare collections with local gift shops around town. 
From sports to travel, and gifts inspired by nature, Audra's online shop has something for every Pittsburgher.