Frank & Eileen button-up denim shirts and dresses, pants and jackets
Frank & Eileen makes comfortable, one-size-fits-every-figure, casual smart shirts, pants and jackets from soft, durable and sustainable fabrics.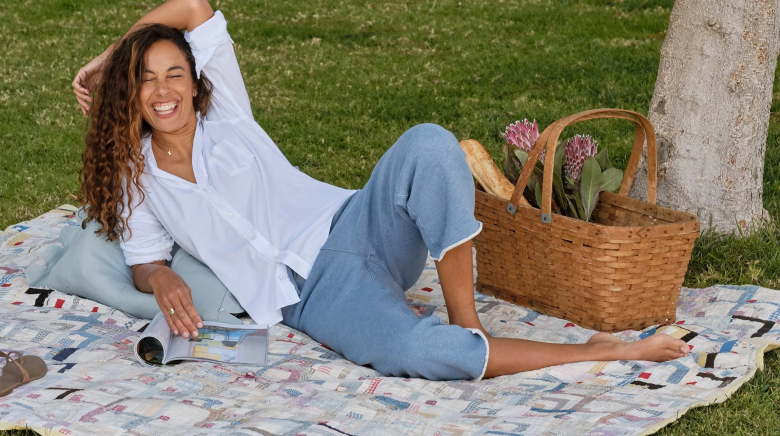 Frank & Eileen is a certified woman-owned, women-led California business that designs and makes smart casual clothing using only sustainable, natural fabrics. Founded by Audrey McLoghlin in 2009, the company has grown into an internationally recognized, B Corp certified brand, and is known for making clothing from cottons, denims and linens that are either manufactured sustainably in California, or by a family owned Italian mill that is OEKO-TEX® certified. That means all their fabrics are fully traceable from seed to finish, and are certified free of harmful chemicals.
Frank & Eileen manufacture their clothing from a range of fabrics that includes an assortment of cottons, denims, linen, twill, tissue-thin voile, warm flannel, and a classic poplin. Warmer fabrics include triple fleece and jersey. 
Frank & Eileen's best-selling dresses and jeans are designed for comfort and style 
Frank & Eileen is known for their classic button-up shirts and dresses. One of their best selling dresses is called Rory, and is available in denim, linen or a lightweight cotton voile. With a statement pocket on the front, and sleeves that are easy to roll-up, this classic full-length dress creates a lean, slimming silhouette. Available in black, navy, cornflower blue, ruby, and white.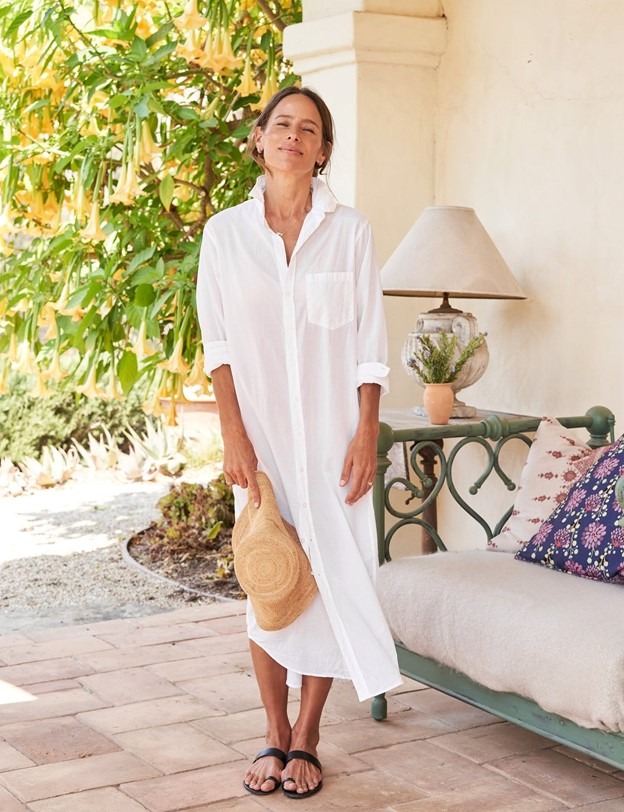 Shop Frank & Eileen button up dresses
Sligo jeans are Frank & Eileen's first-ever skinny jean. Made from a fabric the brand has named Performance Denim, this Italian made fabric is stretchy, buttery soft, and easy to move in. It's also pre-shrunk, pre-distressed, and pre-creased - perfect for an imperfect look! Available in white, pink, seafoam, grey washed denim, black washed denim, and blue washed denim.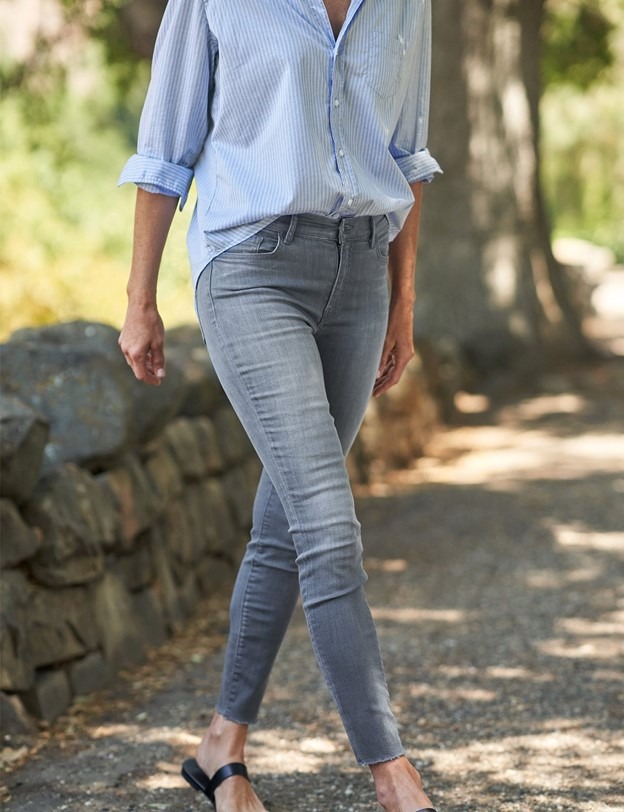 Shop Frank & Eileen Sligo jeans
Frank & Eileen's classic button-up shirts reflect style and comfort
Eileen is Frank & Eileen's signature button-up shirt, and is a closet essential that's easy to wear and even easier to care for. With its classic cut and Italian flair, it's flattering on every figure. The shirt is available in featherweight cotton, poplin, linen and Famous Denim - Frank & Eileen's indigo denim, which is washed by local artisans in California to make it super soft and faded, and used for all Frank & Eileen shirts and dresses. Colors include light blue, navy blue, burnt pumpkin, mauve, white, and black.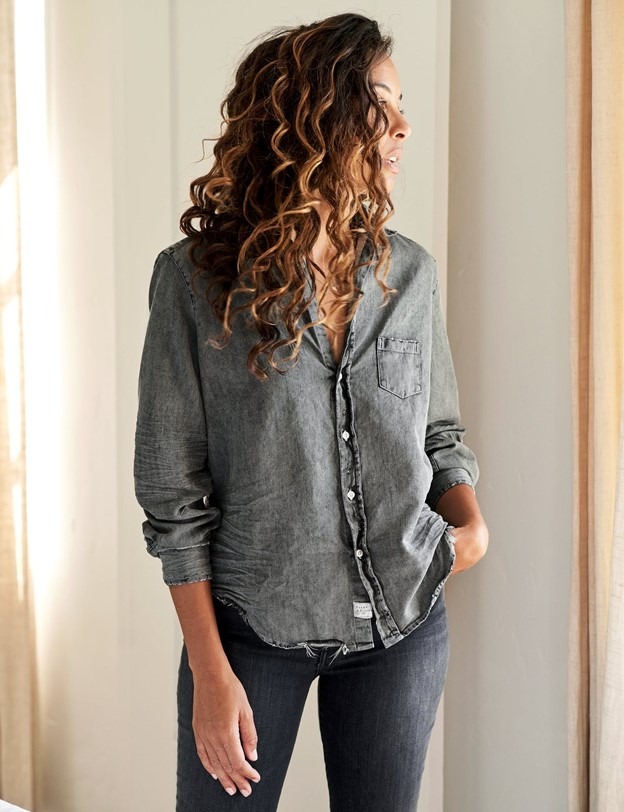 Shop Frank & Eileen button-up shirts
Deconstructed blazers and jackets by Frank & Eileen
Frank & Eileen have two essential jacket designs - the Belfast and the Dublin. The Belfast is a traditional English pea coat jacket that is available in denim and Triple Fleece, and in an assortment of colors depending on the fabric. Performance Denim colors include black, grey, blue and pink. Triple fleece is available in black, white, and camel.
The Dublin is a deconstructed blazer cut with easy to scrunch sleeves, and oversized pockets. It's available in Performance Denim and Performance Linen, which is heavier than their classic shirt linen. The Dublin is available in white, grey, blue and sage.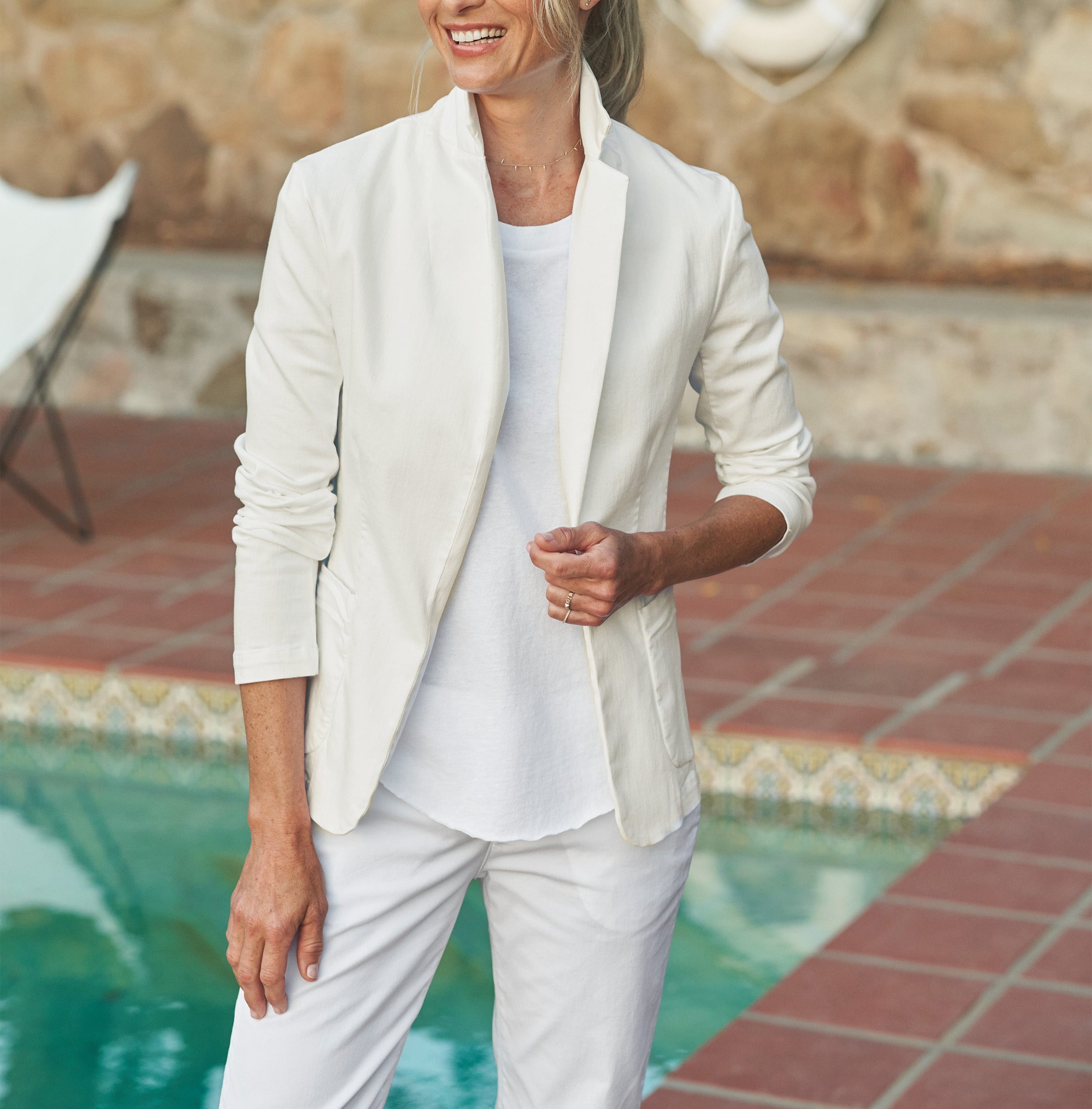 Frank & Eileen's pants & shorts come in an extensive range of cuts, fabrics and colors
Frank & Eileen have created a broad collection of cropped and Capri cut pants, available in Chino cotton, denim, linen and Triple Fleece.
Wicklow is Frank & Eileen's signature trouser range. Made from Italian Performance Twill, a lightweight cotton that is incredibly easy to move in. With a relaxed fit, a distressed hem, and plenty of stretch, this stonewashed trouser is perfect for every day comfort. Stonewashed, pre-washed and pre-shrunk, these pants are available in 12 colors.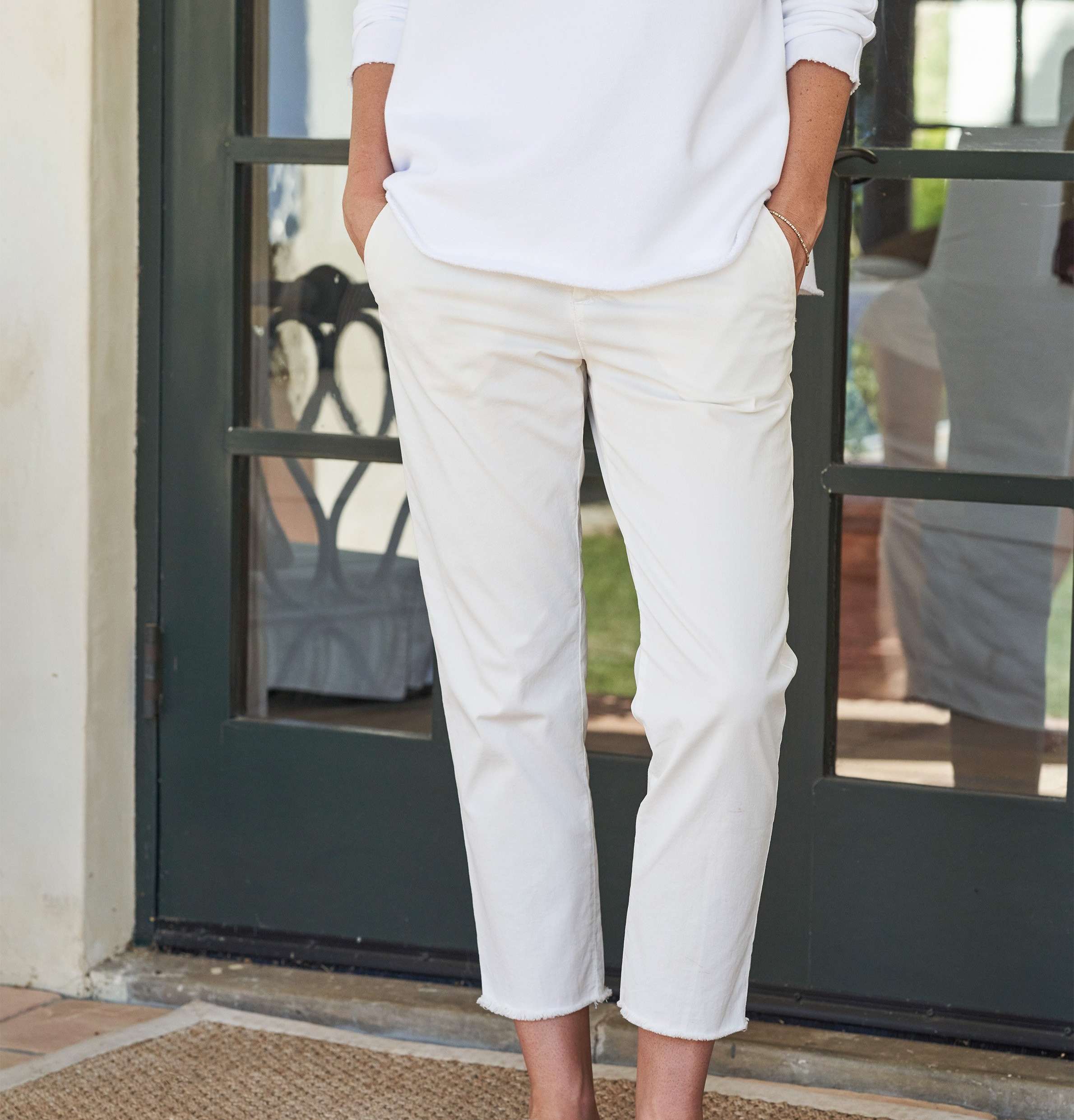 Shop Frank & Eileen Wicklow pants
Kinsale pants are are Frank & Eileen's version of classic sailor pants. They're made from stretchy Performance linen, which is heavier than their traditional shirt linen. No front pockets, and a comfortable high-rise waistband, creates a smooth, slim silhouette. Kinsale pants are available in black, navy, khaki, and white.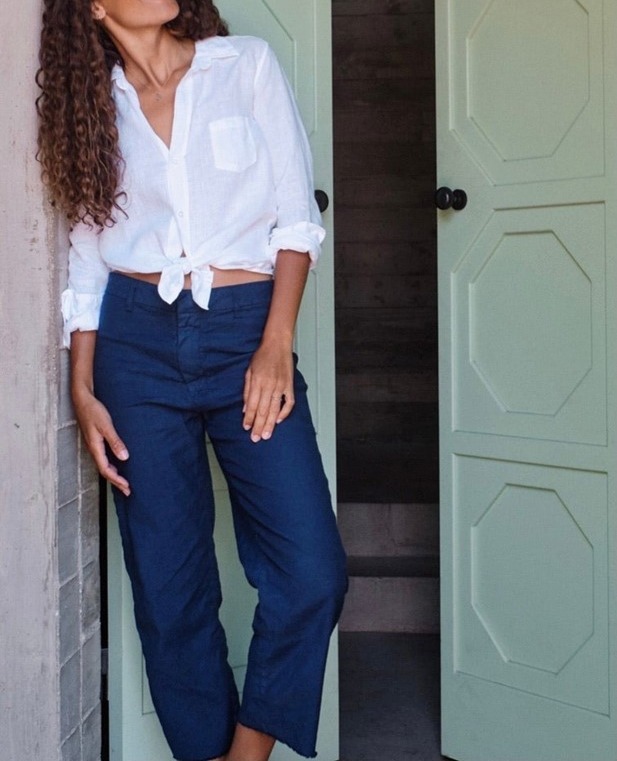 Shop Frank & Eileen Kinsale trousers
Frank & Eileen's Favorite Sweatpant is a new take on traditional sweatpants. A cool, contemporary silhouette with cropped, wide legs, these soft Triple Fleece sweatpants pair well with just about any simple t-shirt and sneakers. They come in a large variety of colors, including black, white, sage, lavender stain, and mineral blue to name just a few.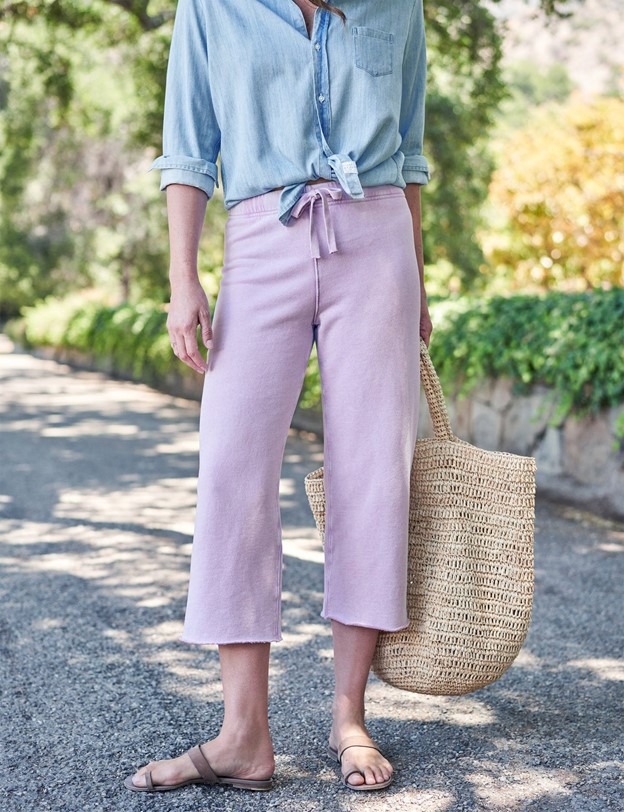 Shop Frank & Eileen pants, sweatpants & shorts
Cozy-up with Frank & Eileen's triple fleece cardigans & long sleeve tops
Whether you're looking for a hoodie, a classic crew neck sweatshirt or a simple cardigan to wear while strolling on the beach, Frank & Eileen has a wide selection of luxurious Triple Fleece pullovers and wraps for you to snuggle up in. Triple fleece is an incredibly soft, lightly combed three yarn knit that resembles cashmere, although unlike cashmere, it's 100% machine washable and made in California. 
Frank & Eileen's Capelet is a fashionable, loose-fitting small cape that is easy to layer, and pairs well with everything, making it a favorite daily go-to item. The capelet is made of super soft Triple Fleece, and is available in black, British Royal Navy, and white.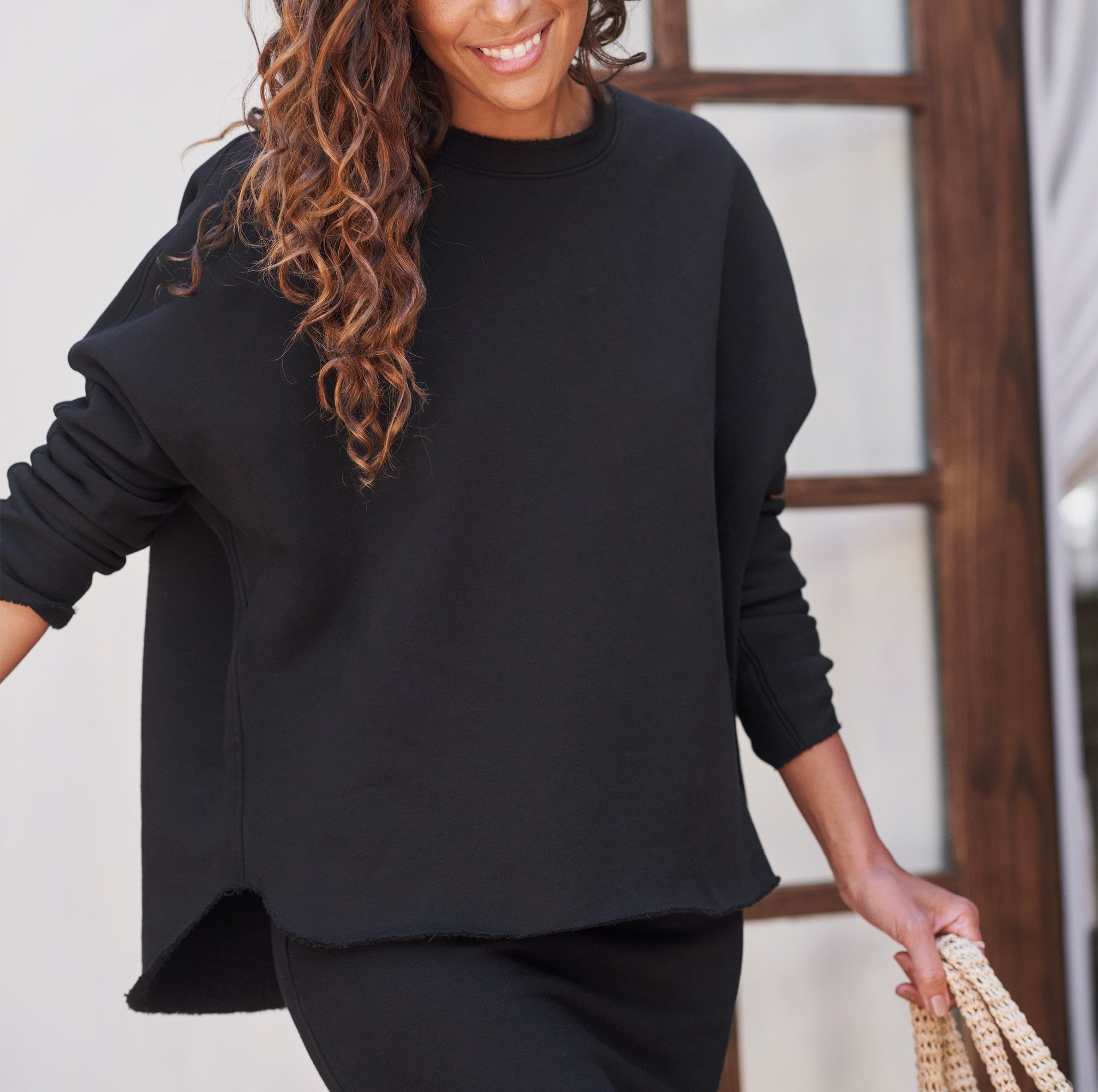 Shop Frank & Eileen capelet tops
Another Frank & Eileen favorite is their best selling Beach Cardigan. This grab-and-go layering essential is a stylish, oversized, buttonless cardigan with two large pockets. Frank & Eileen's signature raw edge hem adds a hint of contemporary cool. The Beach Cardigan is also made from luxurious Triple Fleece and is available in white, vintage white, black, British Royal Navy and camel.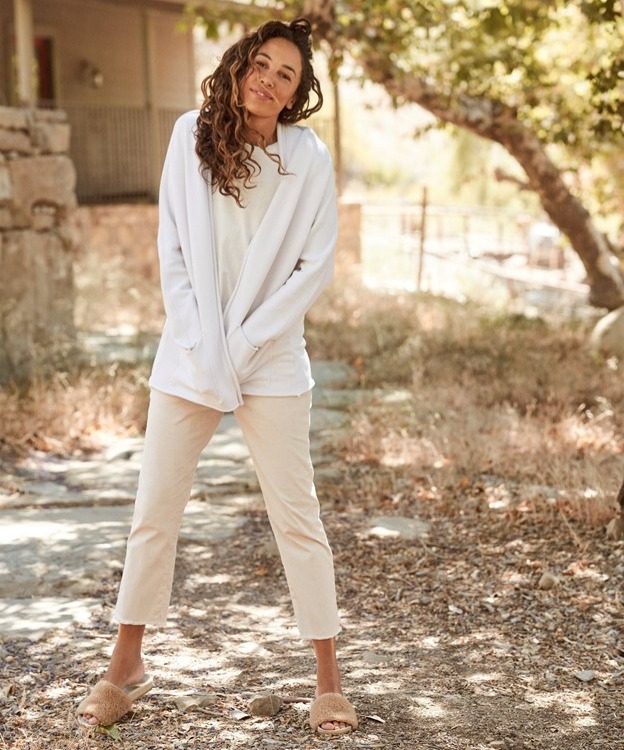 Shop Frank & Eileen's Beach Cardigan
Meet Audrey McLoghlin, the inspirational founder behind Frank & Eileen 
Audrey McLoghlin made the bold decision to start Frank & Eileen, named after her Irish grandparents, in 2009 after realizing that button-up shirts were designed with only men in mind. Since the launch of Frank & Eileen, the brand has grown into a fully certified, globally recognized B Corporation.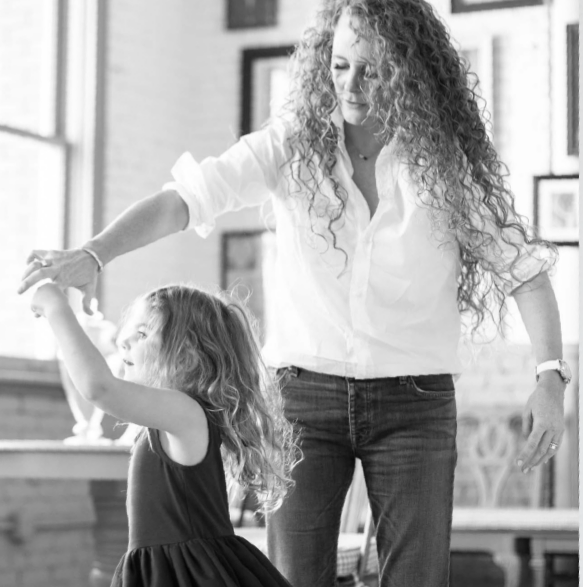 Check out Frank & Eileen SALES & DISCOUNTS
Shipping & Delivery 
Orders placed before 1 PM EST on a business day are processed the same day. Orders placed after that time will be processed the next business day. All packages are shipped via UPS. Orders sent within the state of California usually arrive within 1 to 3 business days, while orders shipped to the East Coast generally take 3-5 business days. Frank & Eileen also ships internationally. For more information, please visit Frank & Eileen's FAQ page.