Halo Sleep newborn bassinets, swaddles and trusted safe sleep solutions for baby
Babies sleep better and safer in Halo Sleep wearable blankets, adjustable swaddles, and bassinets. Making it easy to keep sleeping babies close, comfortable, and safe.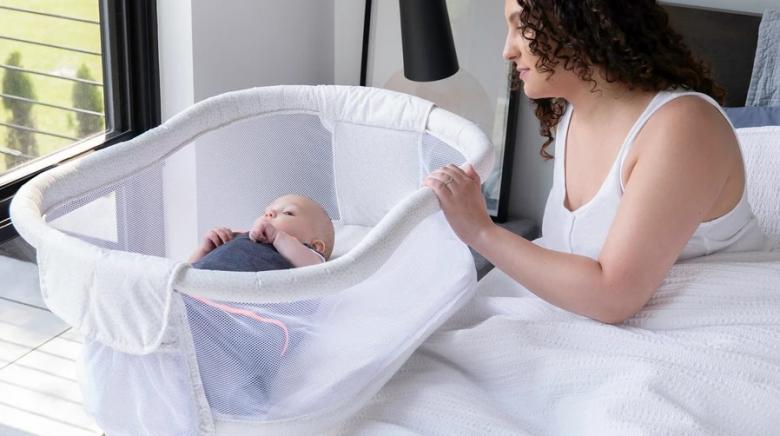 Newborn bassinets, sleep sacks, and swaddles from Halo Sleep are designed for safety first and foremost, so parents can rest easy knowing their baby is getting the best and safest sleep possible. The award-winning Halo BassiNest swivels for easy and safe access to sleeping newborn baby, and you don't even have to get out of bed. Halo wearable blankets keep baby comfortable without the risk of loose blankets in their crib or bassinet. 3-way adjustable swaddles are simple to use and grow with your baby, and Halo Sleep bassinets are recognized by the International Hip Dysplasia Institute. Whether you have a newborn, toddler, or twins, Halo Sleep bassinets have the products you need to help you and your baby rest safely and comfortably. 
Choose from Halo BassiNest sleeper models that glide, swivel, or travel with you
Halo BassiNest swivel, glide, travel, and twin sleeper models allow you to get all the benefits of sleeping right next to your baby without the risks of bedsharing. All Halo bassinets have a patented sidewall that can be lowered and raised automatically.  That means there's no need to get out of bed to lift your baby up and out of the bassinet. Just lower the wall and reach for your baby from the comfort of your bed. You also have the option to lock the lowering sidewall in the upright position. 
The walls of Halo BassiNest sleeper models are breathable mesh so you can watch your baby closely while they rest in their own safe, sleeping area. Halo bassinets are independently tested to meet or exceed safety standards, and JPMA certified, for ultimate peace of mind.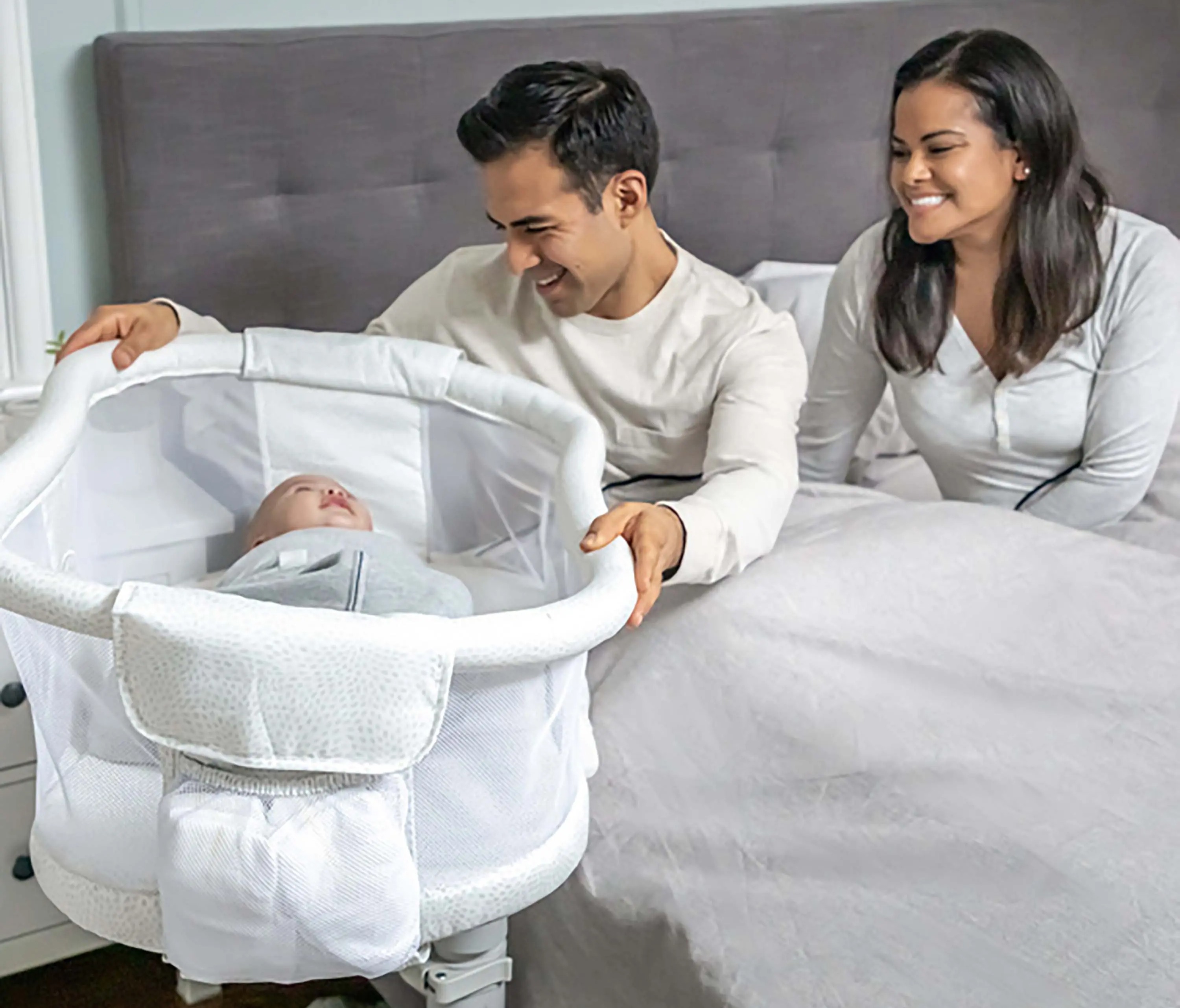 The calming center in Halo BassiNest premiere series swivel sleeper gives baby extra comfort
Soothing and bonding with your new baby is made easier and safer with the Halo Premier BassiNest vibrating bassinets. It swivels so you can bring baby as close as you like — you don't have to get out of bed to pick baby up for a nursing session or to soothe them. It includes the mesh patented lowering sidewall that automatically returns to upright for safety, so you know they'll stay safely inside their secure sleeping area. 
Plus the Premier BassiNest features soothing amber lights, vibrations in two settings, and calming sounds with auto-shut off including white noise and heartbeat. If you do need to get out of bed, the bassinet rotates so that you can do so more easily, just rotating it out of the way instead of having to go around it. It's also height adjustable to fit your bed, and a waterproof pad and washable sheet are included for easier cleanup.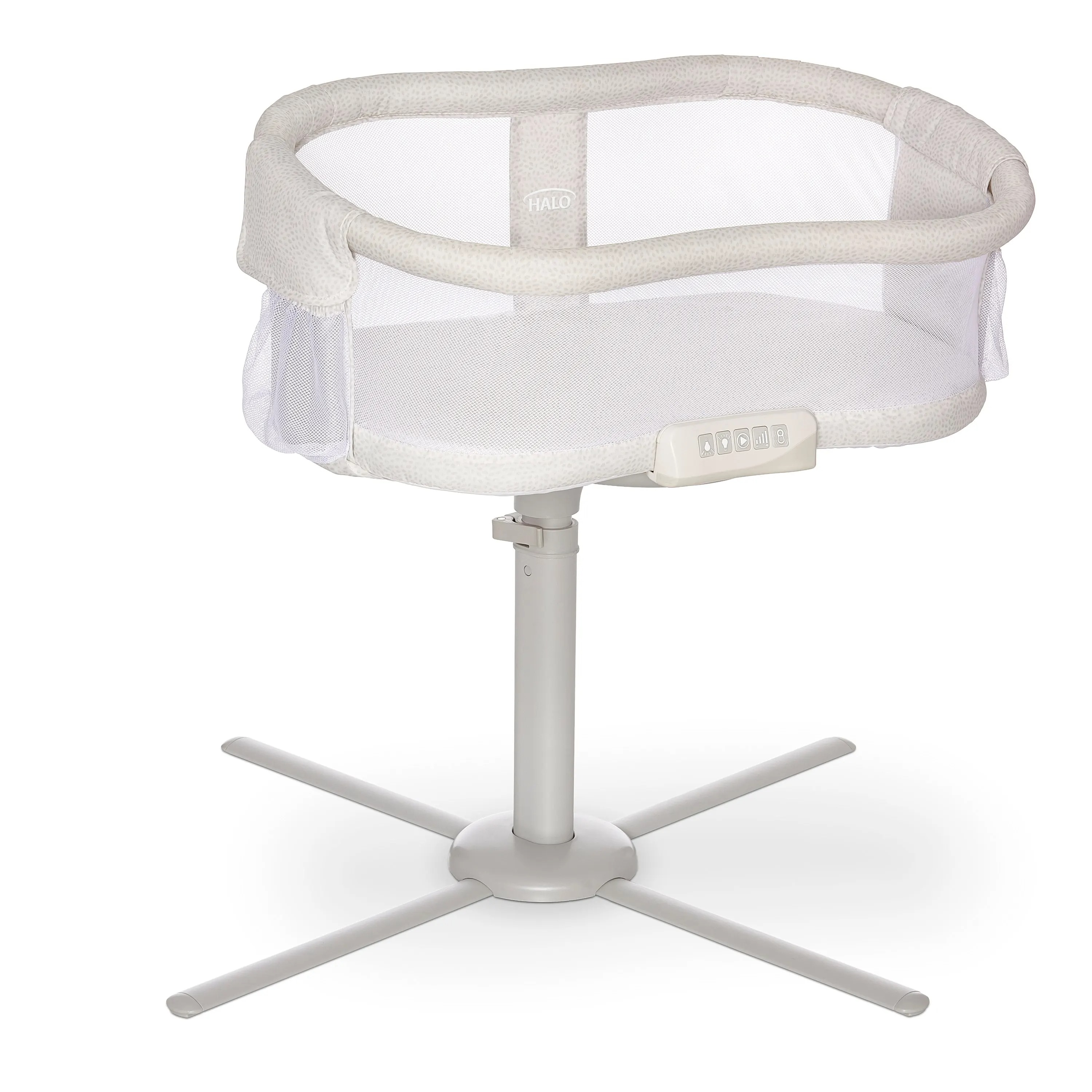 Shop BassiNest Premiere bassinets
Halo BassiNest Luxe Series swivel sleeper bassinets give your baby a safe place to sleep anywhere in your home
The Halo Luxe BassiNest has all the features for safety and comfort, and even more. Luxe BassiNest sleeper models have the 360-degree swivel and lowering sidewall for easier access to baby, soothing sounds and vibrations, and breathable mesh walls so you can keep a close eye on your little one. The best part is the Luxe Series BassiNest bed is removable from the base, so any floor in any room of your home can become a safe sleeping area for your baby. You don't have to stay in bed to be near your baby while they rest.
Plus the Luxe BassiNest has extra features, like a removable storage compartment and premium fabric you can just unzip and machine wash in the case of a mess. A waterproof pad and fitted sheet are included, and the Luxe bassinets have a furniture-grade finish that nicely complements the look of any room you take it to.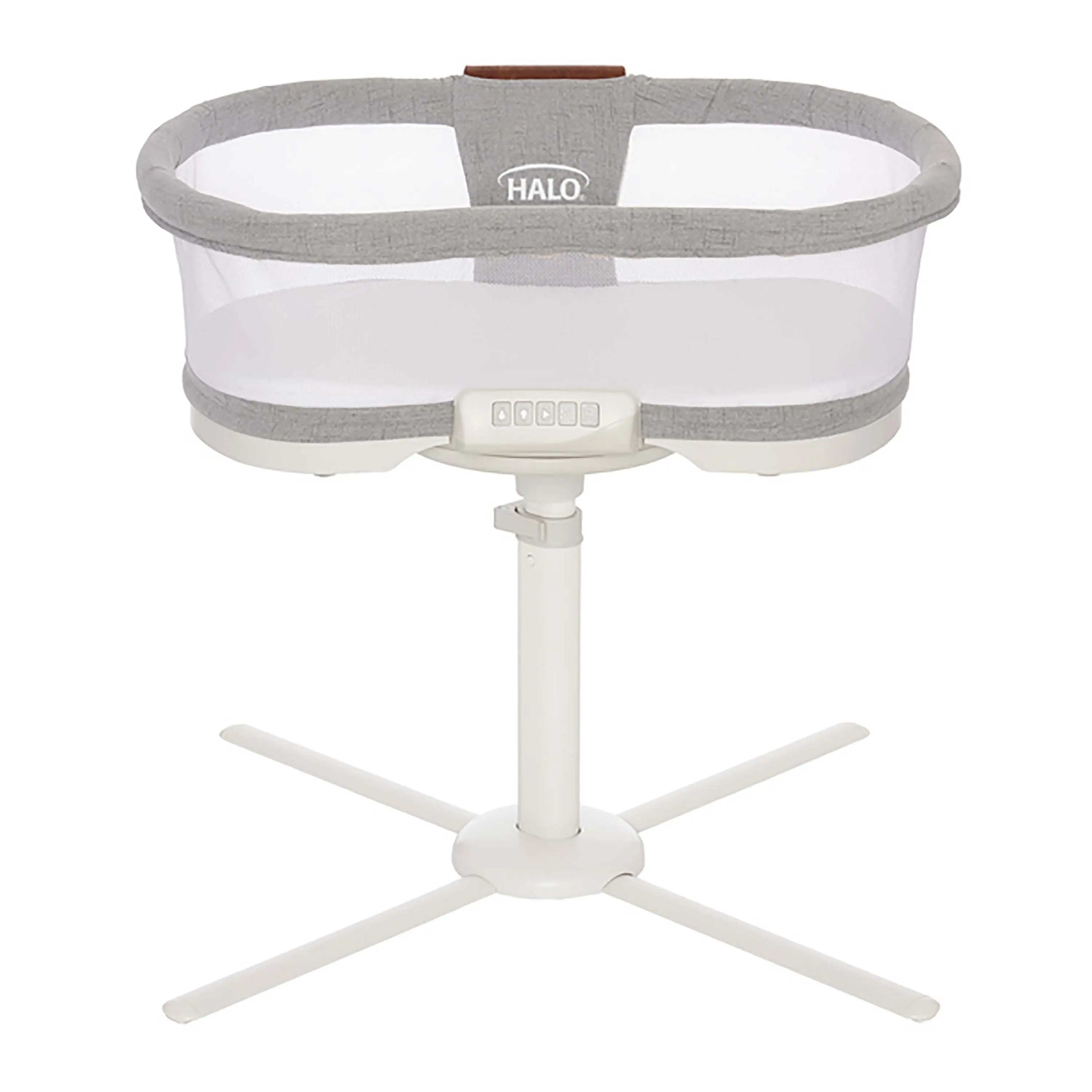 Shop Halo BassiNest Luxe bassinets
Keep your twins safely close together and close to you with the Halo BassiNest twin sleeper
If you have twins, you can help them feel secure when they sleep close to you and to each other with the BassiNest Twin Sleeper bassinet. Your twins can see each other through the breathable mesh walls, helping them to feel safe and rest better. It's easy for you to keep an eye on them too. Your twins can get all the benefits of sleeping together, while still being in their own separate, safe sleeping area. And of course the Twin Sleeper has all the other helpful BassiNest features like 360 degree rotation and side walls that lower and automatically return to upright. 
This Halo BassiNest especially for twins also has a built-in nursing timer, so if you do start to doze off after a nursing session, you'll be alerted to return baby to the safety of their bassinet. The Halo Twin Sleeper BassiNest includes soothing sounds, lullabies, and vibration settings with volume control and auto-shutoff. It also comes with two polyester and two cotton sheets, two mattress pads, and has two pockets for convenient storage.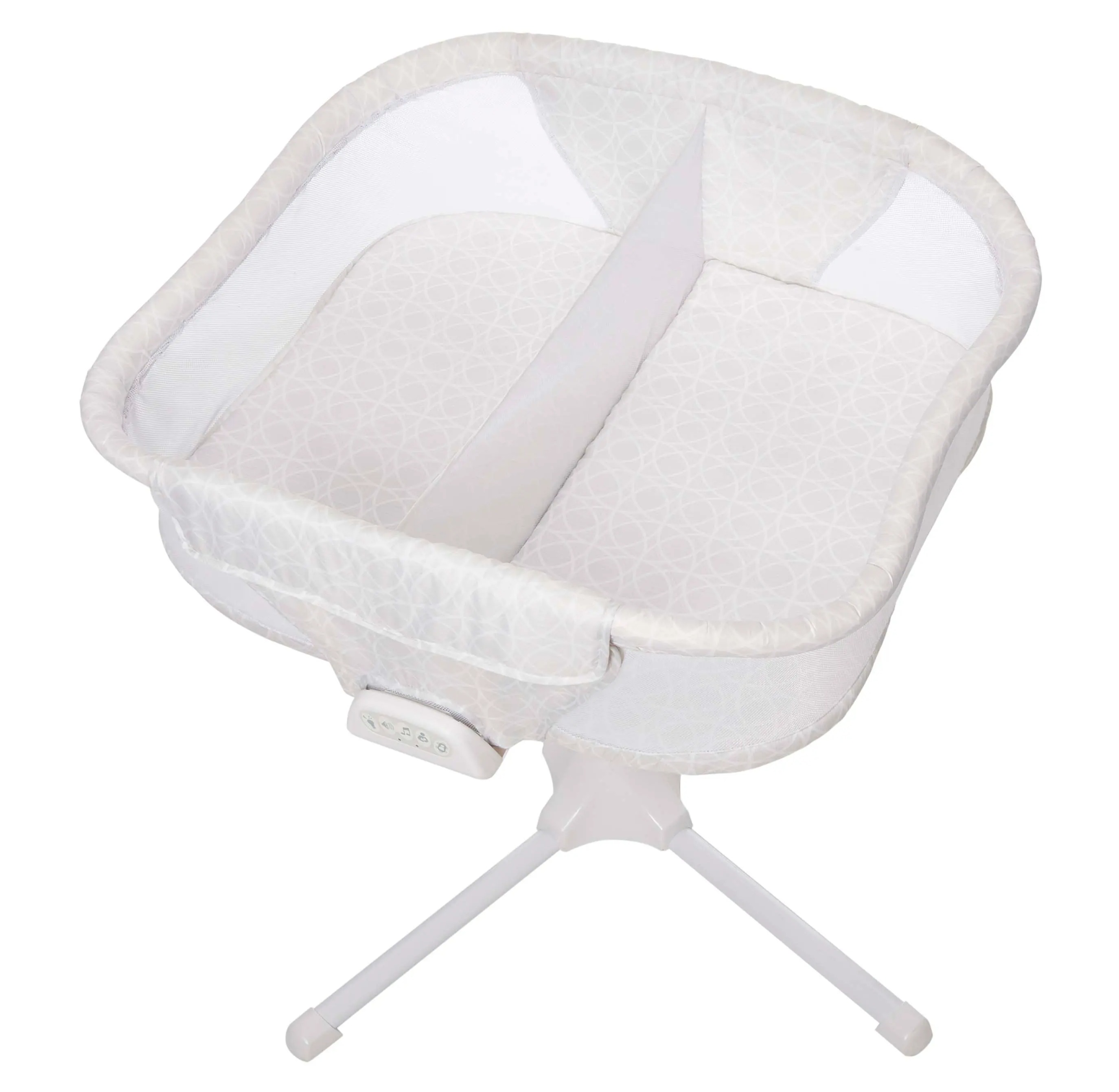 Shop Halo BassiNest twin sleeper
Simple swaddling and better sleep with easy to use, adjustable Halo SleepSack swaddle
Much easier than using a regular blanket to swaddle a wiggly, squirmy baby, the Halo SleepSack swaddle is a much simpler way to making baby safe and snug. With a zipper and velcro fasteners, the SleepSack helps keep baby from startling themselves awake. The Halo swaddle also adjusts depending on your baby's preference. You can swaddle them with both arms in, one arm free, or both arms free. The zipper at the bottom is inverted too, so you don't have to unwrap baby all the way and start over again. They can stay comfortably swaddled even during diaper changes. 
The transition later on from a swaddle to a wearable blanket is easier too when you start out with the Halo SleepSack swaddle. The SleepSack is preferred by hospitals for newborn babies, and is recognized to be healthy for hip development by the International Hip Dysplasia Institute. Each swaddle is also embroidered with "back is best" message as a helpful reminder to caregivers to always place baby in the safest position to sleep, on their back.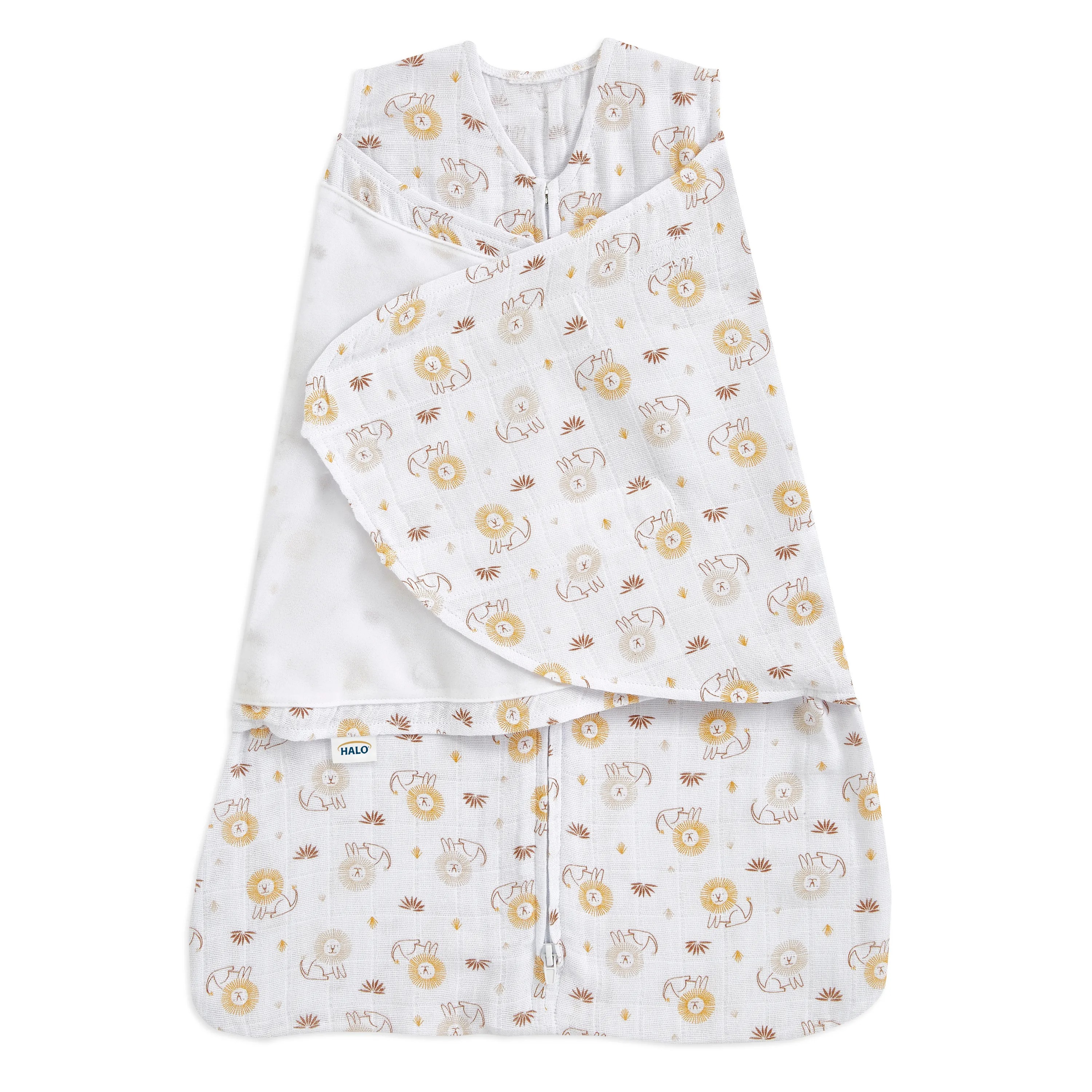 Keep baby sleeping safe and comfy in their Halo SleepSack wearable blanket
The Halo SleepSack wearable blanket is the safe alternative to loose blankets in your baby's crib, after they've outgrown their Halo swaddle. The wearable blanket offers the comfort of a blanket without the risk of interfering with baby's breathing while they sleep. So you can keep them safe, while keeping them snug and warm since they won't be able to kick their SleepSack off in the middle of the night like a loose blanket. 
The Halo SleepSack wearable blanket is available in a variety of fabrics and TOG values for maximum comfort. Measurements called Thermal Overall Grade, or TOG values, help you choose the right SleepSack that will keep baby comfortably warm without overheating. Depending on the temperature of your baby's room, you can get the Halo SleepSack wearable blanket in cotton, muslin, organic cotton, velboa or micro-fleece to maintain the right temperature for the best rest.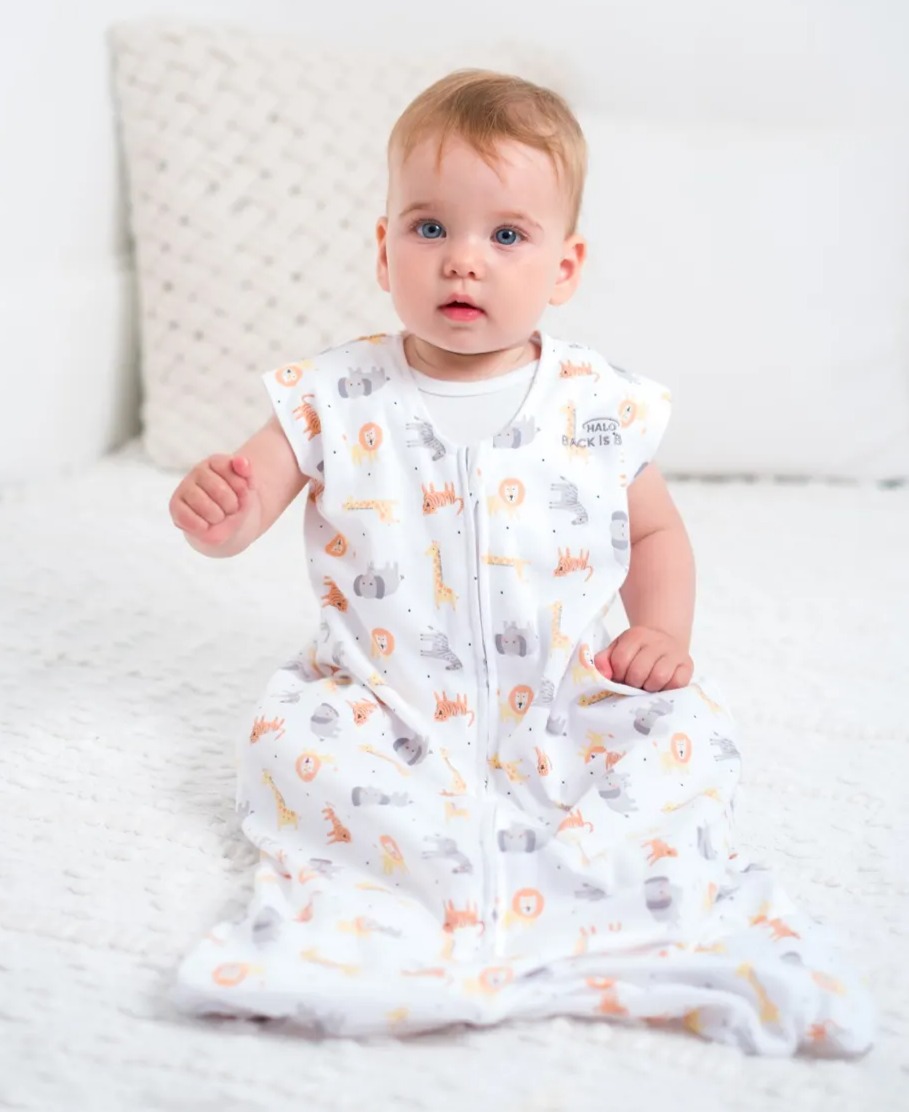 Shop Halo SleepSack wearable blankets
Meet the Halo Sleep Founder 
The Halo Sleep commitment to safe sleep for baby and peace of mind for you goes back to when the company was started by founder Bill Schmid. After experiencing the loss of his first child to SIDS, he founded the company to help make sure no one else would have to go through that. Using his engineering background, Bill set out to develop safe sleep solutions that would be comfortable for baby and give their parents and caregivers peace of mind. From preemies to toddlers, Halo Sleep products are the top choice for hospitals and parents to give little ones the best and safest sleep possible.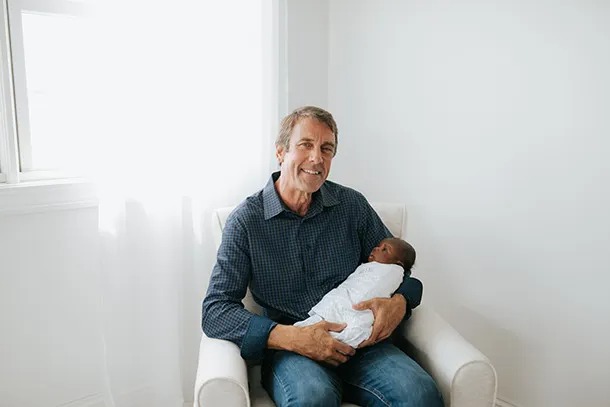 Shop Halo Sleep SALES & DISCOUNTS
Shipping & Delivery
Halo Sleep ships to the United States and Canada. Orders are processed and shipped out within 5 business days, and usually delivered in 7-10 business days. Customers in the contiguous US can get free shipping on orders over $50. Visit the SHIPPING page for more details.