Teach your child how to read with Babsy B books, and become their favorite teacher
Babsy B edutainment books and products are designed to make learning and reading fun and exciting, for both your child and you.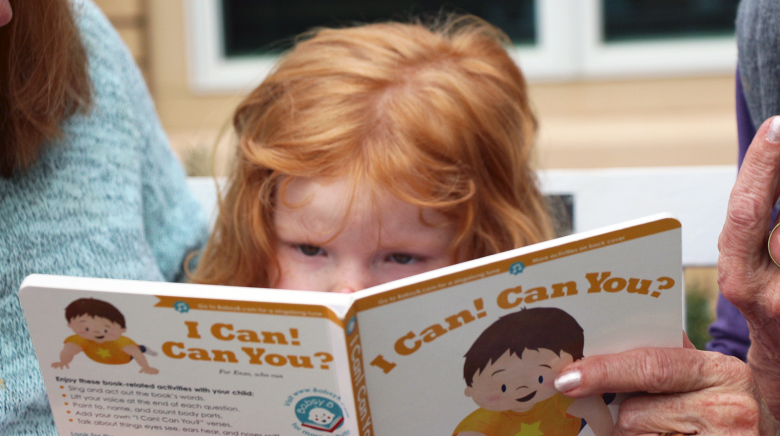 The importance of early literacy to a child's growth and future success cannot be stressed enough, but sometimes, it's hard to get little ones excited about reading. Babsy B, an Atlanta-based children's edutainment company, was formed to help parents make reading and learning more fun for their kids.
Babsy B offers read aloud books and other educational material for children aged 0 to 11. Knowing that parents and caretakers are limited in the amount of time they can give to reading to their child, Babsy B produced board books, CDs, and coloring books filled with content that will captivate and teach your child basic language skills in just a few minutes. 
Babsy B makes reading fun for kids of all ages
Whether you are the parent of a newborn, a toddler or a school age child, Babsy B has the perfect learning products for you and your child. Babsy B has designed books that work for kids in all age groups, including 0-1, 2, 3-5, 4-7, 8-11. 

Babsy B also offers books and products by subject and topic, such as activity books, biographies, board books, coloring books, picture books, and more. Every book from Babsy B will help awaken your child's imagination and leave them wanting more.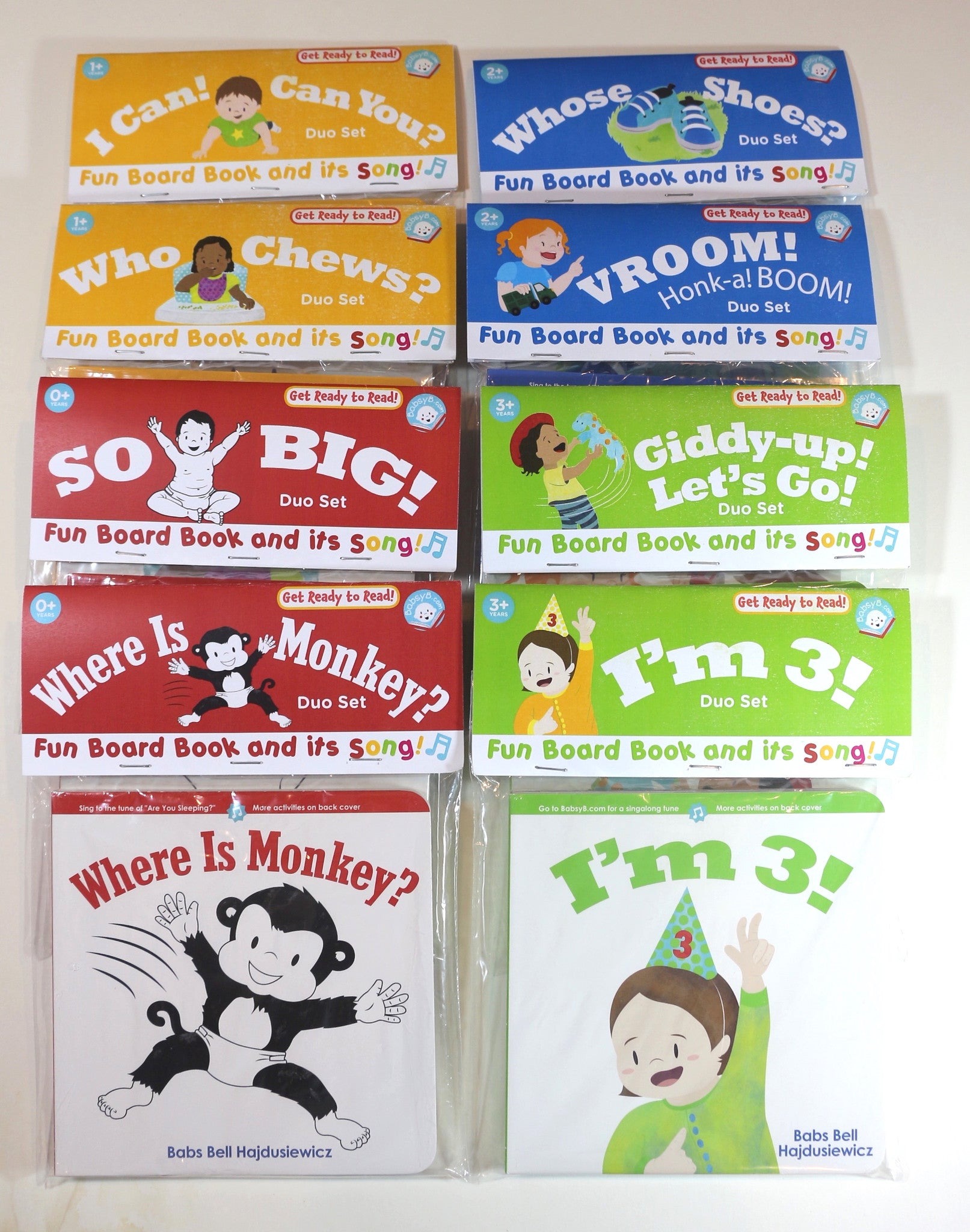 Shop Babsy B Products By Age & Type
The Babsy B Board Book Series is designed to grow with children from birth to age three
You can't go wrong with the board books series from Babsy B. ​This collection of board books and downloadable songs, is in line with research supported by the American Academy of Pediatrics, which confirms that reading aloud not only helps build oral language vocabulary, but also has a positive impact on the brain development and intellectual capabilities of newborns, infants, and toddlers.
These board books also come with a CD that features a downable song. If your child loves to color, Babsy B also offers a coloring book in the board book series. 
Award-winning Babsy B Board Books are available as a set of 8 eight books with 8 songs
Teachers' Choice is the only awards program to be exclusively judged by teachers in the classroom. Babsy B Board Books were awarded because their series of eight 12-page books and downloadable songs, encourages children's curiosity as it guides and supports oral language development. The series' offers age-appropriate vocabulary that is rhythmic and rhyming. And each book in the series is set to a catchy tune that invites everyone to sing, dance, and move. Topics and titles in this series include:

Where Is Monkey? Duo Set (age 0+)
SO BIG! Duo Set (age 0+)
I Can! Can You? Duo Set (age 1+)
Who Chews? Duo Set (age 1+)
VROOM! Honka! BOOM! Duo Set (age 2+)
Whose Shoes? Duo Set (age 2+)
I'm 3! Duo Set (age 3+)
Giddy-up! Let's Go! Duo Set (age 3+)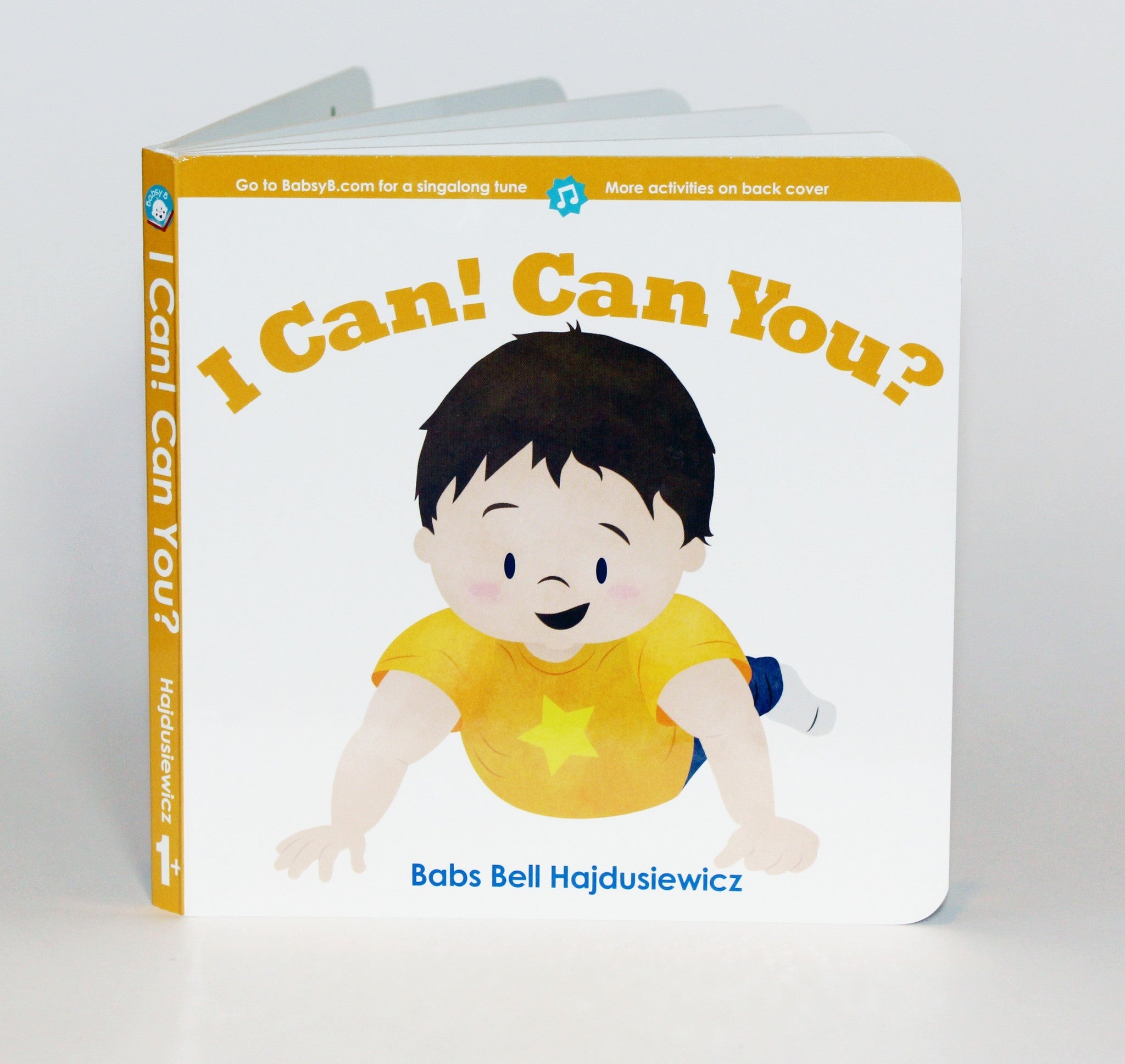 Shop Babsy B Board Book Series - 8 Books & 8 Songs
Stimulate your child's mind with Babsy B rhyming posters 
On the hunt for something special to hang in your home or in your child's room to nourish their love for words? Check out the Babsy B poem posters. 
You can hang the "Family Cares" poster in your kitchen to remind your family of standard "house rules" such as gratefully sharing, respectfully sneezing, and generously giving. 
Remind your child how special they are by purchasing the "Special Me" poster. And if your family loves a little humor, check out the "Thinking Room" poster, designed especially for the bathroom. 
These unique posters are perfect accents for your home, and some even come in different colors and styles.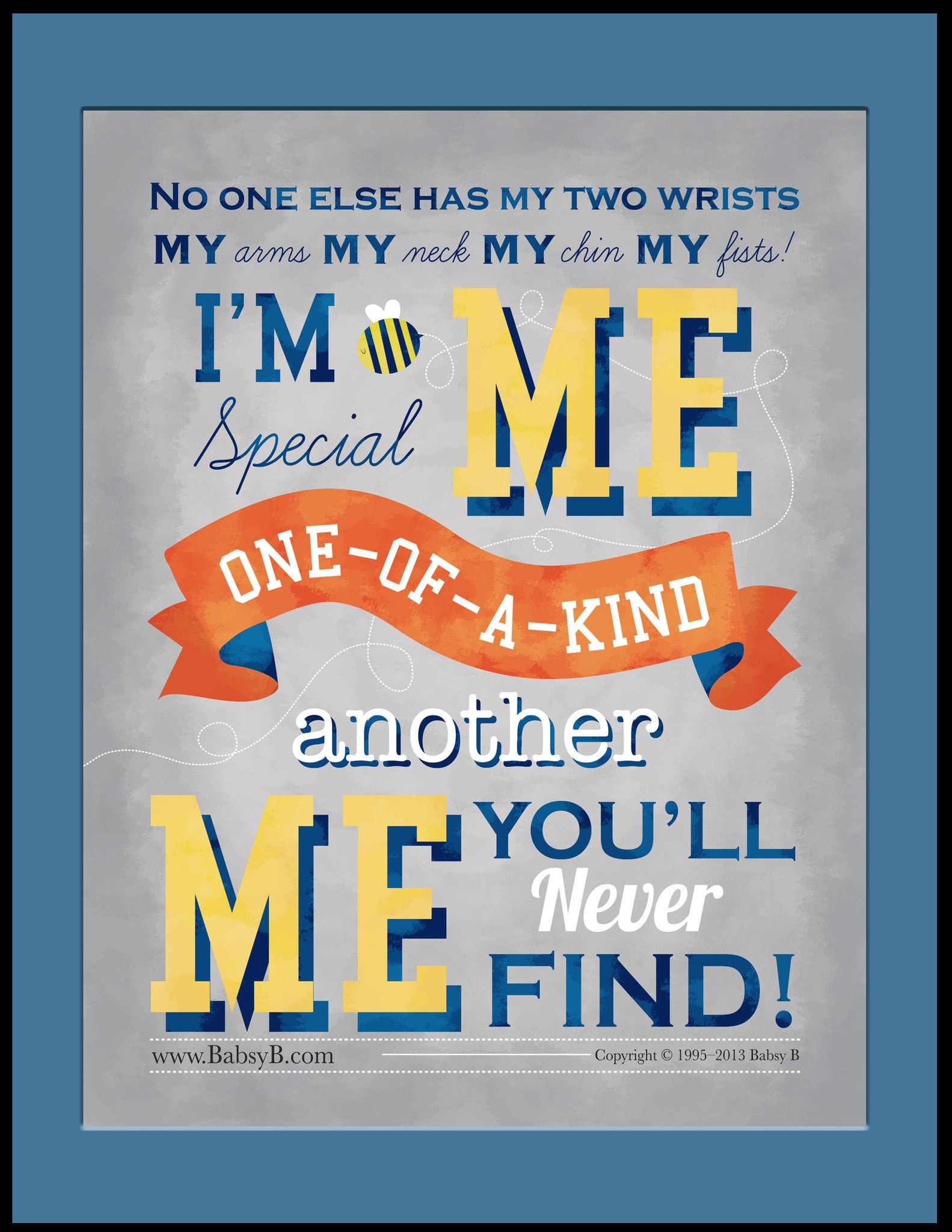 Discover the power of rhyme with Babsy B read aloud poetry books
Babsy B Poetry Works! are the perfect bedtime read aloud books for your little one. These books include 14 entertaining poems filled with rhymes and illustrations that will have your child asking for more. 
Every poem is filled with vibrant illustrations that are especially helpful for children who are second-language learners or have learning difficulties. 
The Play & Adventure (ages 3-5) will help your child talk with you about fun things such as dinosaurs, popcorn, painting, and more fun topics. They will love the colorful and playful illustrations throughout the book. 
Get your child moving with Fingerplays & Action Plays (ages 3-5). This exciting book of rhymes will encourage your child to discuss shapes, people, dancing, exercise, and even earthworms with their hands and bodies. 
Does your child love to sing and dance? Poetry Works! also comes with a companion song and plenty of teaching activities. And if you are looking for a downloadable option for an iPad or tablet, Babsy B offers Poetry Works! as digital downloads.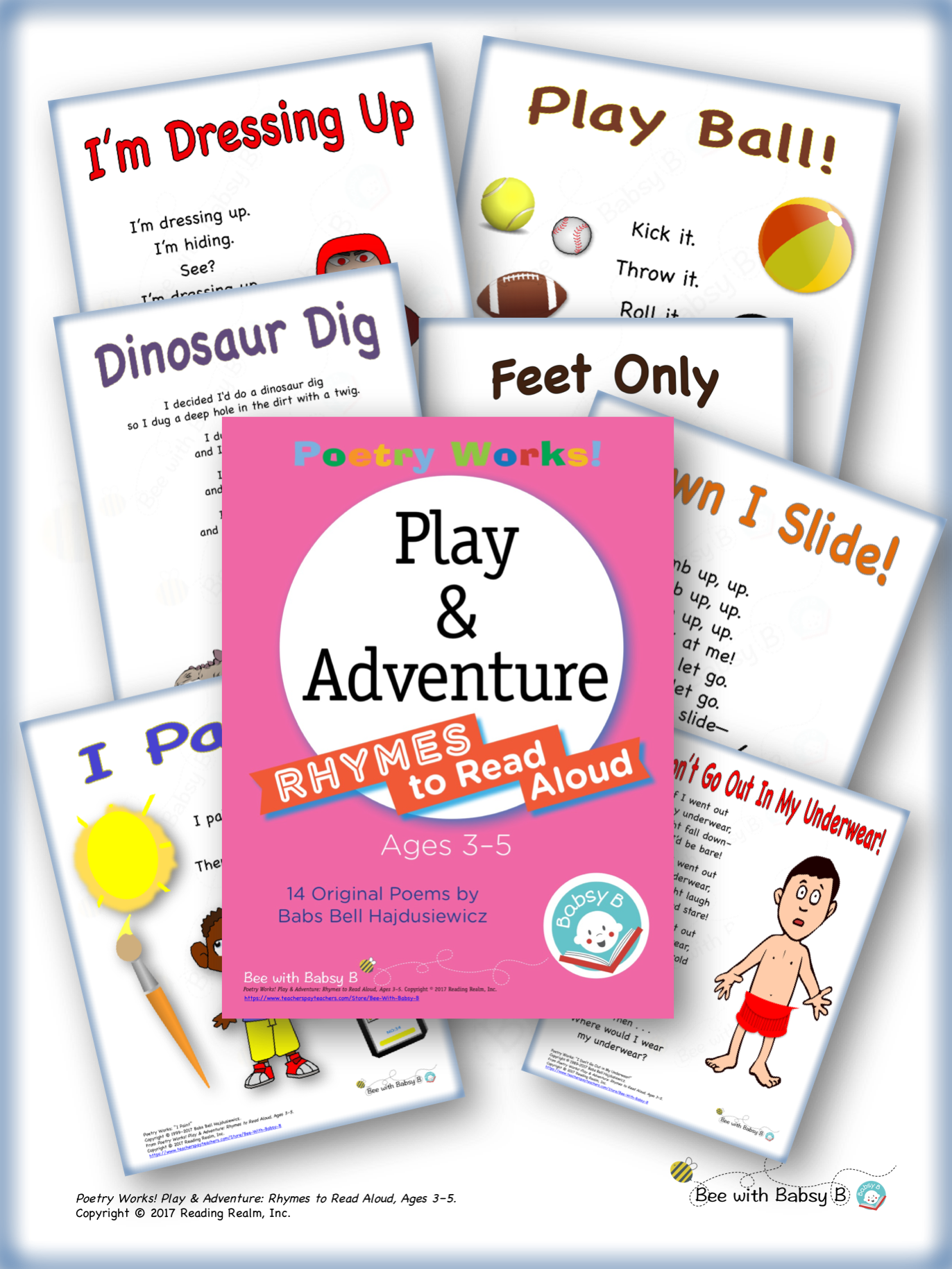 About the bestselling author who founded Babsy B
Babs Bell Hajdusiewicz is a bestselling children's author who has published more than 100 books, poems, songs, and classroom material for teachers. A couple of her bestselling books include Don't Go Out in Your Underwear!, The Bridge Is Up!, and Phonics Through Poetry. 
With more than five decades of experience in education, Babs has taught elementary-age and special education children, and she served as a director of special education for school districts in Indiana and Michigan. 
Throughout her remarkable career, Babs has spoken at hundreds of seminars, conferences, and schools about her passion for early literacy. She has made it her mission to instill in children a love for the spoken language. Wanting every child to succeed in life, every Babsy B book written by Babs is designed to give children the solid literacy foundation they need to make their dreams come true. 
Visit BabsyB.com for more tips and tools to your efforts in encouraging your child's love for reading and learning. 
Shipping & Delivery 
Unfortunately, we were unable to find specific details regarding Babsy B​'s shipping policies, and so we suggest you contact Babsy B via this CONTACT page if you have specific questions or for more information.