Sports Basement - the best sports store for cycling and outdoor products in the Bay
Cycling shoes, jerseys and shorts, bike gear, camping gear, hiking gear, running gear, adventure trips and events - you'll find them all at Sports Basement in Campbell!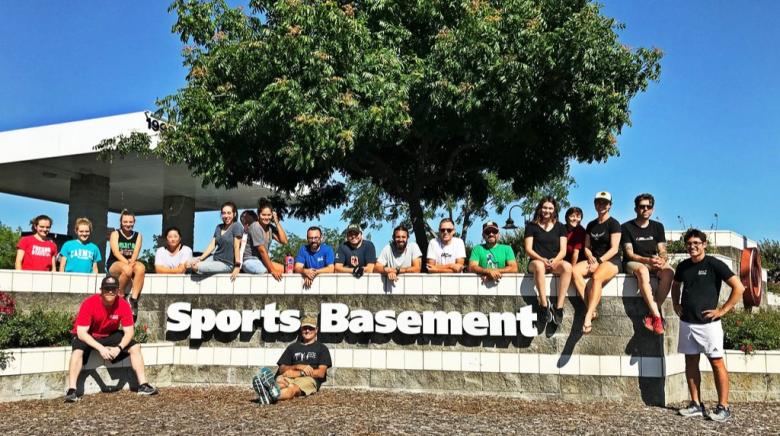 Serving the Bay Area for All Sporting Needs and Events Since 1998
Since 1998, Sports Basement has been a pillar of the outdoor community, providing the Bay Area with high-quality outdoor gear and services. Back then it was just one small shop in an old warehouse in San Francisco's Mission Bay district. Since then it has grown quite a bit to include more stores, more products, and a variety of services. There are now ten locations throughout the Bay Area, all with full-service ski shops, bike shops, and rental programs. Now you may be thinking, "Hold on. I don't want to shop at another big, corporate sports store," but step inside and you'll be pleasantly surprised to find that it is the exact opposite.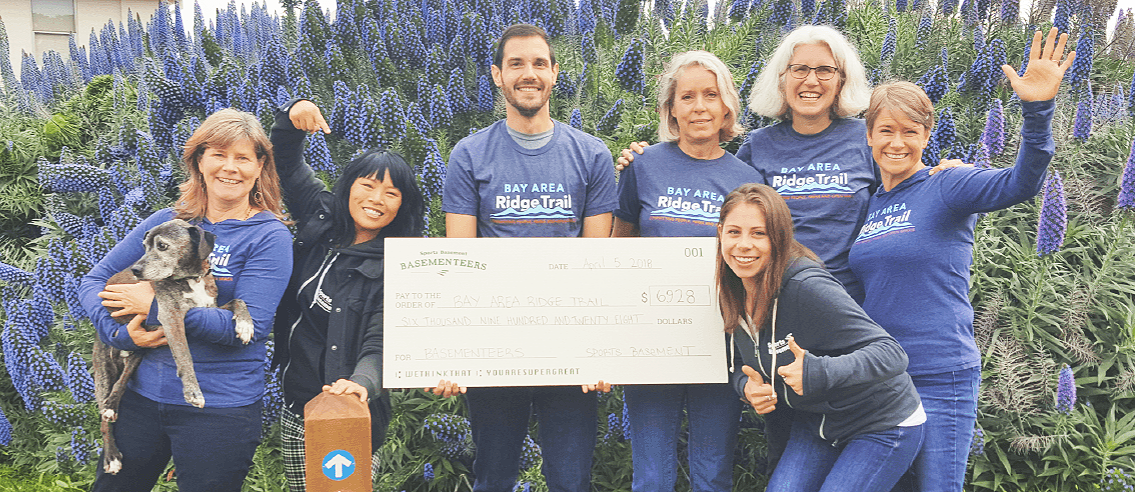 Partnering with the Community
Sports Basement has been laying down and expanding its community roots since its beginning. It has always been focused on supporting the local communities, and partnering with community leaders to give back in every way it can. To date, it  has donated over $10 million to local schools, charities and non-profit organizations. They're able to provide so much amazing support largely through their Basementeer Program. As a Basementeer, 10% of the profits from your purchases will go to your favorite charity! You can be a part of positive change you want to see happen simply by buying what you want!

What is a Basementeer?
For a one-time $25 fee you can join the Sports Basement membership program and become a Basementeer. Along with the charitable work that you'll help fund, it has another great benefit just for you. You'll get 10% off every item in the store! They even take it one step further, letting you apply that discount to items already on sale, and items that have been price matched. But even if you're not a Basementeer, there are plenty of reasons to shop here. Not only are the brands and products top notch, the prices are some of the lowest you'll find anywhere. They are continually having sales ranging from 10% all the way up to 50% off! The discounts abound! And with great prices and a wide selection of gear, you'll be able to find everything you need for any kind of adventure life might take you on.
Sign Up To Become A Basementeer Today!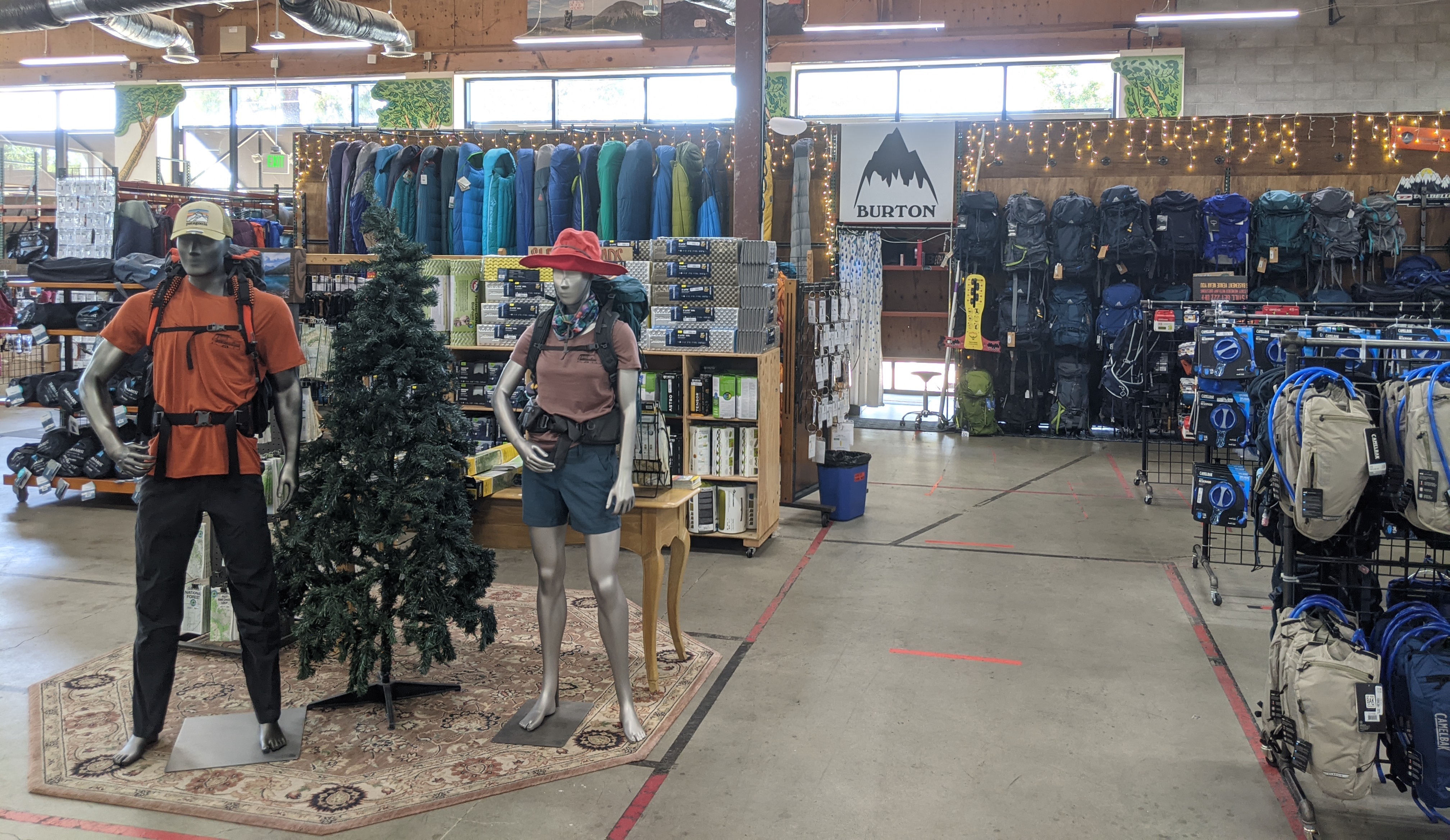 Everything You Need for Any Adventure
Whether it's camping, hiking, biking, climbing, running, swimming, tennis, skiing, snowboarding, snowshoeing, or whatever else you're into, Sports Basement has you covered. With an amazing selection of high-quality gear from the best brands in the industry, you can always find something to suit your needs. If you're looking for a new pair of running shoes, one of the expert staff can examine your gait and determine which shoes will be best for you. Maybe you're looking for some new backpacking equipment instead. Whether you need a whole set of gear, or that last-minute item before your trip, they'll get you set up with everything you need. Head over to the bike department and you can find the perfect new bike as well as everything you need to fix or upgrade your current one. The certified mechanics in the bike shop can install new parts and handle any maintenance your bike might need so you can keep pedaling.
If you're into snowboarding or skiing, there's no better place to be than Sports Basement in the wintertime. The staff are very knowledgeable on all their products and will help you pick the perfect skis or board and bindings for your riding style, while certified boot fitters will get you into the perfect boot. They even offer custom heat molding for your new boots, so you can get the comfiest fit possible. Bring your new set up over to the ski shop and they can mount the bindings and adjust them to your boots. If your old board or skis just need some love, they also offer waxing, edging, binding adjustment, and repair services so you can get back out on the slopes. You can always find great prices all year round, but if you're looking for the best deals on the latest gear for next winter season, check out Sports Basement's annual Snowfest event in November! 
Shop Everything Sports Basement Has To Offer!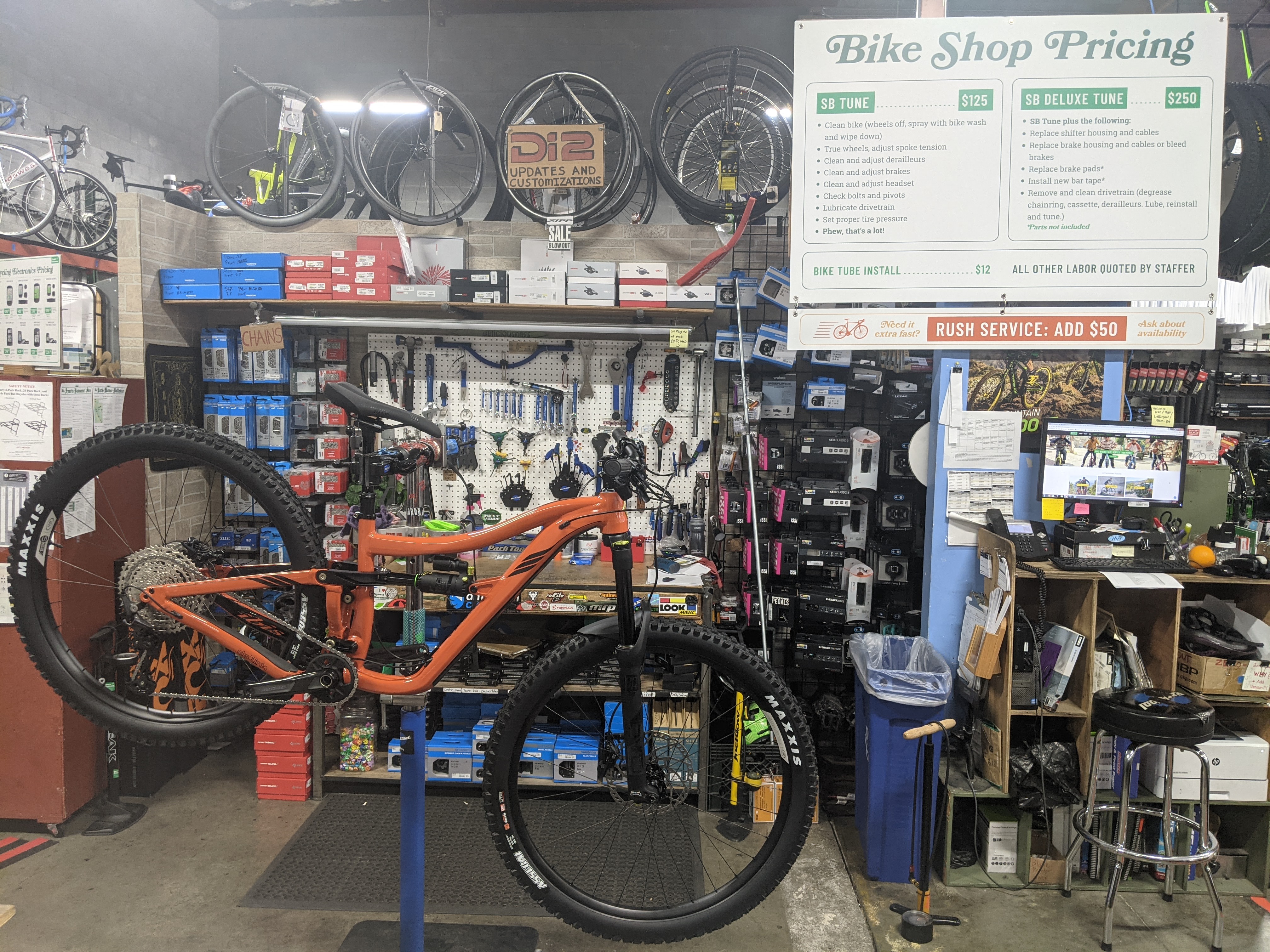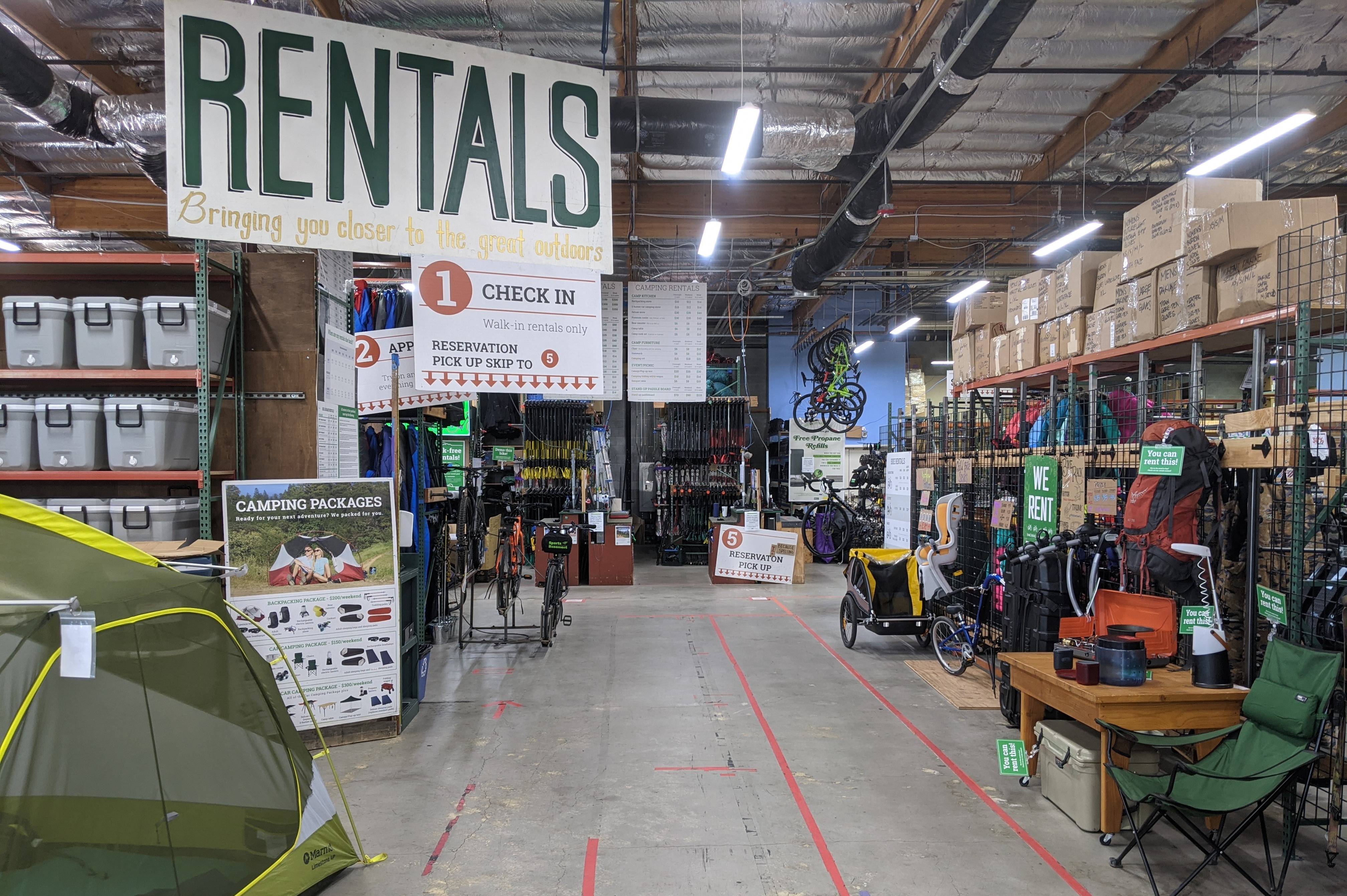 Rent First, Buy Later
If you aren't quite ready to buy your own gear, you can try renting instead! Sports Basement has a huge selection of high-quality rental gear available for both summer and winter activities. You'll find everything from tents, bikes, and wetsuits to snowboards, skis, and snowshoes. If you want to go skiing, but don't have anything, don't worry. You can rent everything you'll possibly need to have a great time in the snow. Maybe you're looking to try bicycling, or your bike is stuck in the shop. They have a massive rental fleet of different bikes to choose from including hybrid, road, gravel, mountain, and electric bikes. Never tried stand up paddleboarding before? You can rent one of those too! Check out the button below for a full list of everything you can rent through Sports Basement.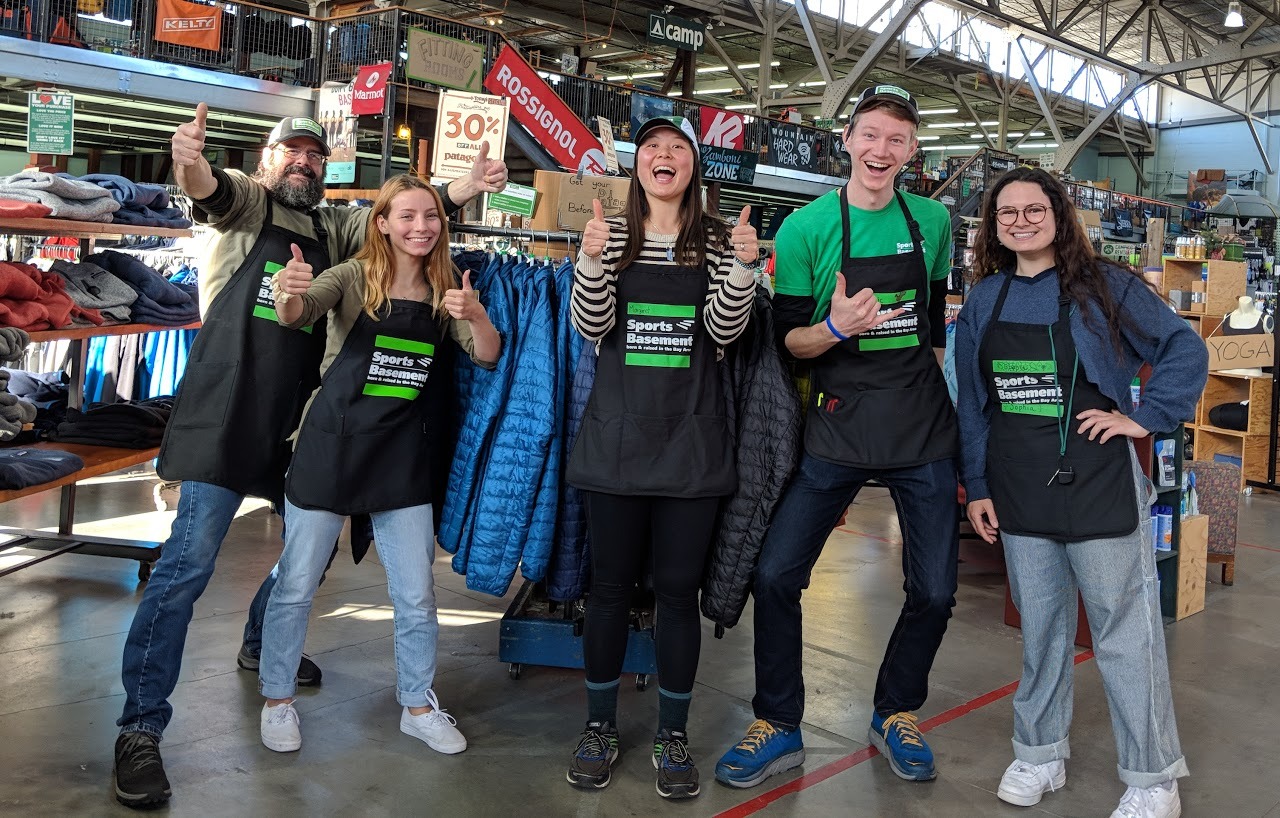 Friendly Staff with Expert Knowledge
At every store you'll find friendly staff who are ready to answer any questions you might have and assist you in finding the perfect gear for your needs. The excellent staff members are truly what sets Sports Basement apart from other retail stores and are why so many people keep coming back. They make each location feel like a small, local mom-and-pop shop by really taking the time to interact with their customers. Whether you have one question or twenty, or just want to chat about your next adventure, they are always happy to talk and share their knowledge. You'll find that everyone there is knowledgeable and enthusiastic about their products because they're part of the same outdoor community as their customers. You may even recognize some of them trying out new gear at your favorite parks and trails!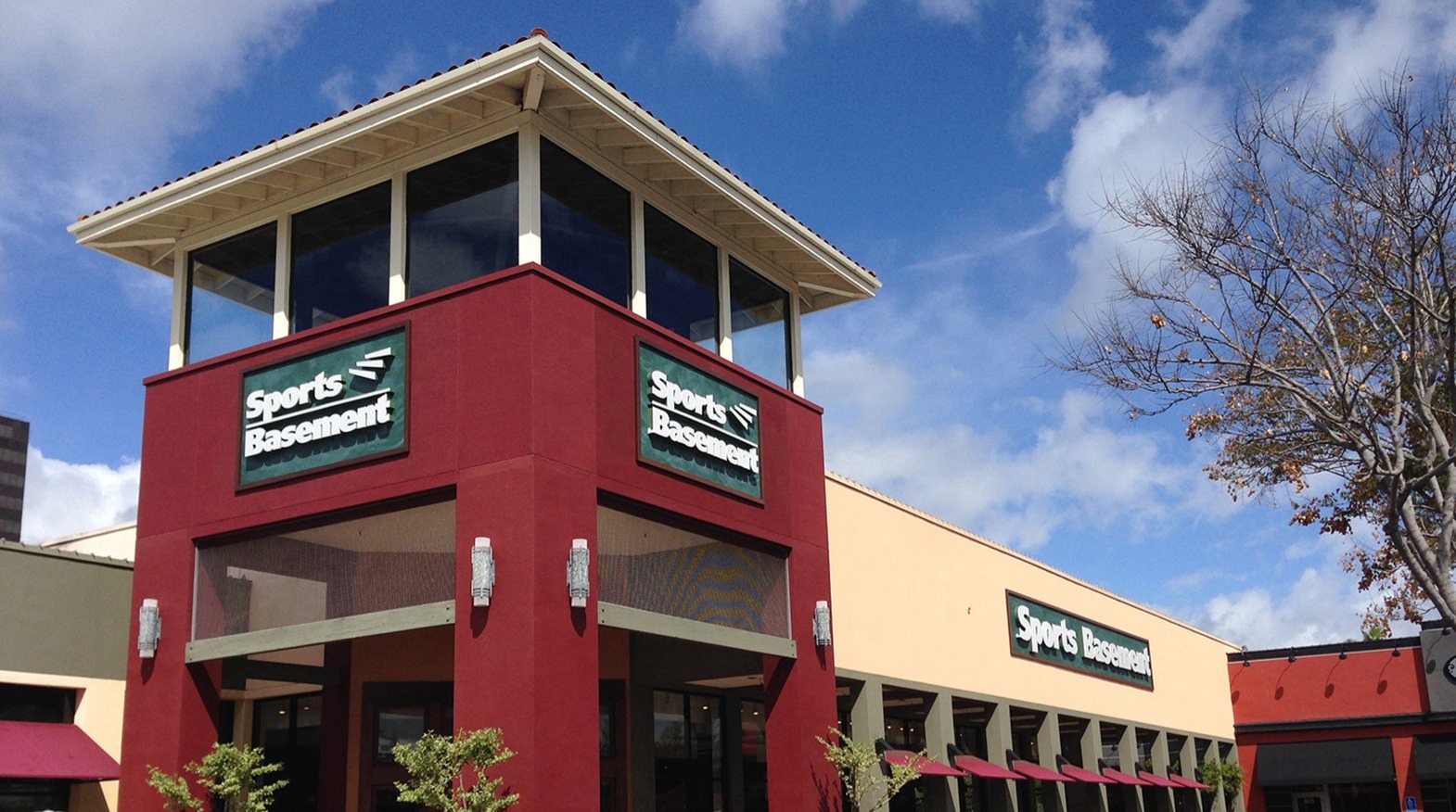 View All Sports Basement Locations!