NIUCOCO for chemical-free, non-toxic, organic hair shampoos, conditioners and serums
NIUCOCO offer organic, toxic-free, 100% natural ingredients and coconut oil in their hair shampoos, conditioners and serums for dry, brittle and damaged hair.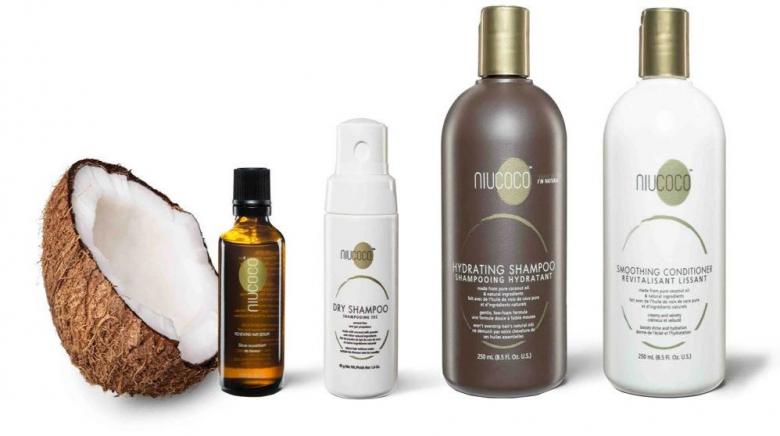 Do you want your hair to look like you just stepped out of a hair salon? Do you yearn for healthy, shiny, silky, smooth hair?  Then take a look at Canadian based NIUCOCO, for organically made, non-toxic, chemical-free, coconut oil hair products.  Using only natural ingredients, with coconut oil being the mainstay of their hair shampoos, conditioners and  hair serums, NIUCOCO has really focused on repairing frizzy, dry, damaged, brittle and oily hair so, after using their coconut shampoo and conditioner, their customers will have that salon finished look and feel to their hair.
Coconut oil is known for its nourishing, conditioning and rehydrating properties.  NIUCOCO has ensured that their coconut oil based shampoos, conditioners and serums contain the best, raw, organically grown, chemical-free and unrefined coconut oil.  NIUCOCO know that this type of natural coconut oil for hair, will not only replenish dry, damaged, frizzy and unmanageable hair but will keep your hair looking and feeling silky, nourished, healthy and shiny, giving you that salon-quality hair.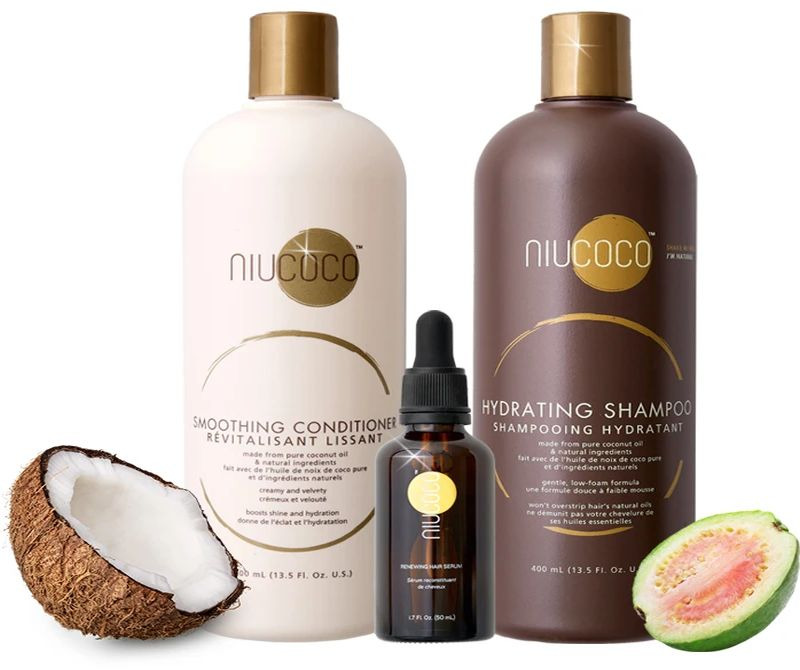 NIUCOCO, Toxic-free, chemical-free, organic hair shampoos, conditioners and serums made from natural ingredients
As well as the main ingredient of coconut oil, NIUCOCO also use three more key elements in their natural coconut oil shampoos and coconut oil conditioners, as well as their serums.  Sunflower oil nourishes the hair with beta-carotene, helping prevent damage to your hair and its roots; it also helps repair frizzy and dry hair.  Rosemary leaf extract has oil that helps clear clogged hair follicles to help against dandruff and hair loss.  Finally, shea butter, packed with vitamin E and fatty acids, helps give your hair a healthy shine and prevent hair breakage.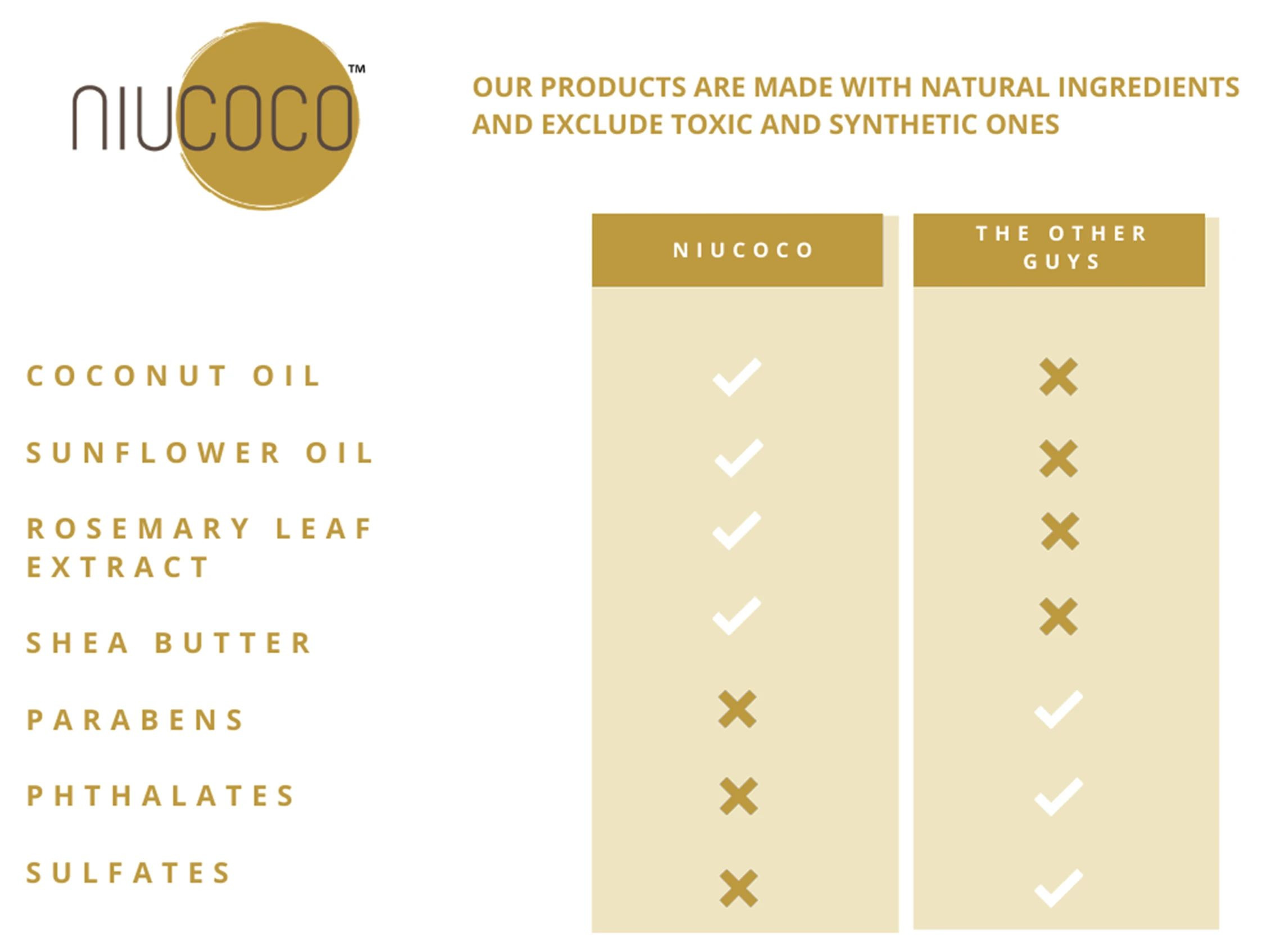 NIUCOCO organically made, chemical-free Hydrating Shampoo especially formulated for dry and heat damaged hair
NIUCOCO Hydrating Shampoo is specially formulated to help dry hair damaged by heat treatments, including hairdryers, curling irons, hair dyes and sun exposure.  Without stripping the natural oils, NIUCOCO Hydrating Shampoo helps prevent dandruff and colour fading.  With green tea, watermelon and orchard extracts as extras in this gorgeous natural coconut shampoo, you can give your hair the kiss of life.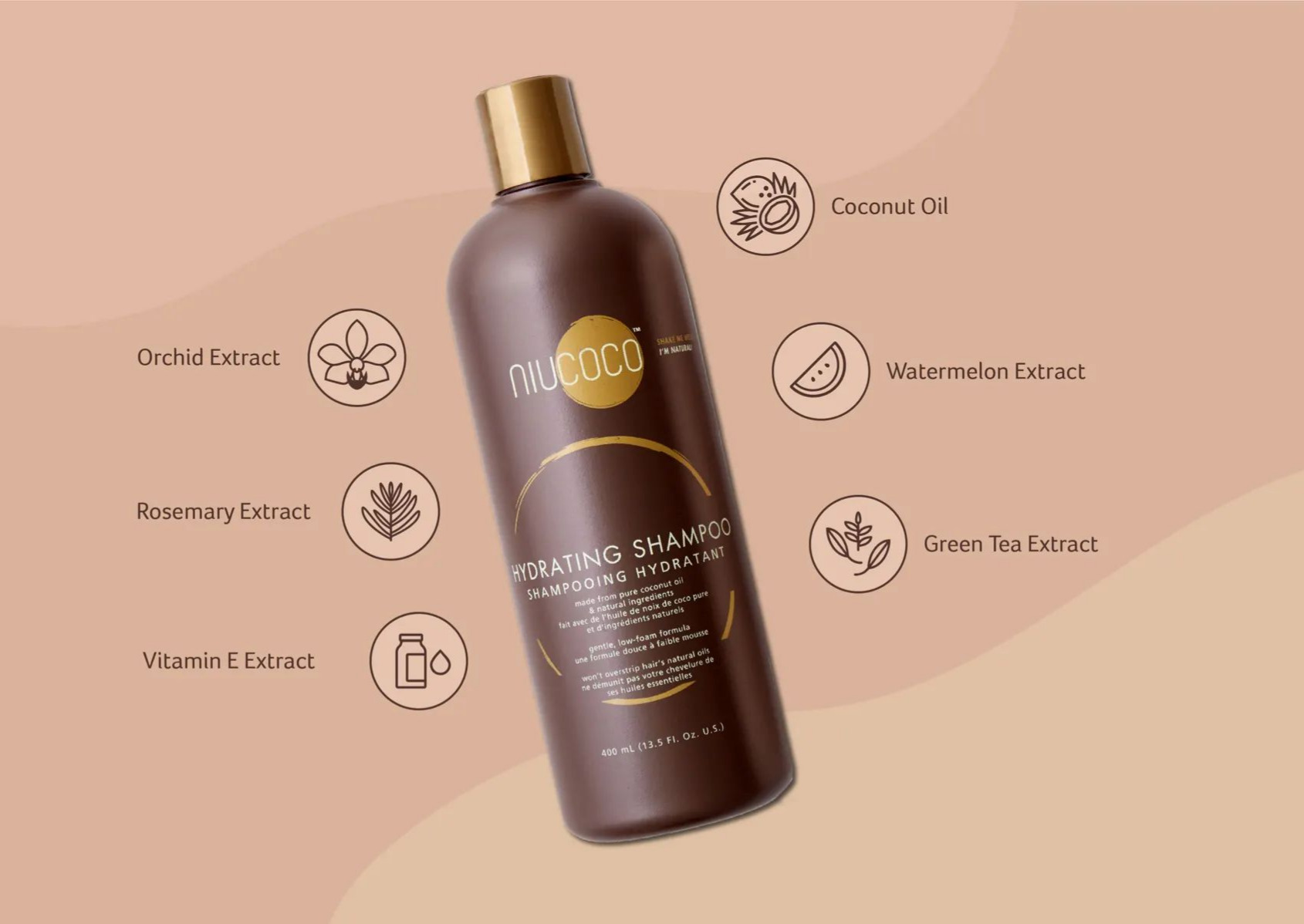 NIUCOCO Renewing Hair Serum for smoothing, deep nourishment and heat protection for dry and damaged hair
In the words of NIUCOCO, "A miracle serum that is a superfood for your hair," describes their  Renewing Hair Serum perfectly.  With ingredients such as extra virgin coconut oil, sunflower seed oil and guava fruit extract, their Renewing Hair Serum puts back the natural oils and nourishment into dry, brittle, sun-damaged and unhealthy hair, giving it that natural bouncy and luxurious look, like you just stepped out of a salon.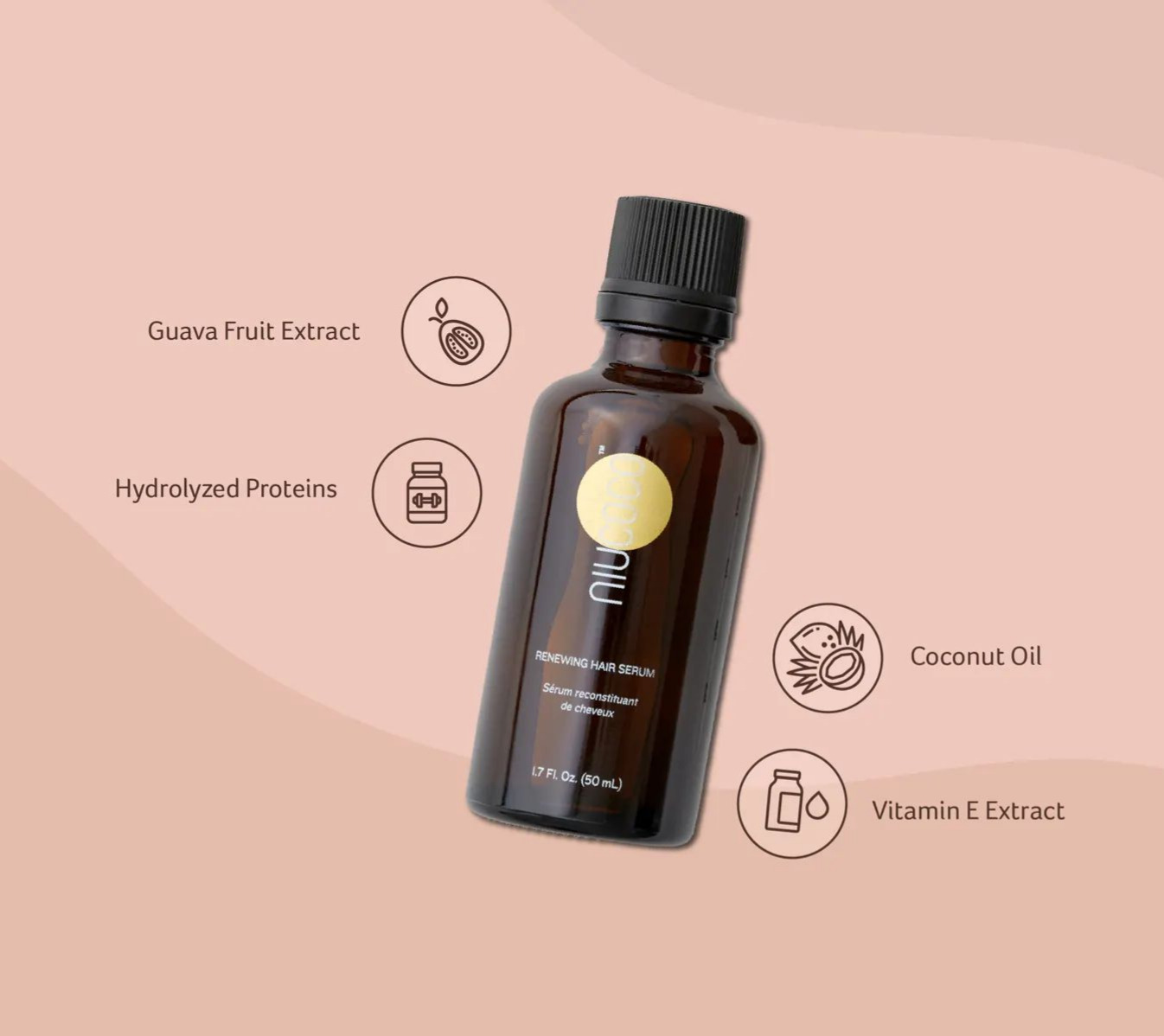 NIUCOCO organically made Smoothing Conditioner puts the softness and nourishment back into your hair
Having used NIUCOCO Hydrating Shampoo, your hair will be ready for the luscious NIUCOCO Smoothing Conditioner.  This creamy, organically made, smoothing conditioner will, as well as moisturizing your hair, leave it looking and feeling soft to the touch and naturally smooth without weighing down the texture.  Easy to use, you apply NIUCOCO Smoothing Conditioner to washed hair, leave for 1-3 minutes and then rinse for soft, smooth hair.  You will notice a difference in your  after using their shampoo and conditioner with coconut oil.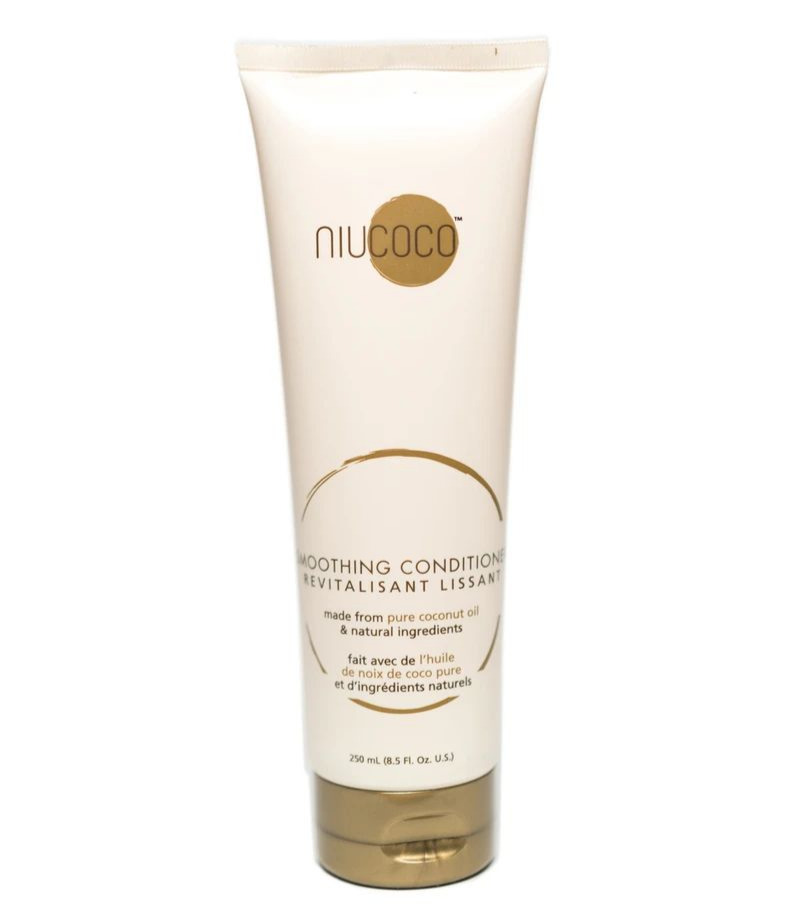 For instant smooth, clean, healthy hair, use Non-Aerosol, Dry Shampoo Mister by NIUCOCO with 100% natural ingredients
Are you running late for work or having a lazy day but need to revitalise your hair?  Don't worry, NIUCOCO have you and your hair completely covered with their chemical-free, organically made, Non-Aerosol, Dry Shampoo Mister.  100% natural ingredients mean your hair will feel as good as when you step out of the shower.   Unlike most dry shampoos,  NIUCOCO Non-Aerosol, Dry Shampoo Mister is not just a quick fix.  NIUCOCO has included in this chemical-free dry shampoo, kaolin clay which absorbs excess oil and, because of its high silica content, can help increase circulation in the scalp, leaving you feeling fresh and clean.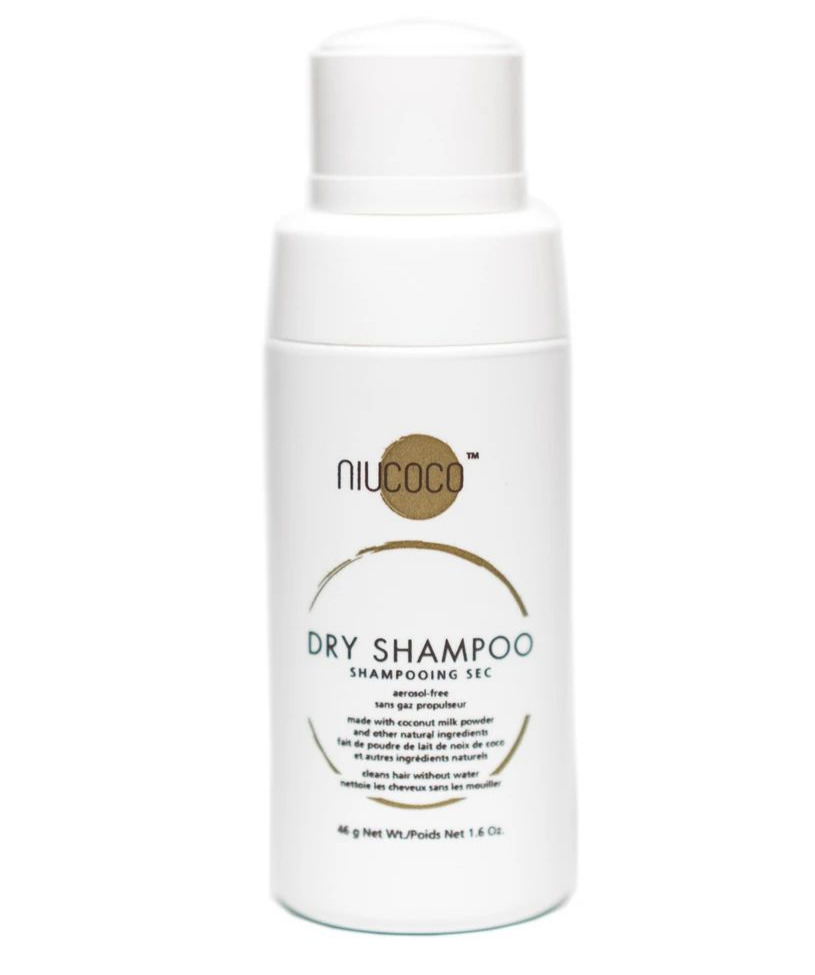 The founders of NIUCOCO know chemical-free, organic coconut oil hair products are the root to luxurious, healthy hair 
NIUCOCO founder Yasmine N. Ishmael struggled to find hair products that nourished and cared for her hair.  She remembered growing up in the West Indies, and her mother used coconut oil to give her hair and scalp a healthy nourished shine leaving her hair feeling soft and silky.   Wanting to give her hair that luxurious feel again, Yasmine set about creating coconut oil-based hair products that nourished and cared for your hair.  Creating NIUCOCO gave her the platform to share her unique, chemical-free, organic coconut hair products with her customers.  Sticking to her beliefs, Yasmine made sure all NIUCOCO products were 100% vegan, paraben-free, sulfate-free and ethically sourced so her customers could enjoy luscious, soft, healthy hair.
SHIPPING & Delivery
NIUCOCO ships worldwide (import duties and VAT may apply depending on country of residence/delivery)  Free delivery in the USA and Canada on orders over $50.00. To learn more about shipping details, visit SHIPPING page.