Honeyskin is a natural alternative for healthy skincare, haircare, and anti-aging
Honeyskin uses ingredients like Manuka honey and aloe vera for a healthier alternative, blending the best of nature to make your skin and hair glow.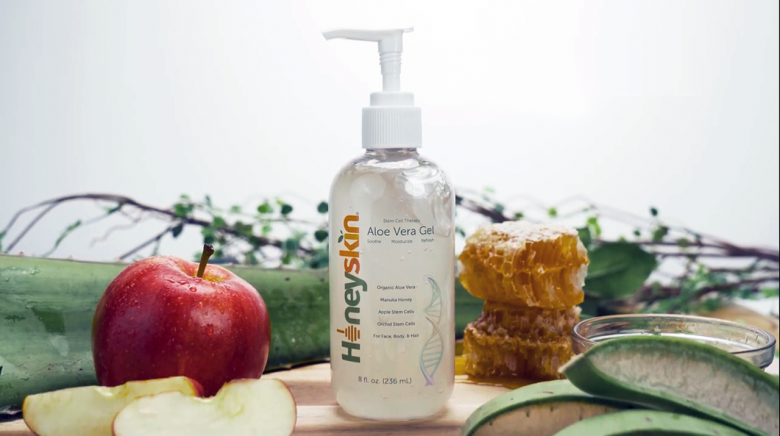 The founders of Honeyskin worked for many years in the mainstream cosmetics industry when they noticed a disturbing pattern in several high-end brands. Many high-priced skincare products contained chemicals and fillers that could dry out skin and exacerbate existing skin issues, causing further pain and redness. That's when they decided to begin a company of their own. 
Their vision was to create healthier skincare solutions, especially for people with sensitive skin and hair issues. Honeyskin products contain natural and organic ingredients without harmful substances, such as parabens. Instead, they use a combination of carefully selected organic ingredients, natural extracts from plants, as well as essential oils. 
The prized ingredient that makes Honeyskin unique is raw Manuka honey, sustainably sourced from New Zealand. It has many beneficial properties, which help to deeply moisturize skin and hair while healing many irritating skin conditions.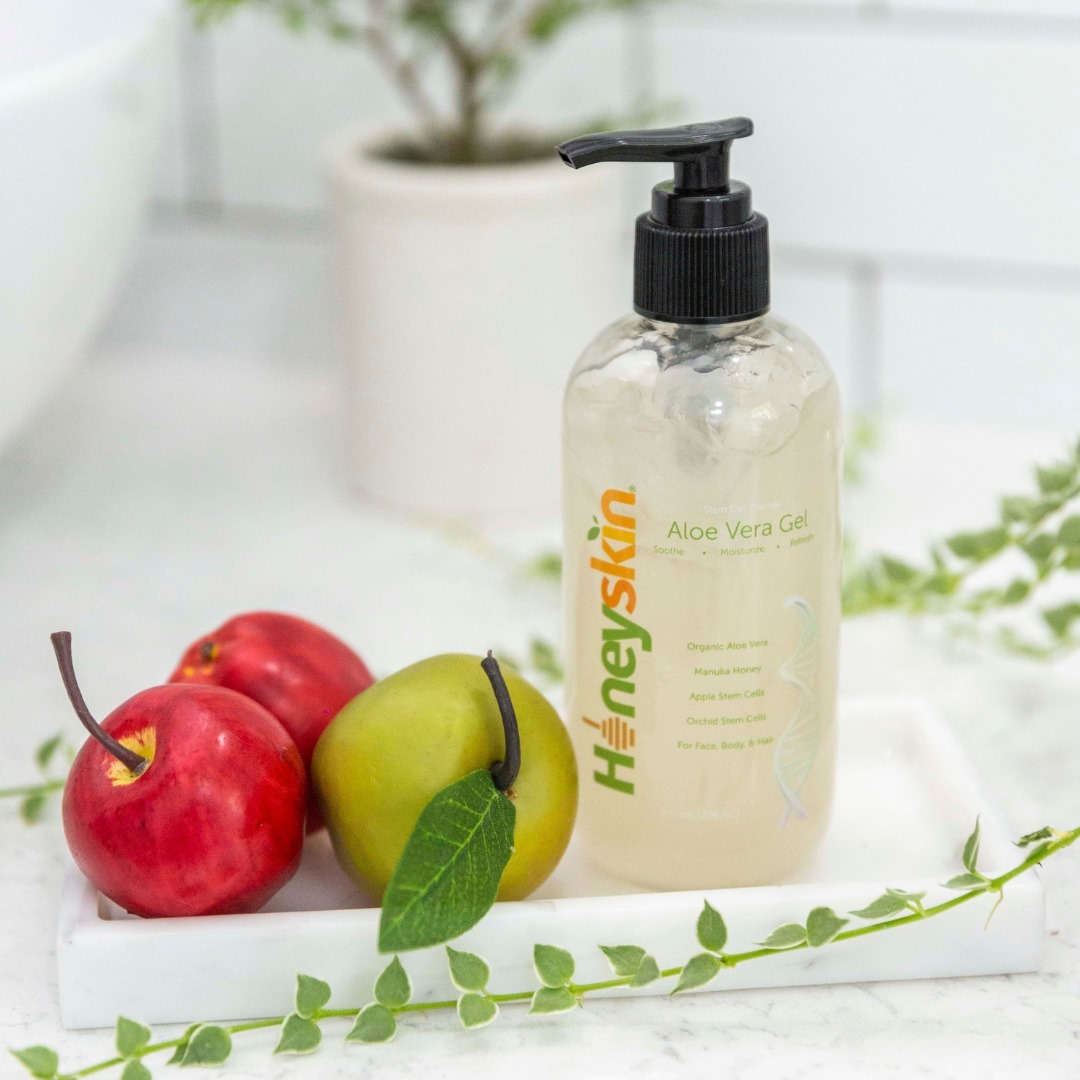 With over 10,000 reviews worldwide, Honeyskin Ultimate Face and Body Cream delivers results 
The flagship product in the Honeyskin line is the Ultimate Face and Body Cream. And for good reason. Users are seeing real results for a number of skin issues including dryness, redness, irritation, acne, aging, dullness, inflammation, and even eczema and rosacea.
Honeyskin Ultimate Face and Body Cream is paraben and sulfate free, and it's made from ingredients that are organic, eco-friendly, and vegan. There are four key ingredients that make Honeyskin Ultimate Face and Body Cream so effective in conquering common skin issues: Manuka honey, wild oat extract, coconut oil, and shea butter. It also contains aloe vera which soothes redness and naturally moisturizes the skin.
Manuka honey, the star player in the Honeyskin lineup, has been shown to ward off free radicals and kill harmful germs. It's also full of antioxidants that refresh and renew the skin. Many users have seen a reduction in redness and acne within a couple of weeks, much sooner than the thirty day money-back promise that Honeyskin offers.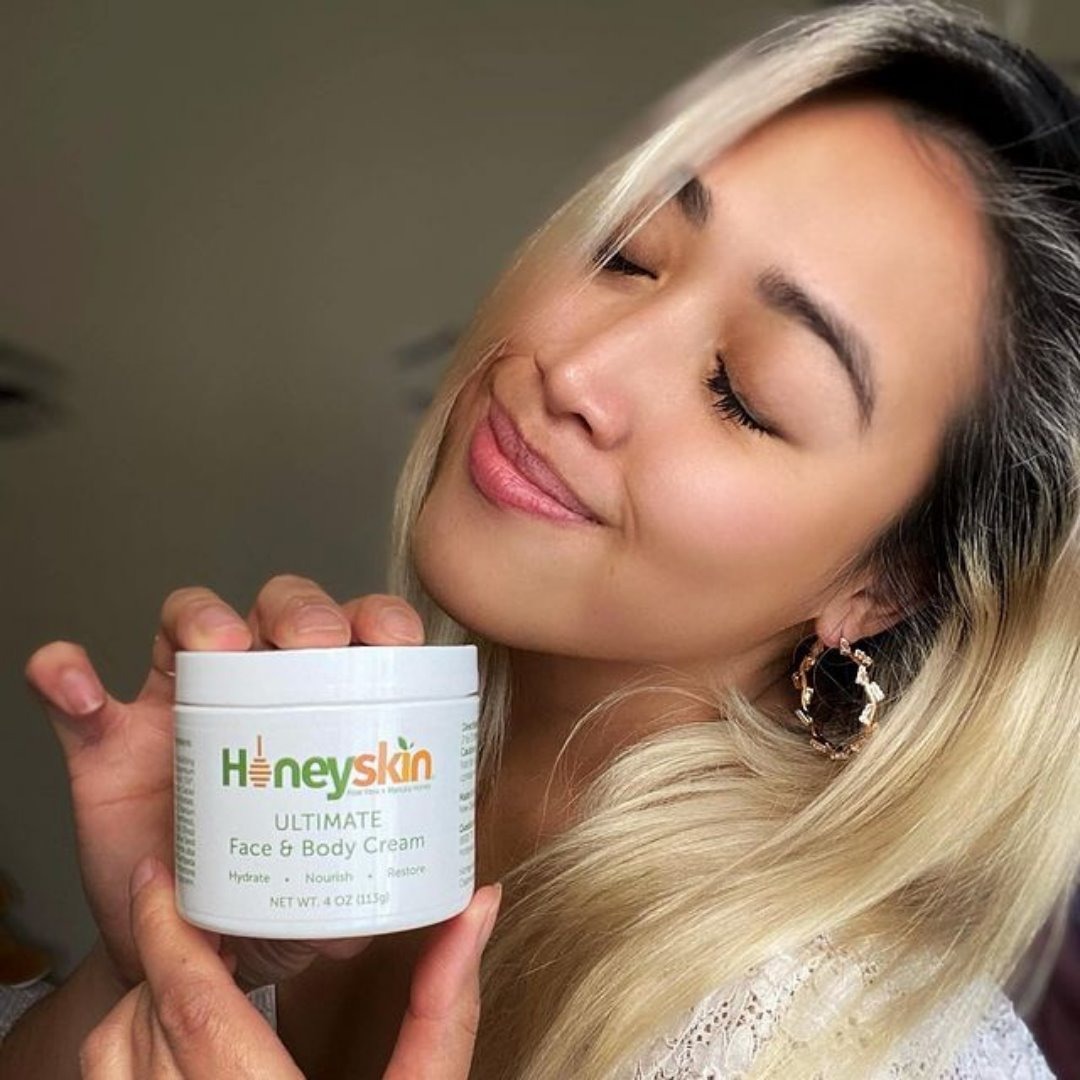 Honeyskin shampoos and conditioners use natural ingredients to heal the scalp and hair
Honeyskin's founders took their vision beyond healthy skin and created a line of chemical-free shampoos and conditioners. Harsh parabens and sulfates in popular products can dry out the hair and irritate the scalp. With all-natural ingredients including moisturizing Manuka honey, the shampoos and conditioners from Honeyskin are shown to improve scalp and hair dryness.
Conditions like psoriasis, eczema, dandruff, and dry scalp are often difficult to treat without sacrificing beautiful hair. Honeyskin formulated both the Gentle Moisturizing Shampoo and Conditioner and the Tea Tree Shampoo and Conditioner to work with all hair types and even color-treated hair. 
Another active ingredient that sets Honeyskin shampoos and conditioners apart is apple stem cells. Stem cells are the most important cells within the skin. They are the source for regeneration in the skin and scalp. Apple stem cell technology works to increase the lifespan of hair follicles so that the hair can stay healthy. Some users have even noticed thicker hair or new hair growth using hair products with apple stem cells.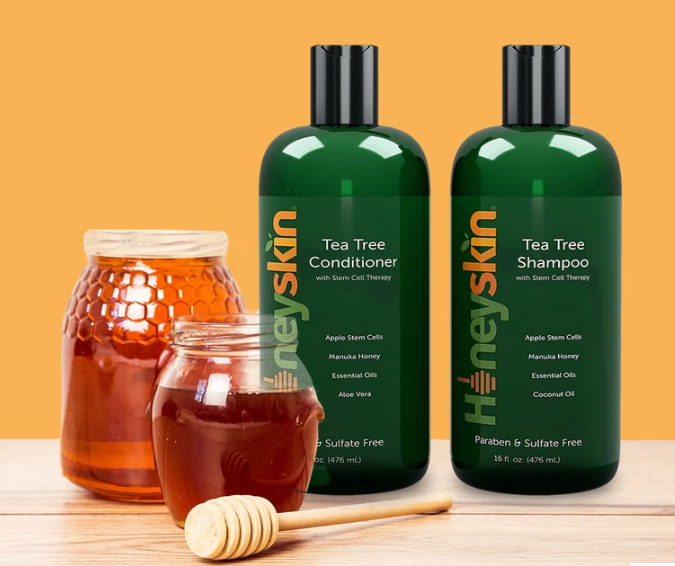 Manuka honey's antibacterial, anti-inflammatory and antioxidant benefits are what makes it perfect for treating irritated skin and scalp
Manuka honey is the key ingredient in Honeyskin products as it has incredible skincare benefits. It's antibacterial nature makes it effective in soothing acne prone skin. It's antioxidant properties soften skin and restore a youthful complexion. On top of this, Manuka honey is effective in healing cuts, scrapes and skin irritation.
Honeyskin sources its Manuka honey from New Zealand, one of only two places in the world where Manuka honey can be found. Honeyskin's Manuka honey is made by bees that pollinate the Manuka flowers of the North Island of New Zealand. The honey is harvested from the hives by the professional beekeepers of the Unique Manuka Factor Honey Association (UMF). The UMF beekeepers authenticate the honey before it is sent to us for use in Honeyskin products.
Manuka honey is very rare due to the fact that Manuka flowers only bloom 2 to 6 weeks out of the year in mid-December, which is the beginning of summer in New Zealand. The flowers themselves grow wild and can only be found in specific microclimates, often in the most isolated hills and forests. Some Manuka hives even have to be transported by helicopter to local bee farms This makes it much more expensive than other honeys that are mass produced all year round.
Dermatologists love using Manuka honey because it contains MGO and other powerful ingredients. MGO (methylglyoxal) comes from another compound in Manuka honey called DHA, which occurs naturally in the nectar of Manuka flowers. These naturally occurring compounds produce a strong antibacterial effect, which is why Manuka honey is so popular. While all types of honey have some level of antibacterial activity, the best Manuka honey has a potency that is 100 times higher than less potent products.
Because honey has anti-inflammatory benefits, it can reduce inflammation and pain. It can also increase the production of cells that are responsible for repairing damaged tissue. Manuka honey is frequently used for healing burns and wounds. Many people like using it to treat dermatitis, eczema and other skin conditions. And because Manuka honey revitalizes skin cells, it has astounding effects on aging skin.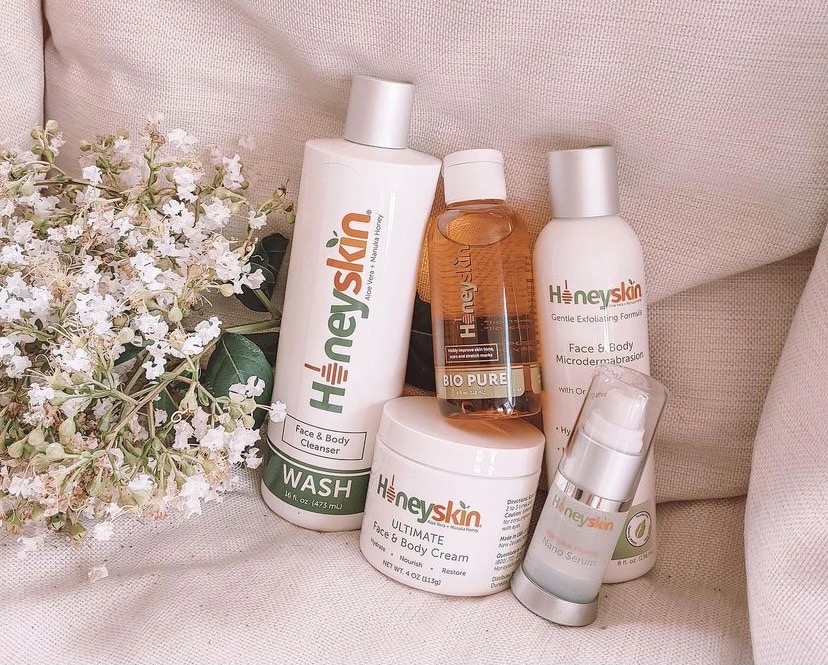 Where to find Honeyskin 
While some Honeyskin products are available for purchase on Amazon or in popular drug stores or costmetics stores. You can find Honeyskin products directly on the Honeyskin website. Honeyskin has several subscription options available on their website, allowing you to continually order the things you love.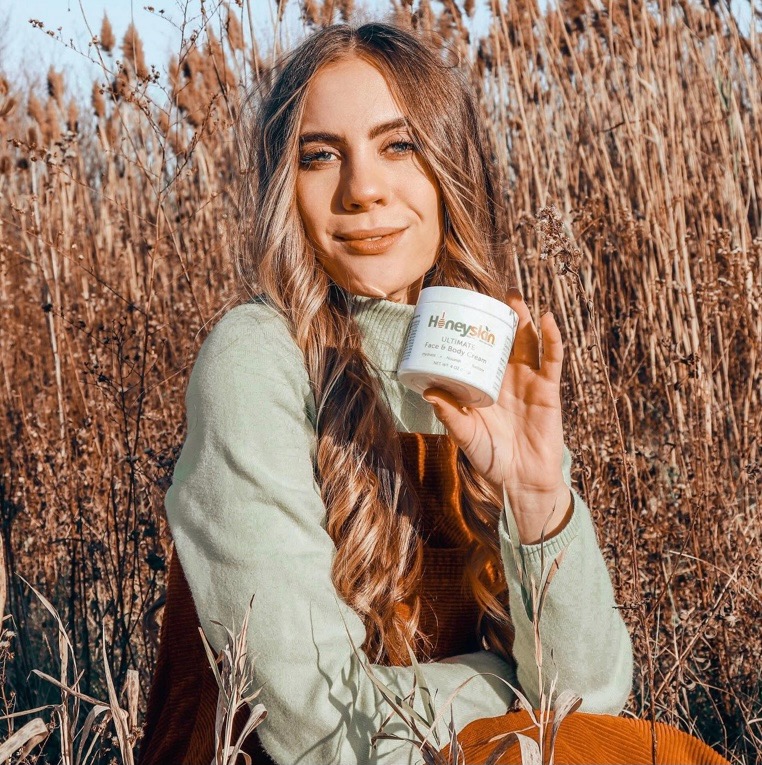 Shipping & Delivery
Honeyskin offers standard shipping on most items which takes about 3-4 days to arrive after your order is processed. Please allow 2-3 business days for your order to be processed and fulfilled. The shipping fee is a flat rate of $4.95 or free on orders over $50. Refer to the SHIPPING page for more information.