Urban trails: 1 mile hike of downtown Palo Alto's Greg Brown murals
Can you hunt down all the friendly aliens hiding in downtown Palo Alto?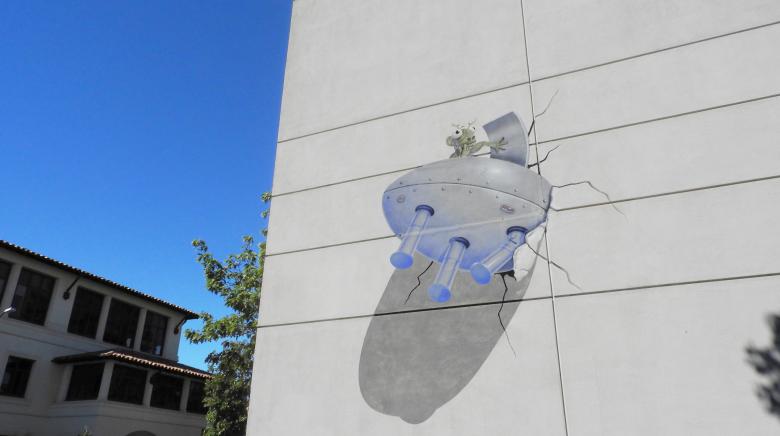 If you wander the streets of downtown Palo Alto long enough, you may start to notice that some of the locals are a bit… unusual. Muralist and Palo Alto local Greg Brown has introduced an eccentric cast of painted aliens, agents, and crooks, giving the city and its walls a playful warmth. A devotee of the "trompe l'oeil" style (optical illusions that appear three-dimensional), this mischievous artist's work appears so realistic that it isn't uncommon for passersby to mistake them as real, rear back in shock at finding they aren't, then continue along their way with an amused smile. But rather than waiting to stumble upon his work, this one-mile urban hike will allow you to intentionally seek him out. Are you ready?
Begin Your Hike on Emerson Street
Start your hike outside Avid Bank (400 Emerson Street) where you'll find two murals. The first is a pelican thief caught in the act of exiting the bank with money in its beak. The second, an undercover agent inching along the two-story ledge with a bird perched on his fedora. They're on alternating sides of the building so they could very well be characters of separate stories… but we'd like to think the pelican is on the FBI's most wanted list and this guy is trying to apprehend him.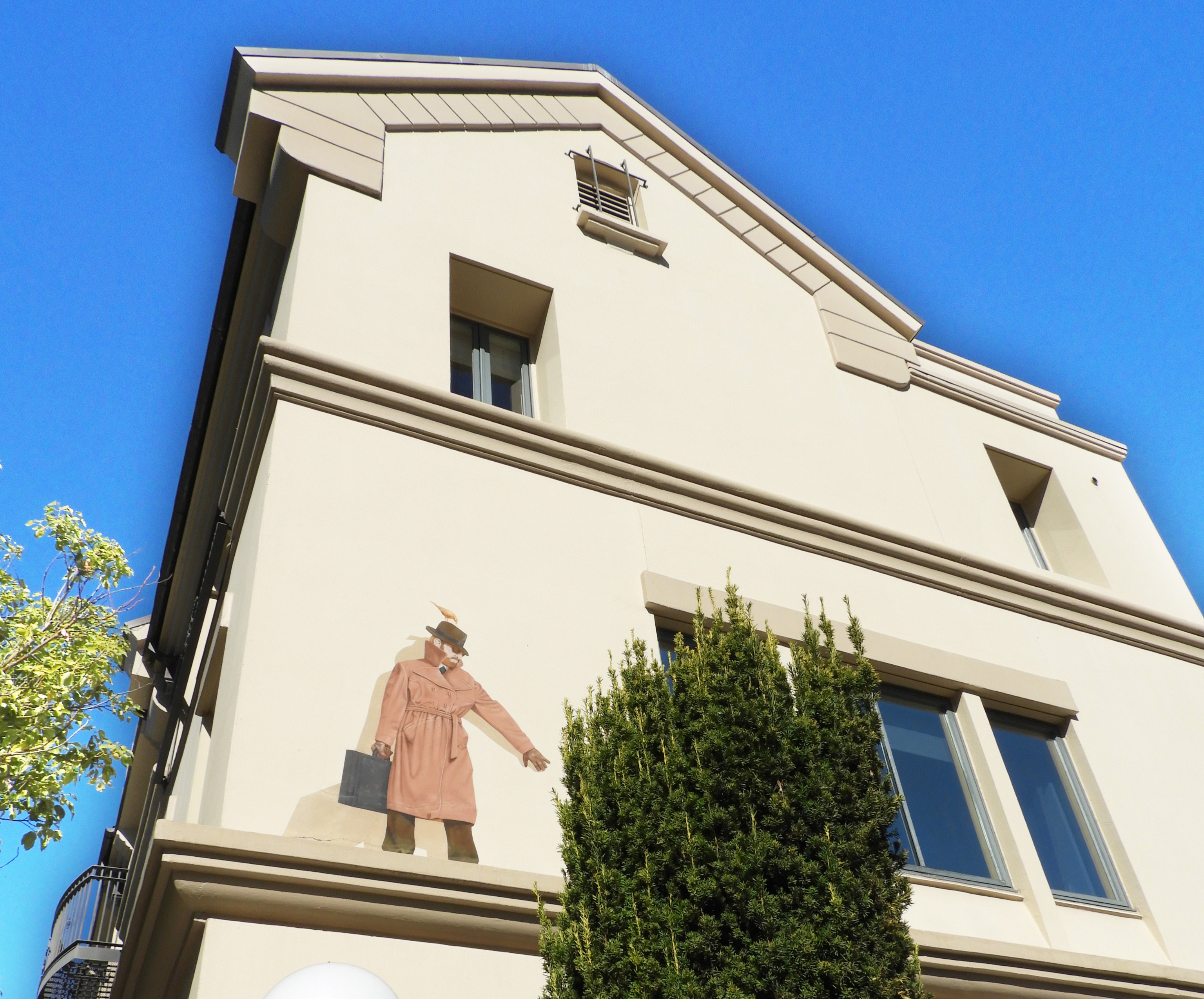 Continue onto Lytton Avenue
Head up Lytton Avenue in the direction of Cogswell Plaza until you reach the Comerica Bank (250 Lytton Avenue). Here you'll discover the first of a few paranormal sightings along your route. On the side of the building facing the parking lot, an alien sheepishly pokes his head out of the top hatch of his crashed UFO. This mural is appropriately titled "Poor Parking Skills."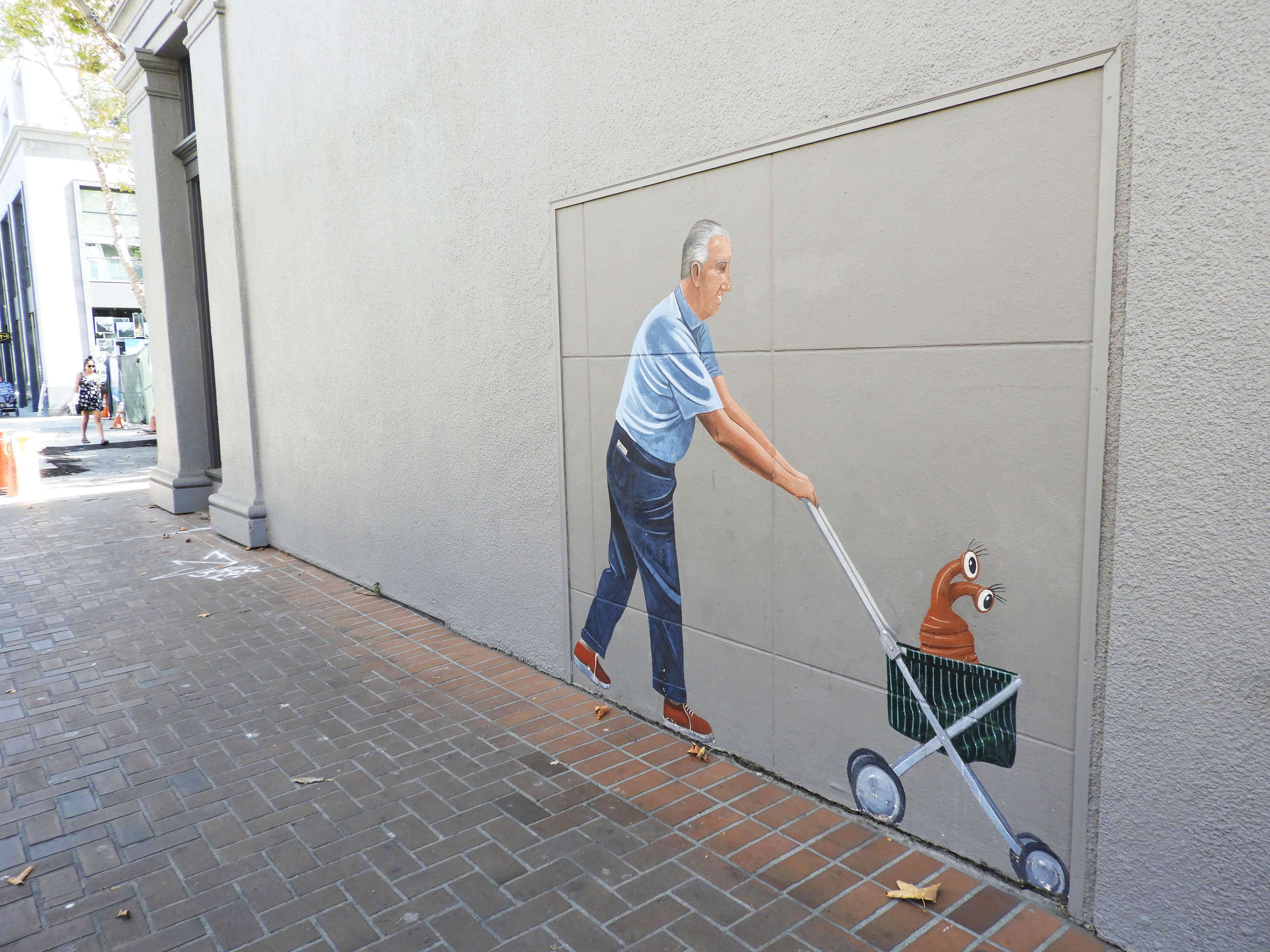 Bryant Street & University Avenue
If you continue up the road and make a right onto Bryant Street, you'll spot your next sighting on the University Avenue side of Restoration Hardware (281 University Avenue). Former Vice President Spiro Agnew pushes a googly-eyed, pudgy alien in a stroller. Previously, the stroller carried a cat, but the image was altered in the late 80s. Apparently, Brown identified his alien as a "Tyconian" (a tie salesman from the planet Tycone).
Now cross the street and head up University Avenue until you see Peet's (436 University Avenue). A painted nun leans over a real metal balcony, about to launch a paper airplane. Brown playfully titled this one, "Sister Amelia, Patron Saint of Flight."
Waverly Street
After possibly ducking inside for a latte to bring with you, retrace your steps and turn left onto Waverly Street. 526 Waverly Street depicts a woman watering a real-life plant. She stares in surprise at a bird perched on her gardening hose. Often known for featuring friends and family in his works, Brown based this woman off of his grandmother—who apparently did once have a bird land on her hose.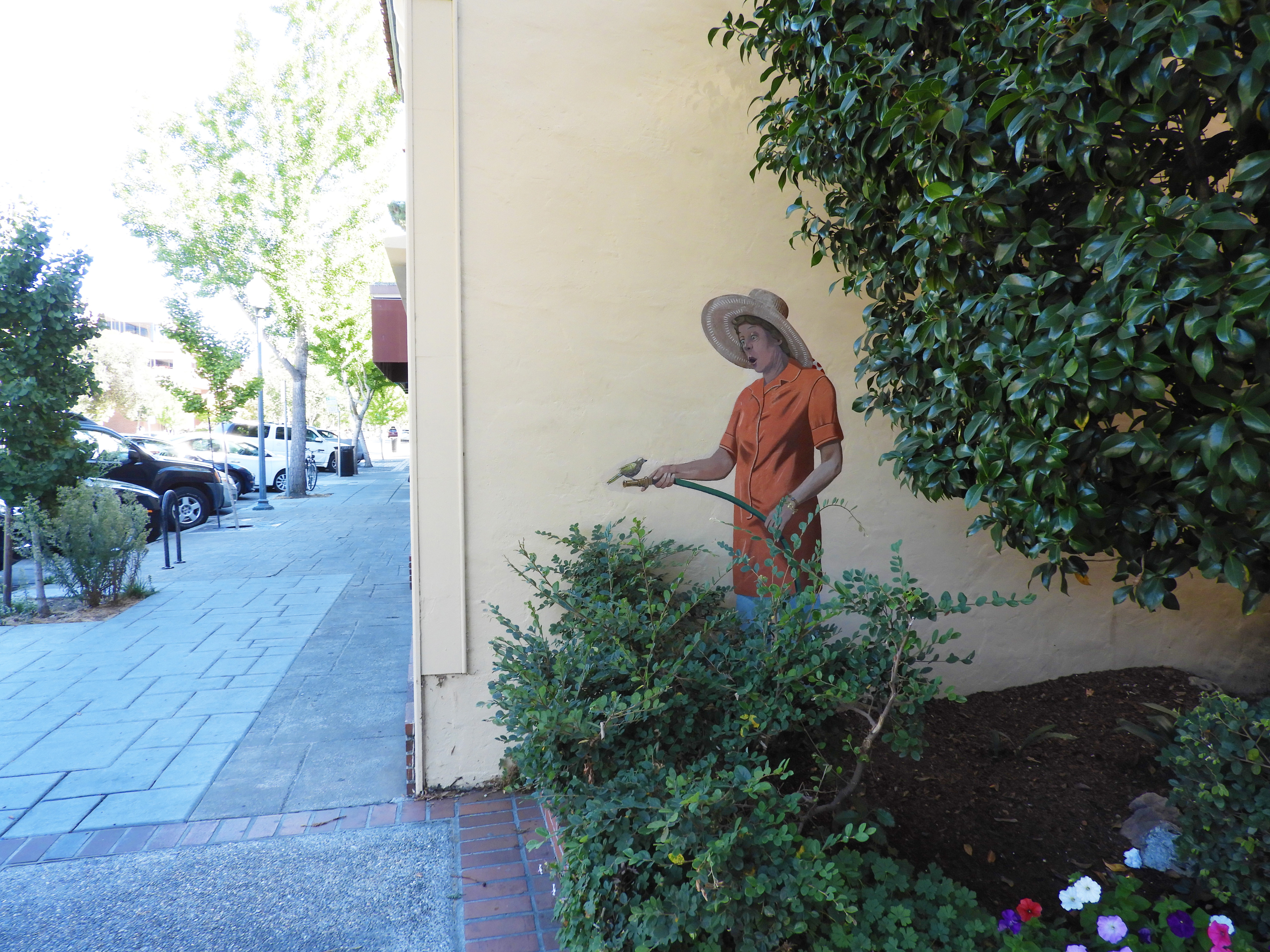 Hamilton Avenue
Continue up Waverly and make a right on Hamilton Avenue. At the United States Postal Service (380 Hamilton Avenue) you'll spot a boy (based off of the postmaster's son) with a fishing pole. He seems to be trying to hook envelopes through the barred window.
Further down the street, you'll arrive at Chase Bank (300 Hamilton Avenue) where a heist is underway. One robber rappels stealthily down the side of the building, but her unfortunate partner in crime has lost his grip and is freefalling. "Roofhoppers" was first painted in the semblance of Brown and his wife (truly partners in crime), but when it was destroyed, he repainted these rapscallions in the guise of his son and daughter.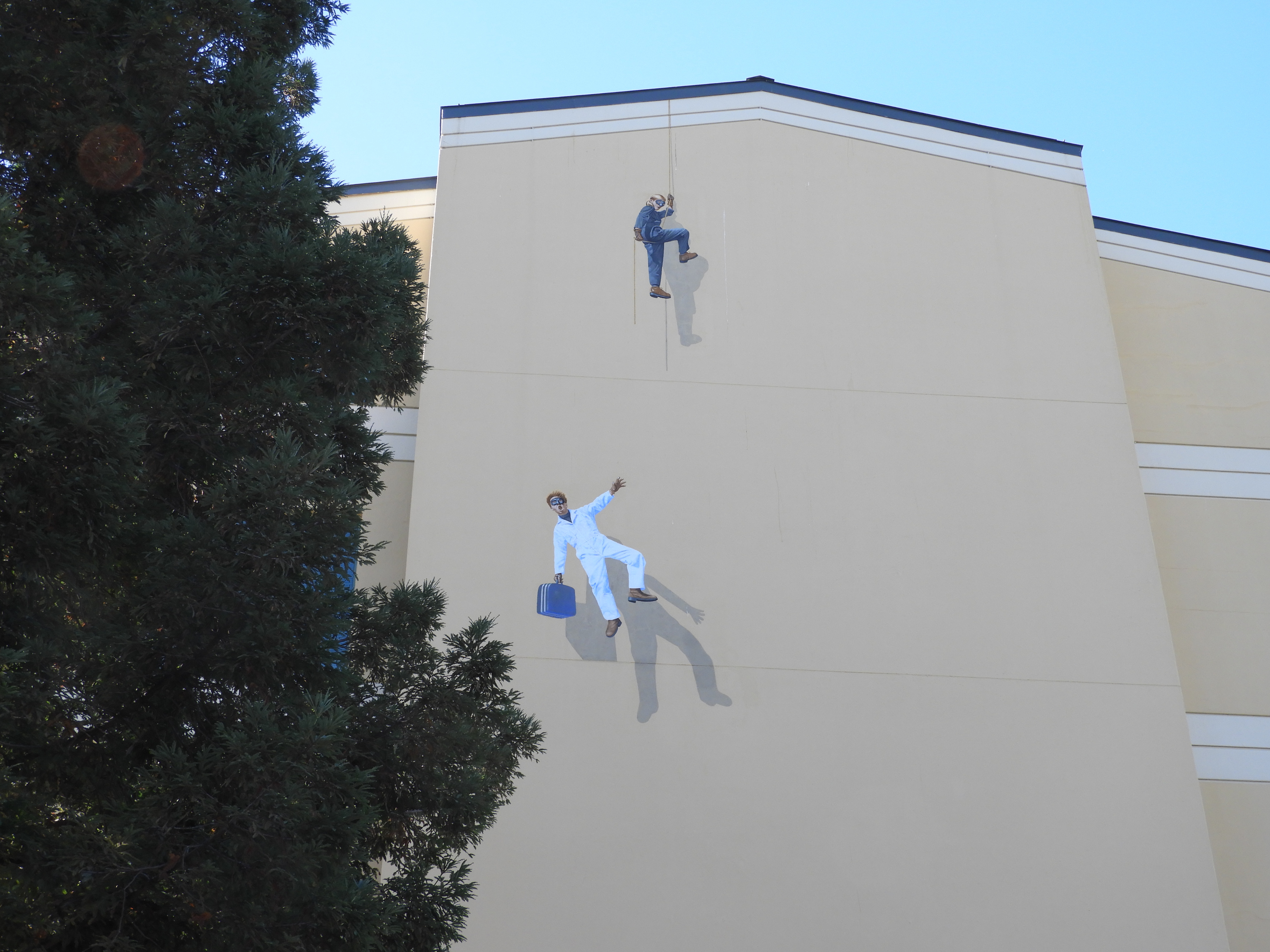 If you keep heading down the street until it intersects with High Street, you'll find a garbage man (a cameo for Brown's brother-in-law) at 136 Hamilton Avenue. Dressed in a hazmat suit, the man is in the process of hefting an alien in a trashcan. When Brown first created the piece, a real dumpster stood beside the mural—but now it appears that the man is about to chuck his passenger into a bush instead. Despite the imminent threat of getting dumped, the alien looks content to be along for the ride.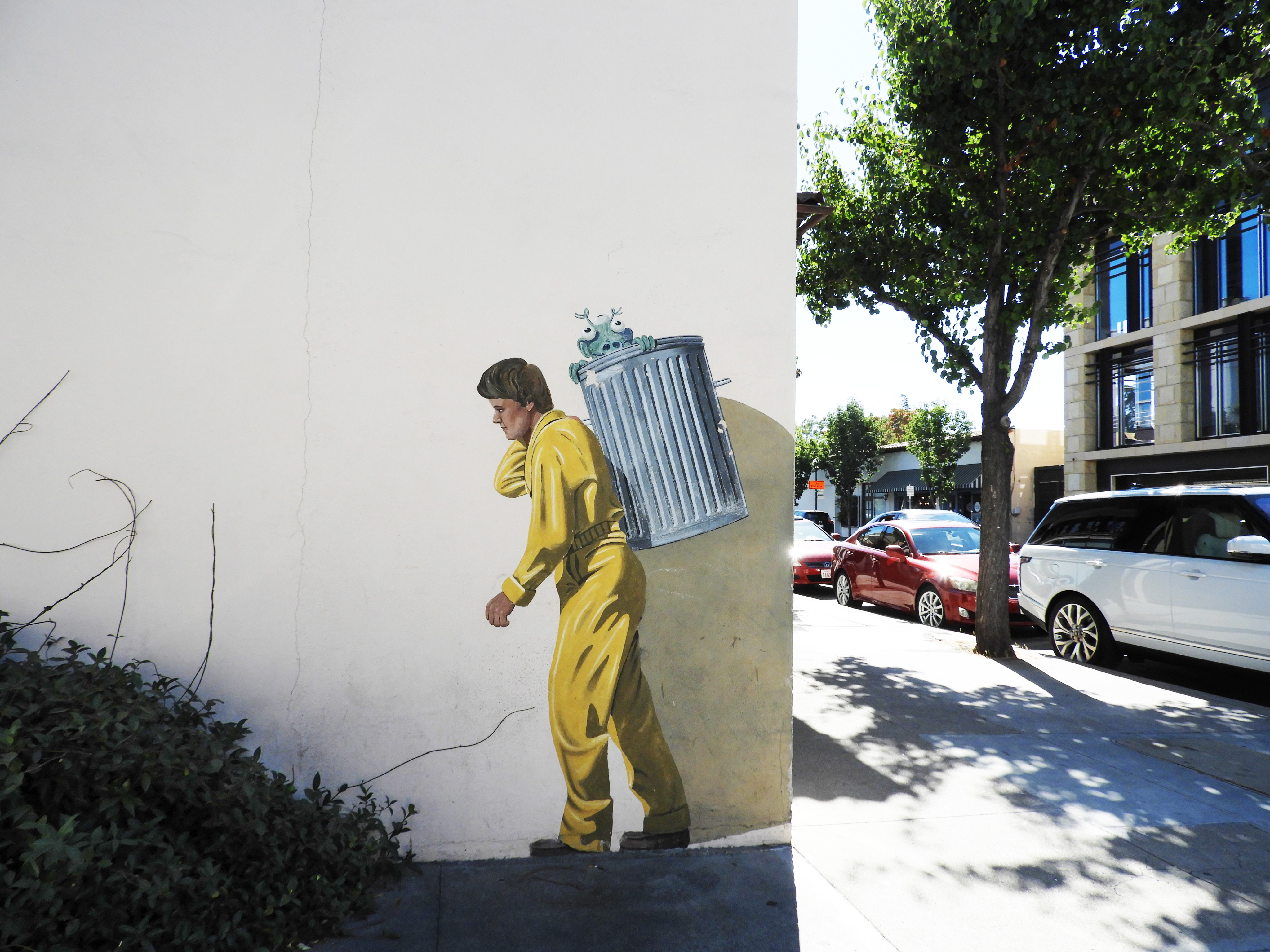 Finally, Loop Back onto Emerson Street
Retrace your steps and make a left onto Emerson Street to complete your hiking loop (439 Emerson Street). Appropriately painted on the side of the Barker Hotel, a bellhop courteously holds open a side entrance for two alien guests at the top of a flight of stairs.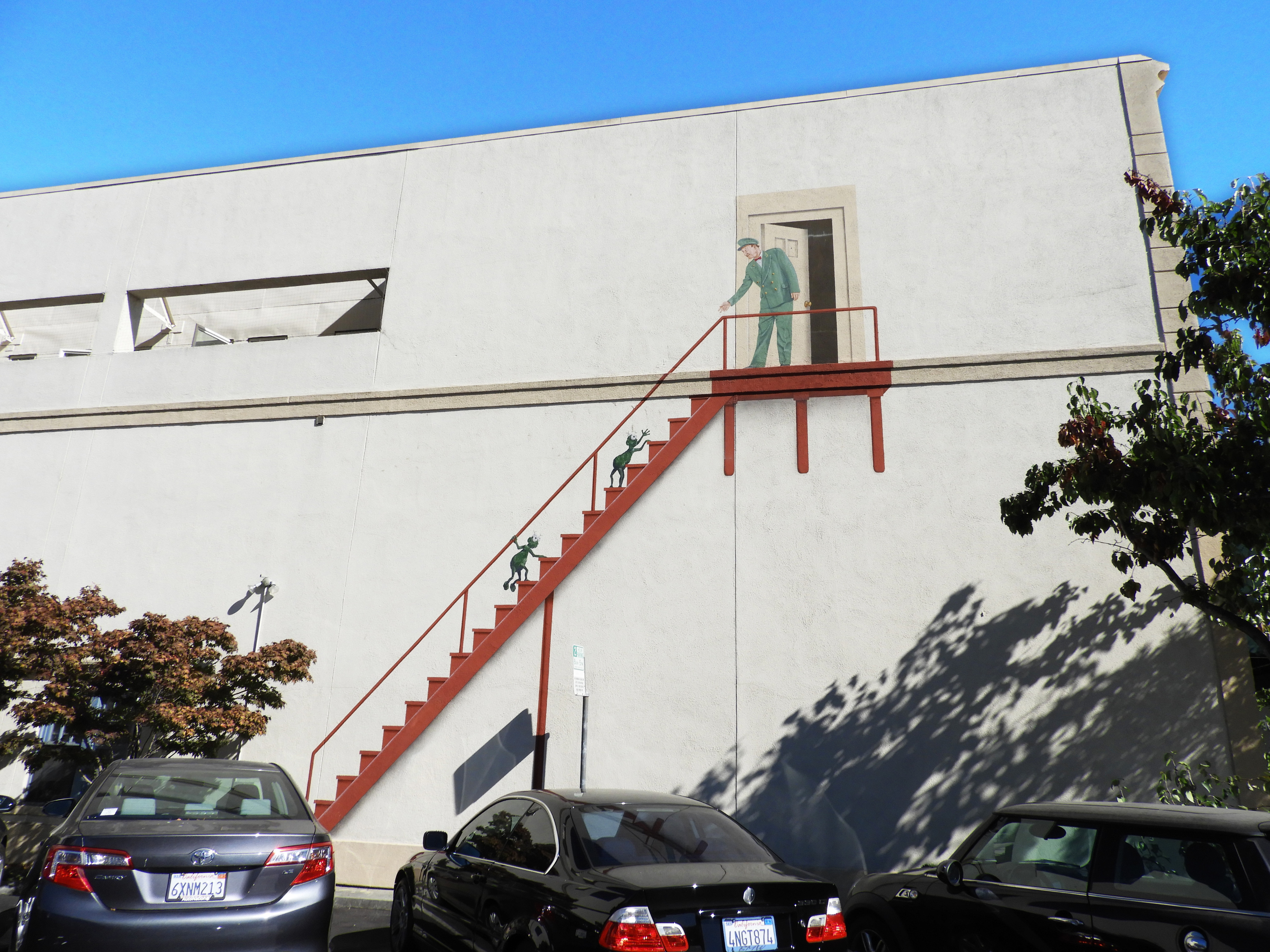 Brown shares one thing in common with this welcoming bellhop—by creating characters that seem to spring off the wall, he's welcoming pedestrians into his murals. Though the artist himself passed away a few years ago, he continues to engage visitors in conversation through his attentive brushstrokes. I'm sure Brown would have been delighted to hear that people celebrate his life's work by hunting for aliens in downtown Palo Alto.