Pipette Baby seasonal offers to stock up on your favorite clean skincare essentials
Get great deals on Pipette Baby clean skincare products that everyone in the family will love, for gentle skin protection you can trust.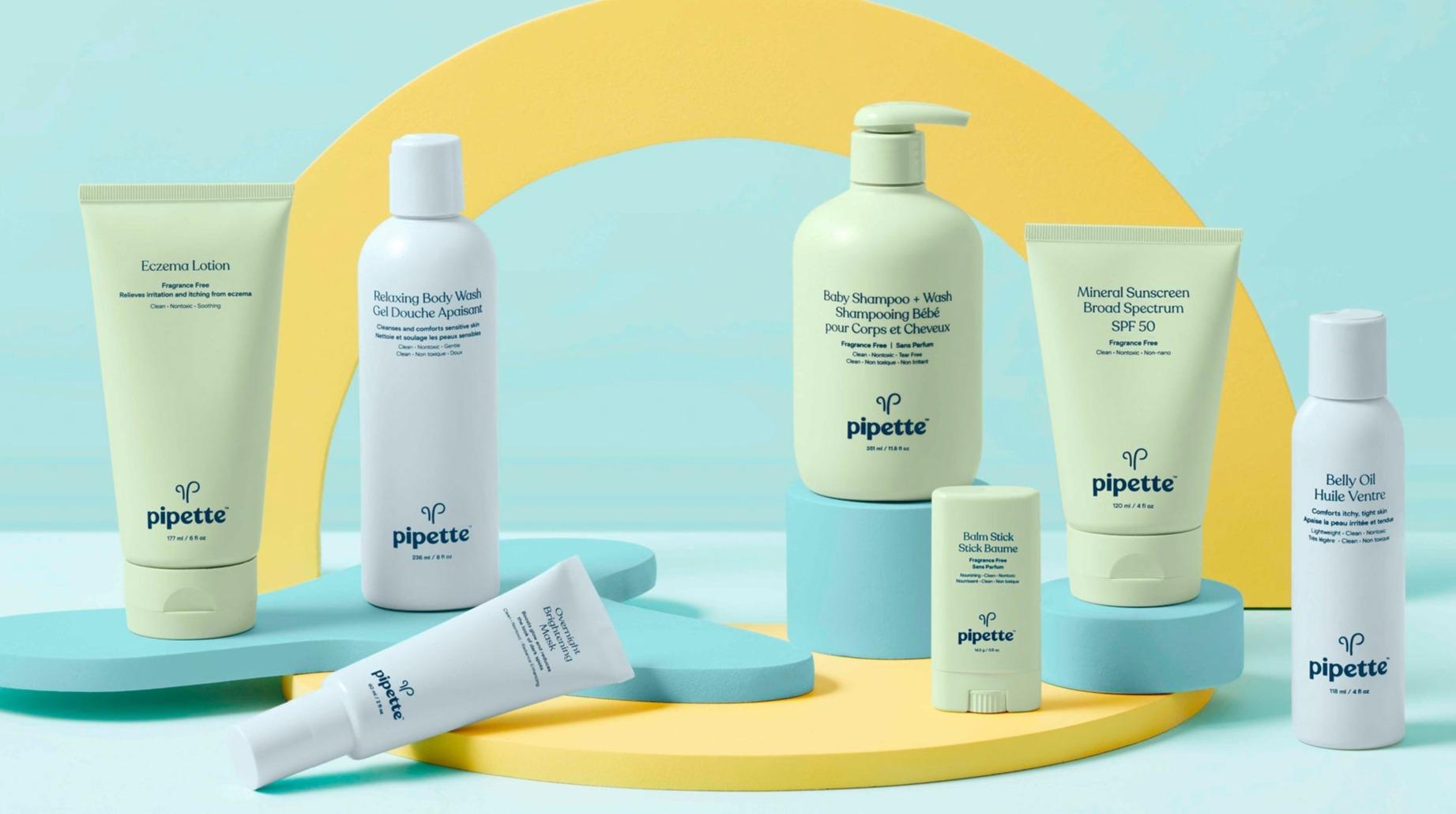 Pipette Baby's skincare products are designed to be gentle on the most delicate skin—and better for the environment, with sustainably sourced, clean ingredients. Parents everywhere trust Pipette Baby skincare products for their babies. They know Pipette Baby products are 100% clean, vegan, cruelty-free, and hypoallergenic. But parents aren't the only people who are busy, and babies aren't the only people with sensitive skin. Pipette clean skincare is great for everyone — and they're known for being environmentally conscious and having high standards for quality. 
Pipette Baby skincare products are gentle and rigorously tested for safety, with clinically proven results. With no synthetic fragrances or questionable ingredients, Pipette Baby skincare products are made to offer maximum protection for your skin and for the environment. They've banned more than 2,000 ingredients like sulfates, parabens, and phthalates. You can also see the full ingredient list, and what each ingredient does, for each of their products. So you never have to question what you're putting on your baby's, your family's, or your own skin. And with great seasonal offers on bestselling clean products, you can make sure you're never without your favorite skincare essentials. 
Pipette Baby Mineral Sunscreen SPF 50 protects sensitive skin and the environment
Pipette Mineral Sunscreen SPF 50 is made with 100% mineral non-nano zinc oxide for safe, effective protection from harmful UVA and UVB rays. And this SPF 50 sunscreen has a lightweight, blendable consistency thanks to moisturizing, sugarcane-derived squalane. 
Pipette mineral sunscreen is non-comedogenic, and the non-nano zinc oxide is safer for marine life and reefs. Plus plant extracts and antioxidants like wild gooseberry extract calm the effects of infrared light in sun-exposed skin, offering soothing broad-spectrum protection. Safe enough for baby, it's the perfect sunscreen for the whole family.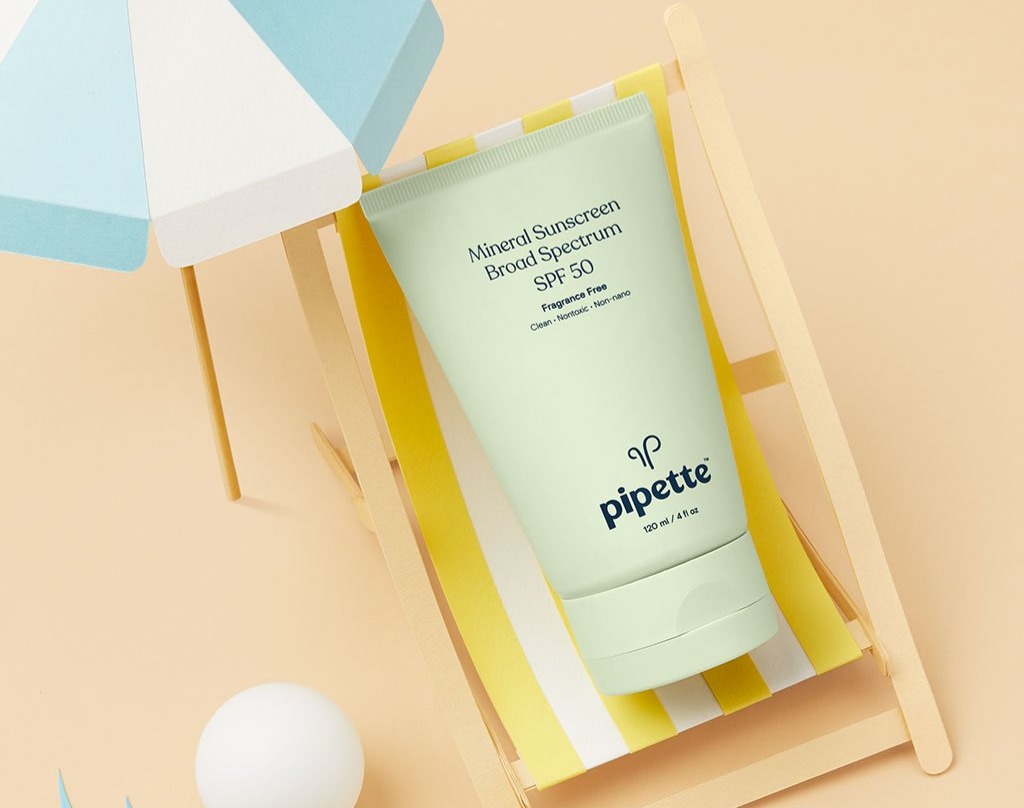 Shop Pipette Baby Mineral Sunscreen SPF 50
Hydrate dry skin with clean Pipette Baby Balm with squalane
When we're born we have the perfect natural skin protector built in: hydrating squalene. Over time we lose the squalene in our skin. So Pipette Baby uses ethically sourced squalane from sugarcane as the hero ingredient in all of their products, including their ultra-hydrating Pipette Baby Balm. It's great for babies' dry areas and dermatologist-tested to be safe on sensitive skin. Pipette Baby Balm with squalane is also accepted by the National Eczema Association, and can help to improve the skin's moisture barrier for eczema-prone skin. 
With antioxidant pomegranate sterols, jojoba esters, natural fatty acids, and vitamin E, Pipette Baby Balm works to increase moisture in the skin to soften and relieve dryness. It goes on velvety soft to hydrate comfortably, without being greasy or sticky. And Baby Balm from Pipette is pediatrician approved and safe on sensitive skin — even the most delicate areas like baby's diaper line, so you can use it as often as you like.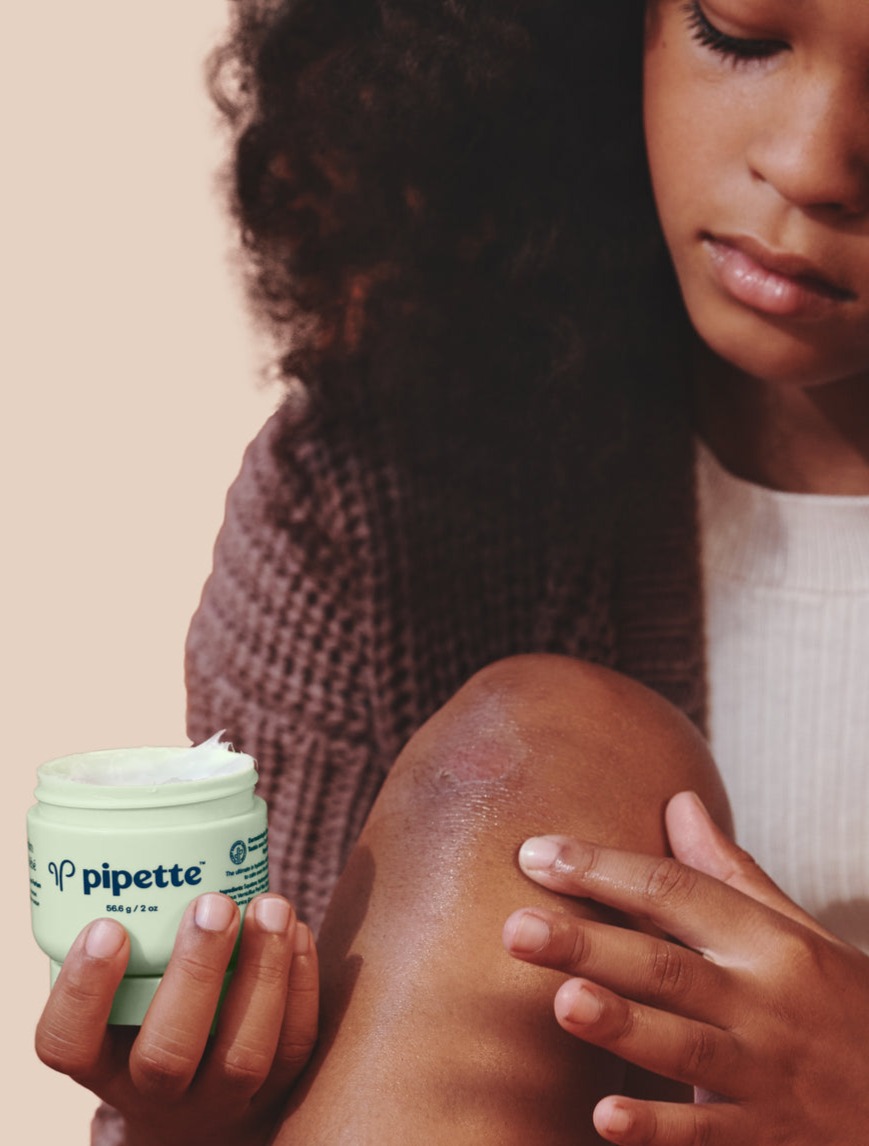 Eczema Lotion from Pipette Baby calms and moisturizes itchy, irritated skin
Pipette Baby Eczema Lotion is a steroid-free, petrolatum-free treatment that works for all ages, but since it's made for babies, you know it'll be gentle on even the most sensitive skin. Made with colloidal oatmeal, Eczema Lotion from Pipette helps to fight inflammation in the skin. And of course the addition of sugarcane-derived moisturizing hero squalane aids in balancing skin's microbiome, one of the important pieces to managing eczema. 
Clinically tested and accepted by the National Eczema Association (NEA), Pipette lotion for eczema has been shown to help reduce painful irritation and itch, and smooth out dry, rough patches. Jojoba esters, ceramides and other plant-based ingredients work to moisturize and soothe flare ups, and help lock in hydration to help skin heal.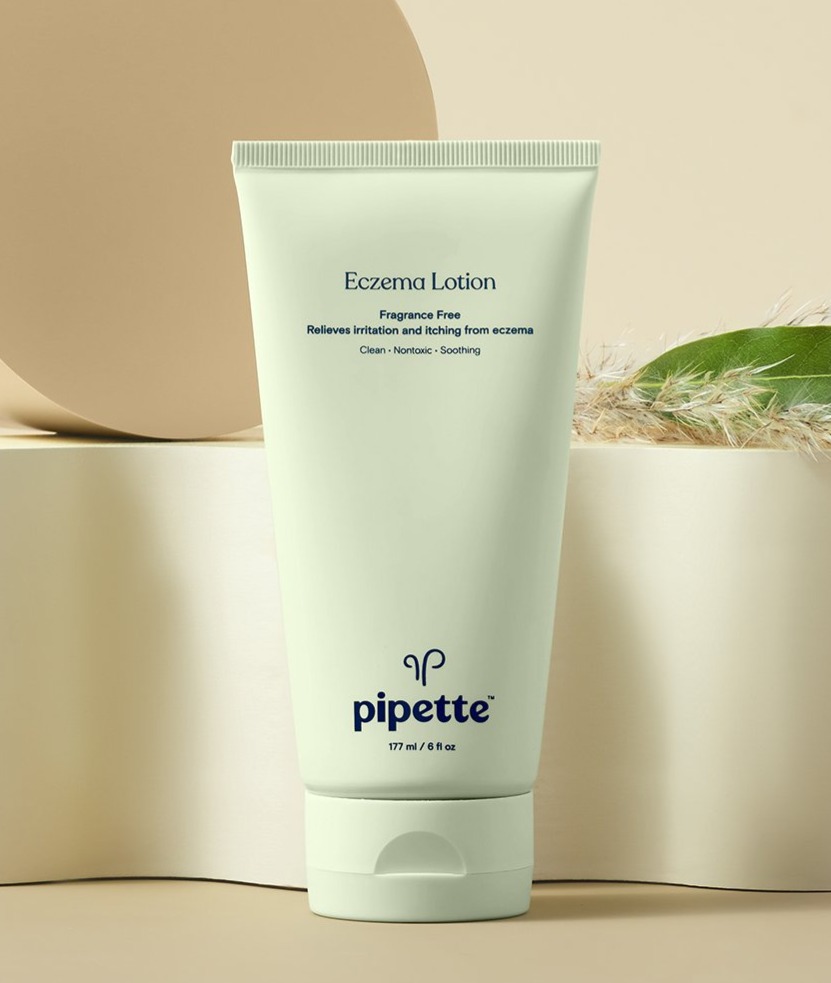 Shop Pipette Baby Eczema Lotion
Pipette Baby Look Awake Eye Gel visibly brightens and refreshes tired eyes
Pipette Baby Look Awake Eye Gel is perfect for new moms — or anybody — short on sleep, looking for a way to soothe puffy eyes. It has plant-derived caffeine rich in antioxidants to help with microcirculation and give skin a boost. And antioxidant gardenia fruit extract helps to brighten while minimizing the appearance of dark circles under the eyes. Light-reflecting mica and superfood quinoa-derived peptides reduce under-eye bags and puffiness, and give tired skin a soft glow. 
Skin not only looks brighter and feels less puffy right away, but it also feels refreshed. The antibacterial eye gel applicator rolls on to immediately cool and gently massage skin. With nourishing vitamin E and sustainable squalane to help balance and seal in moisture, EWG verified look awake under eye gel from Pipette helps skin look healthier and more resilient. Gentle, lightweight, and safe on sensitive skin, you can use Pipette under eye gel any time tired eyes need a little refresher, morning and night.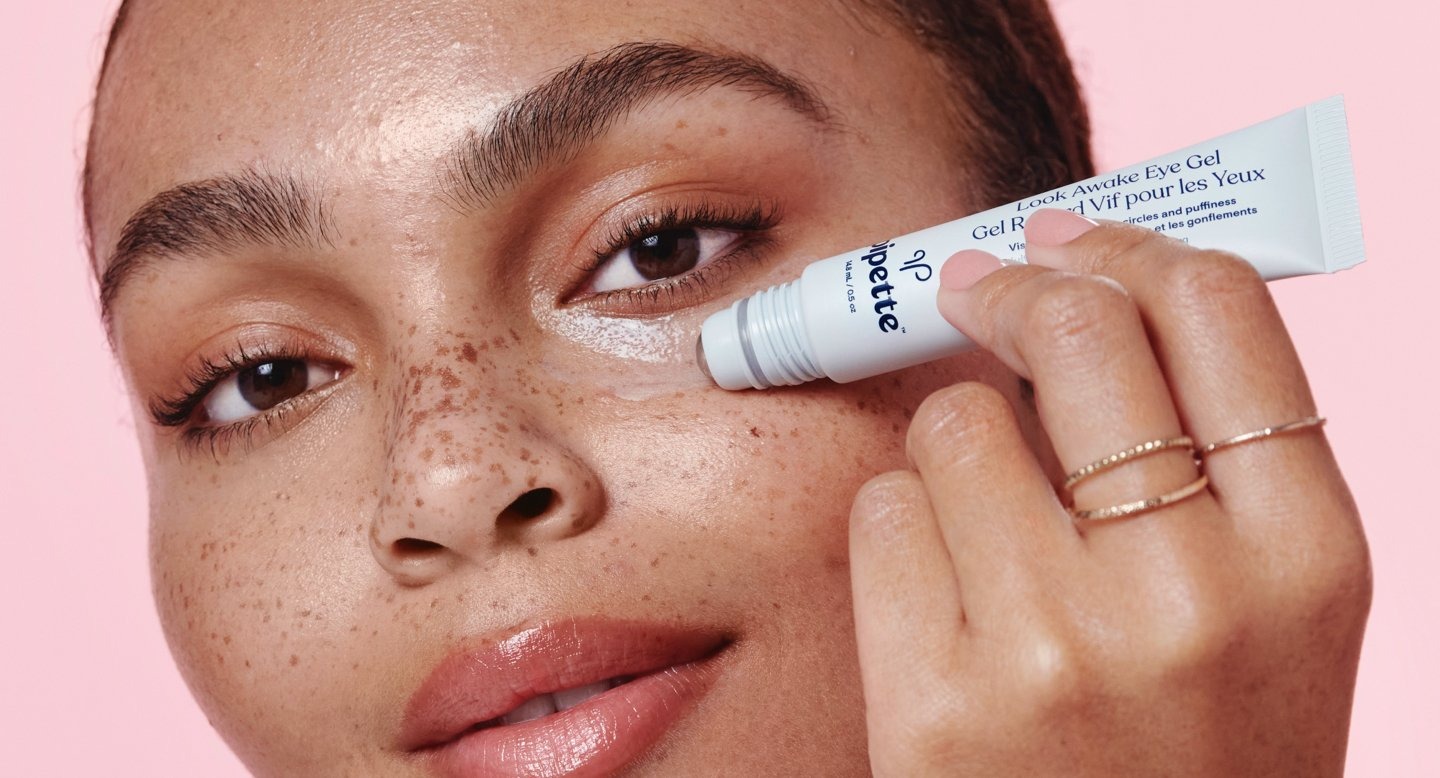 Shop Pipette Baby Look Awake Eye Gel
Get all the clean, gentle skincare essentials you and your family need, without compromising your values. Pipette products are all cruelty-free, vegan, and sustainably sourced. Plus Pipette offers Carbon Neutral Shipping — and orders over $25 ship free with standard shipping in the contiguous US.
Find new favorites and shop for clean Pipette Baby bestsellers.  Don't miss out on their exclusive seasonal offers!
This Season's SALE & DISCOUNTS
Worry-Free Clean Skincare