Happy Wax warmers fill your home with delicious, fresh and natural aromas
A simple plug-in, 'no scrape' silicone warmer that gently melts aromatic wax, and fills your home with delicious scents without using paraffin or beeswax.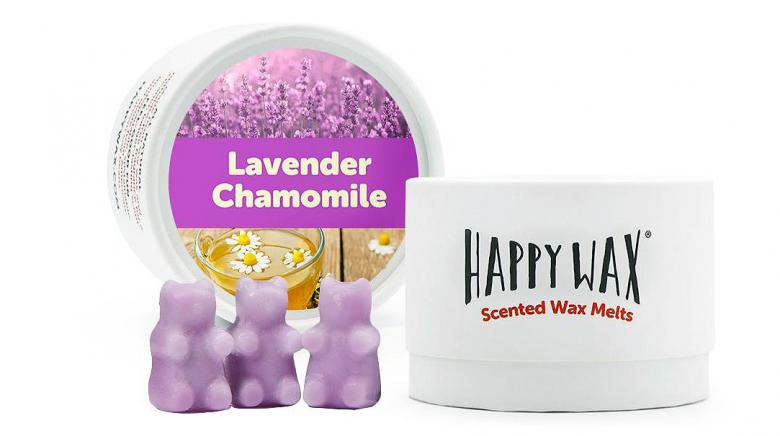 Give your home a unique ambiance with the fresh aroma of organic wax from Happy Wax. Whether you like the delicious smell of hazelnut coffee, the fresh scent of eucalyptus balsam, or the calming effect of lavender, with Happy Wax, you have a wide variety of fragrances to suit every occasion and mood.
Start your melting wax journey with Wax Warmer starter kits by Happy Wax
The clever designers at Happy Wax have created a revolutionary 'no scrape' silicone dish that allows you to pop out the used wax and throw it away, no scraping and no cleaning. Every wax warmer from Happy Wax boasts a silicone dish and an automatic shut-off timer setting, leaving you in control. Happy Wax warmers come in a variety of colors and styles. The Himalayan Salt Wax Warmer for example, is handcrafted from the foothills of the Himalayas with a pink glow from the minerals found in the pink salt. The Signature Wax Warmer, is a tabletop warmer with a 3-6-9 hour automatic shut off timer and a built-in LED light that gives a warm glow.
Simple and easy to use, Happy Wax starter kits make fabulous gifts and a chance for your family and friends to discover the wonderful aromas behind Happy Wax.Wax Warmer starter kits by Happy Wax, are a great introduction to your wax melting experience. They include popular aromas such as the Spa Day Collection, Citrus Collection and coffee house collection, to name a few.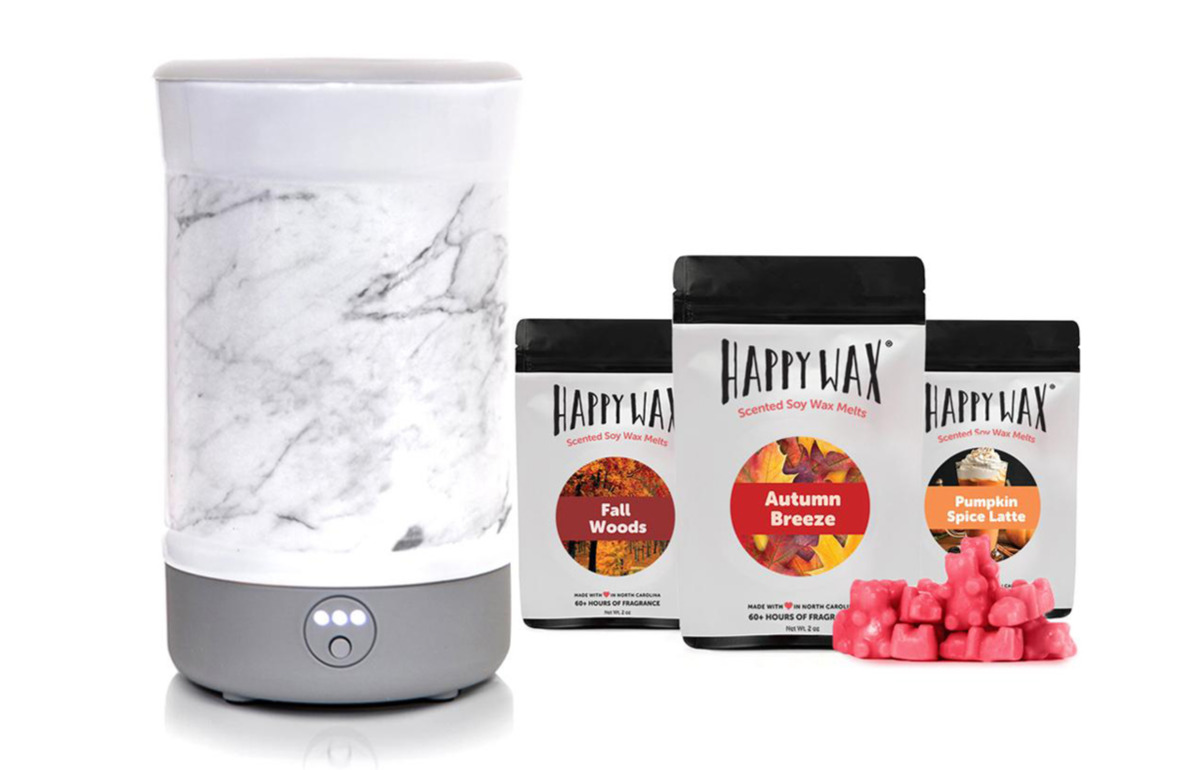 Make the most of your Happy Wax melts with wax warmers
Happy Wax has five types of wax warmers in a variety of colors and designs to compliment your decor, from tabletop to plug-in, simple and easy to use.
The Outlet Plug-in Wax Warmer works with a three-prong plug and a rotatable base for a horizontal or vertical plug. Happy Wax recommends 1-2 wax bears at a time in the Outlet Plug-in Wax Warmer like the one featured below, and 2-3 bears in the Signature Wax Warmer or Mod Wax Warmer.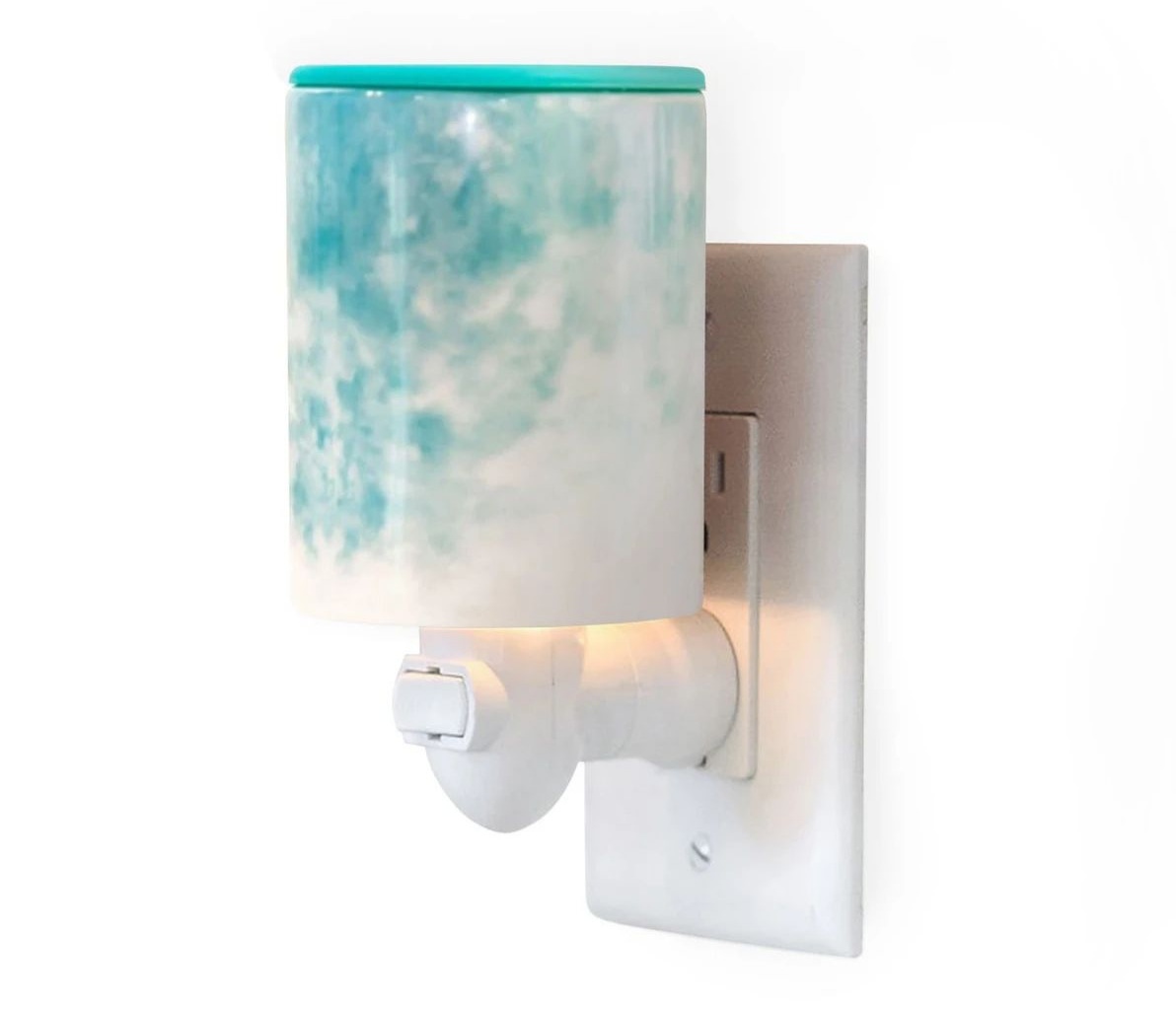 Make your dreams melt away with Soy Wax Melts by Happy Wax
Happy Wax make their bear melts from 100% soy wax, which is extracted from the oil of soybeans that have been cleaned, dried and rolled into flakes. Soy wax is a healthy, renewable resource and free of phthalates. Unlike traditional candles, Happy Wax does not use paraffin or beeswax, so you can melt your wax safely without harming the environment. After the wax has been infused with essential fragrance oils, it is molded into cute gummy bear shapes, ready to be warmed up in a safe wax warmer. As the wax bear warms up, the fragrance is released, filling your home with a dreamy aroma.
Happy Wax is proud of their hundreds of scented aromas, carefully created from a wide variety of scented infusions, for instance, their popular apple harvest, with fresh apple and orange, spicy pumpkin, cinnamon, clove, nutmeg, ginger, and vanilla with caramelized sugar, bring you the sweet aroma of freshly baked apple pie. You can also mix and match different wax bears and make your unique aroma. Take a look at all of the wonderful scents of Happy Wax.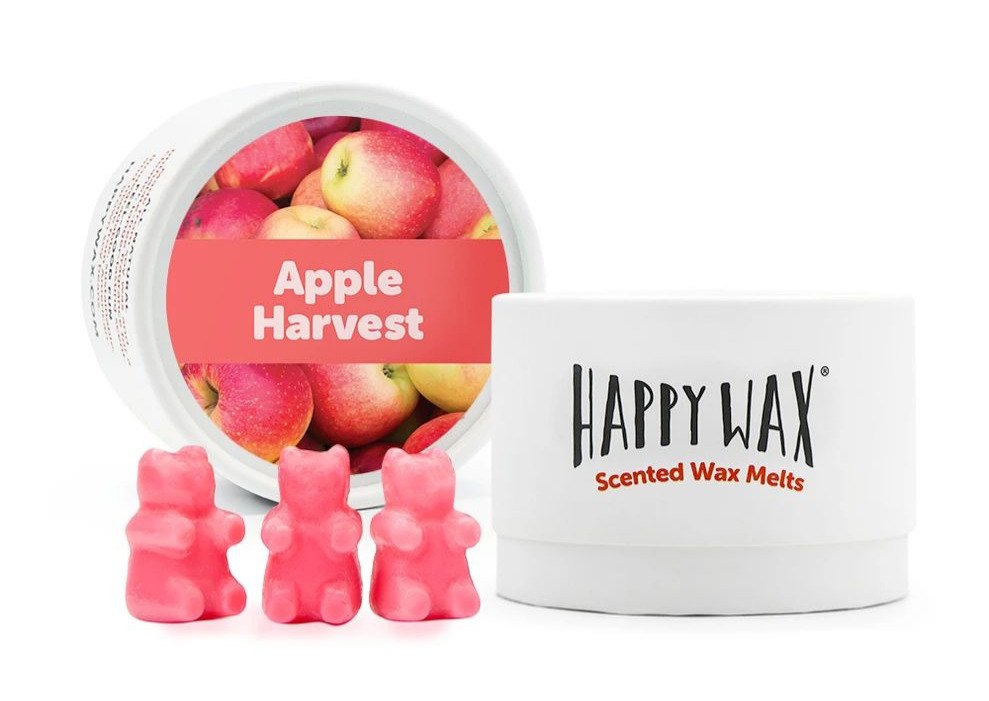 Shop Soy Wax Melts by Happy Wax
Choose the aroma that appeals to you most with the Happy Wax scent quiz
With hundreds of delicious aromas to choose from, how do you know which would suit you best? By taking the Happy Wax scent quiz, you can quickly reveal which scent would suit your mood and the ambiance you desire. Quick and easy, you will have the results in minutes together with 10% off your recommended scents.
Try the entire wax melt fragrance collection with the Happy Wax 2 oz sample pouch
Once you start using the Happy Wax melts, you will be eager to try all the fragrances, so Happy Wax has introduced their 2 oz sample pouch collection, which includes a 3-pack collection and is available in every scent from Happy Wax, for example, the Winter Wonderland Collection consists of the scents of winterberry, evergreen trees and sugared leaves, perfect for that Christmas feel or the Fireside collection infused with roast chestnut, bonfire and cinnamon sticks, another favorite for the holiday season.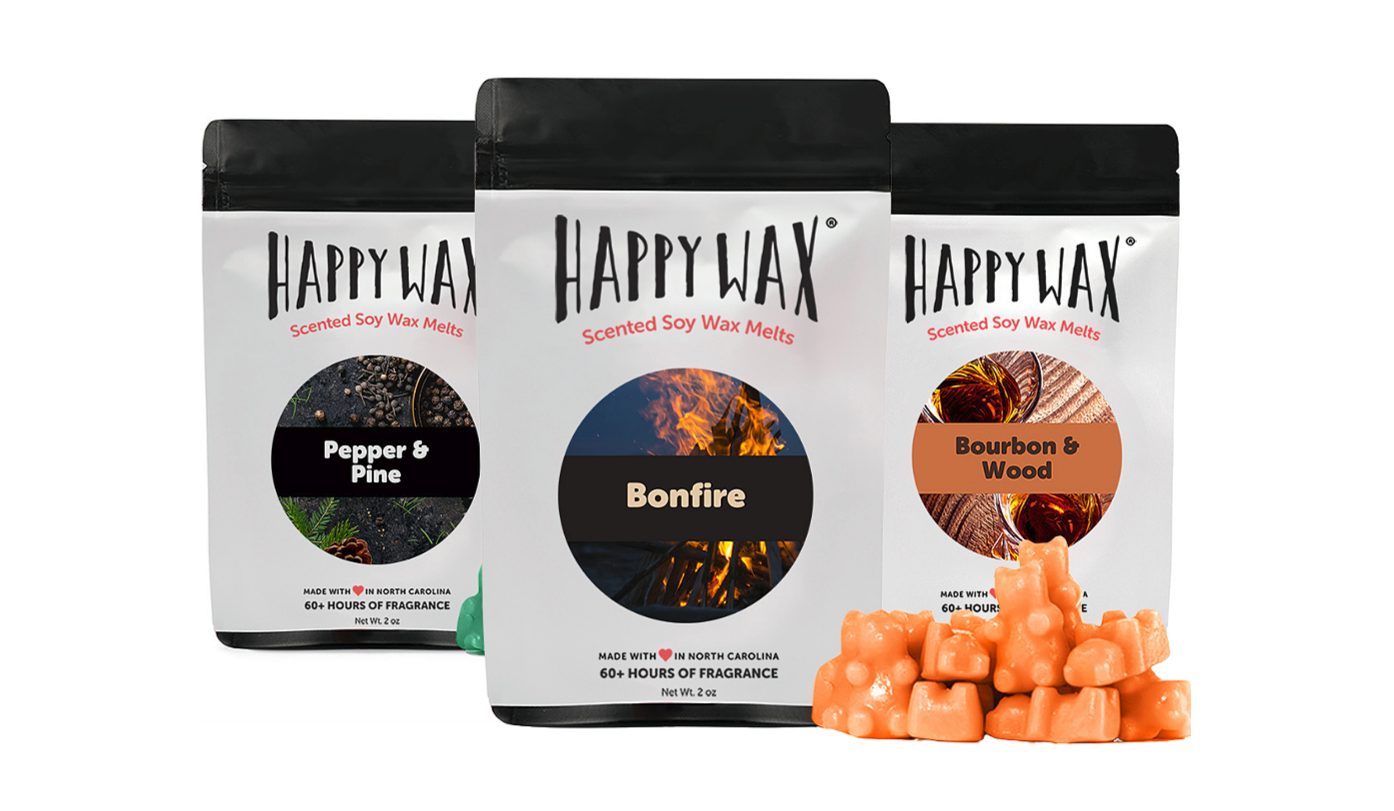 Shop Sample Collection Packs by Happy Wax
The dream that melted into Happy Wax
It all started with a chance meeting of a policeman who made wax melts in his spare time. He melted the wax into the shape of gummy bears because he thought it would be fun. The team behind Happy Wax loved this idea and Started, with tiny baby bear steps, to produce these bears by boiling lots of kettles, pouring the wax, and filling the bear molds. All this was done by hand. As the orders grew, so did the team. New equipment was brought in to ensure the large orders were met on time. Now working out of a thriving factory in their hometown of Durham, North Caroline, the team is dedicated to producing their wax melts which are organic, environmentally friendly, and made from 100% soybeans.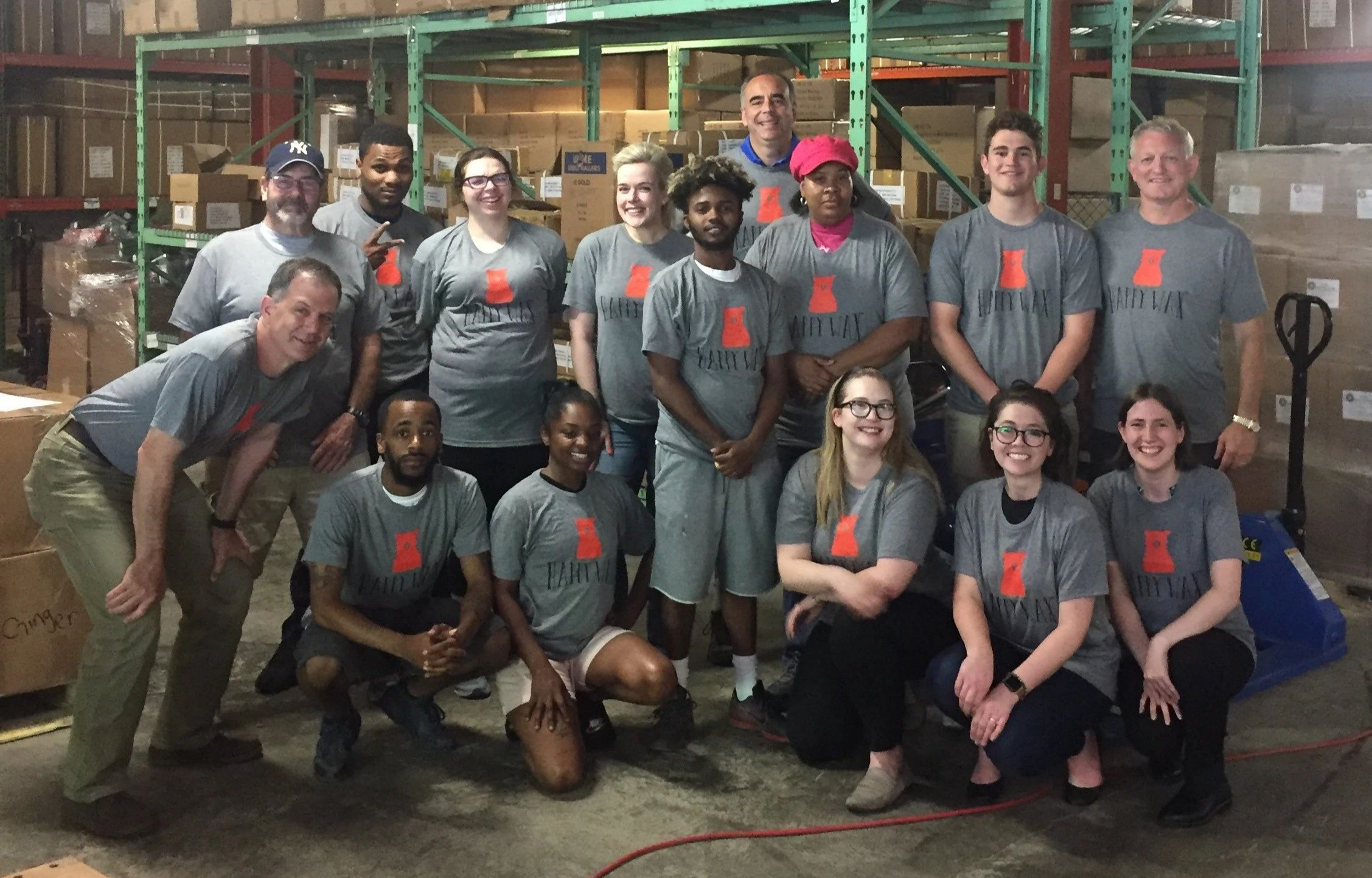 Shipping & Delivery
Happy Wax delivers to the 50 United States, U.S Territories and P.O Boxes. Deliveries are through FedEx Economy, which during holiday seasons might result in delays. FedEx Ground is recommended for faster delivery during the holiday season. All items ship Monday to Friday from the warehouse in Hillsborough, North Carolina. Allow 1-3 business days to process your order. Free and Economy shipping takes 5-7 business days.
Happy Wax delivers to more than 25 international countries. Orders may be subject to import taxes, customs duties and fees levied by the destination country. For more information, please visit the Happy Wax SHIPPING page.