Puracy home cleaning products are all natural, organic, plant-based and effective
Eco-friendly, all-natural, and chemical-free household cleaning solutions that really work to keep your whole home sparkling clean, safe for everyone in your family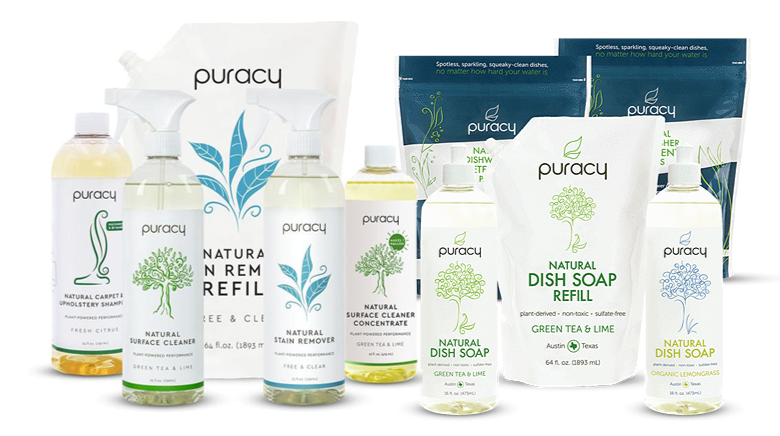 Enjoy a clean home and peace of mind when you use natural and organic household products from Puracy. All the Puracy cleaning products are organic, vegan, hypoallergenic, and made with sustainability in mind. Concentrated formulas, recyclable packaging, and refill pouches help you reduce waste. And plant-based ingredients are biodegradable and renewable. Using sustainable products in your home doesn't mean you have to compromise on quality. No more choosing between a clean home and a clean conscience!
Natural cleaning products from Puracy are made with the advice of industry experts. Their organic household products get your home spotless, and are safe to use around the entire family. Unlike many other household cleaners, you'll never find parabens, sulfates, perfumes or dyes, allergens, bleach, triclosan, formaldehyde, phosphates, caustics, MEA, DEA, TEA, or any animal by-products. Puracy is committed to using ingredients from nature, so every single product is at least 99.3% natural — often more. 
Puracy natural multi-surface cleaner works on surfaces throughout your home for a complete clean
Keep your home looking clean and smelling fresh with Puracy natural all purpose cleaner. It works on everything from stainless steel and glass to marble and chrome. And never leaves streaks or residue. The natural surface cleaner smells great, so your home does too. But don't worry, there's no harsh fumes, just natural essential oils. Like everything from Puracy, this multi-purpose cleaner is hypoallergenic and 99.96% natural. Making it safe to use around pets, children, and family members with allergies or sensitive skin. And made from plants and water, it's Certified Cruelty Free, and biodegradable too.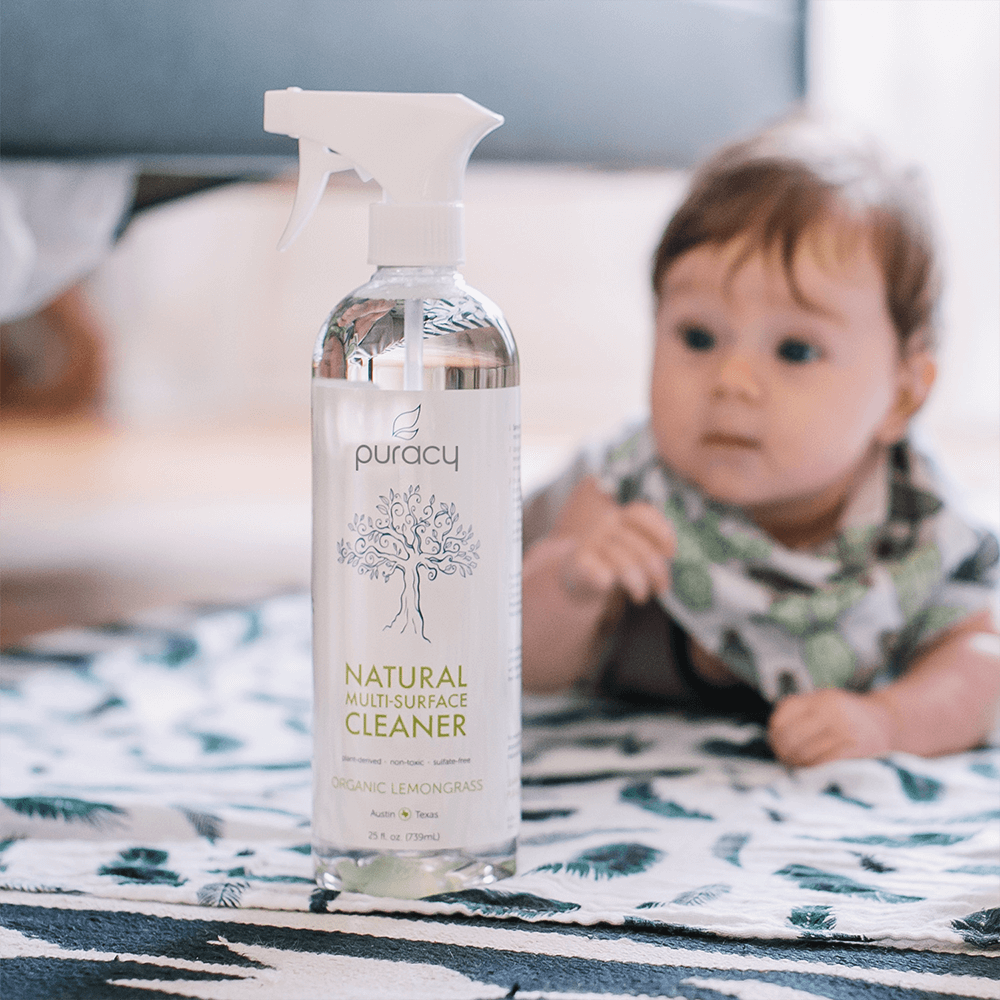 Natural dish soap and dishwasher detergent packets from Puracy leave dishes sparkling
Finally, you can make your dishes shine without getting dried-out, wrinkly prune fingers! Puracy natural liquid dish soap is gentle on hands, using vegetable based moisturizers and coconut-based cleansers. It works on greasy messes and stuck on food, without any harsh ingredients. It's safe to use on all your dishes, even baby bottles and porcelain. It's concentrated, so with just one teaspoon you can clean  a sink full of dishes. Plus refill pouches and reusable bottle make it the best natural dish soap for not just your family but the environment too.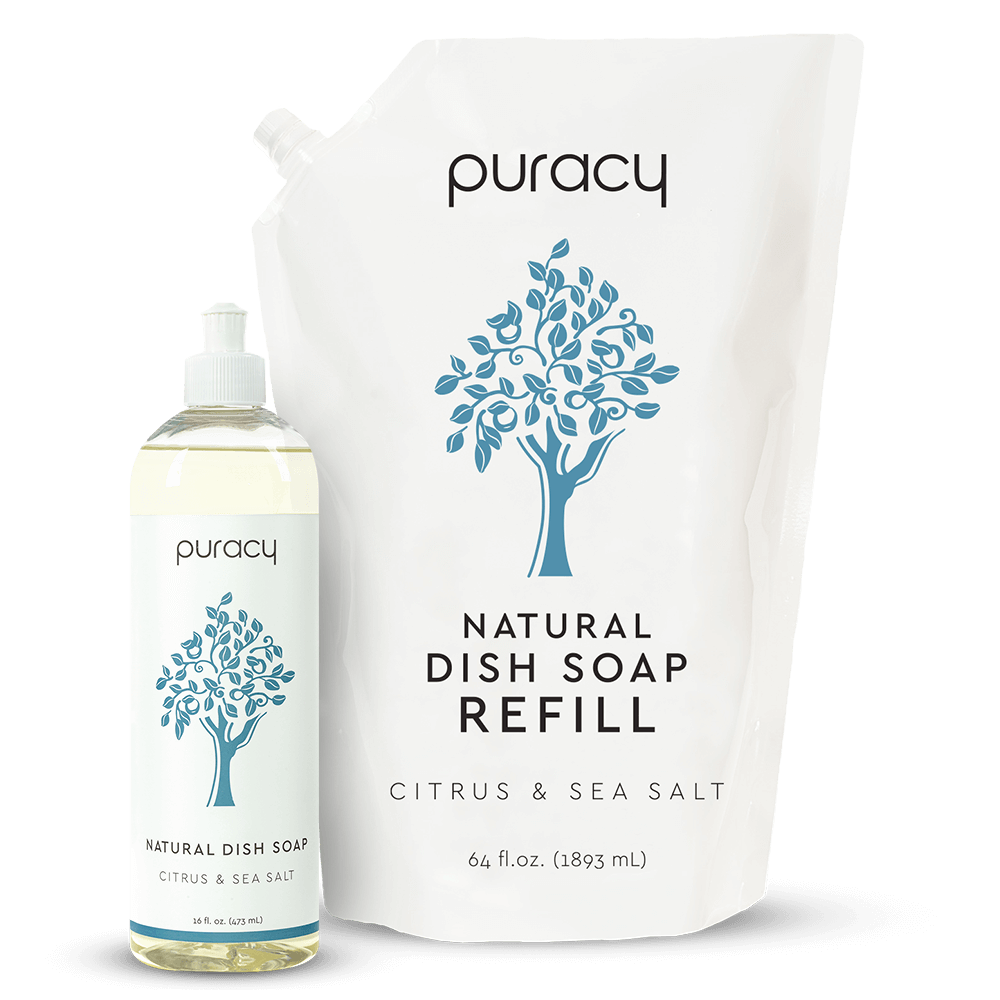 You don't have to scrub your dishes by hand to experience powerful cleaning that's also safe and natural. Puracy natural dishwasher detergent packs use plant based enzymes and cleaners to save you the work. Quality-tested by customers and formulated with a chemist's expertise, the plant-based formula works. The eco-friendly pods use mineral based water softeners to clean your dishes with no spots or residue. No pre-soaking or pre-rinsing needed. Just scrape off the food and let these organic and natural dishwasher pods do all the work for you.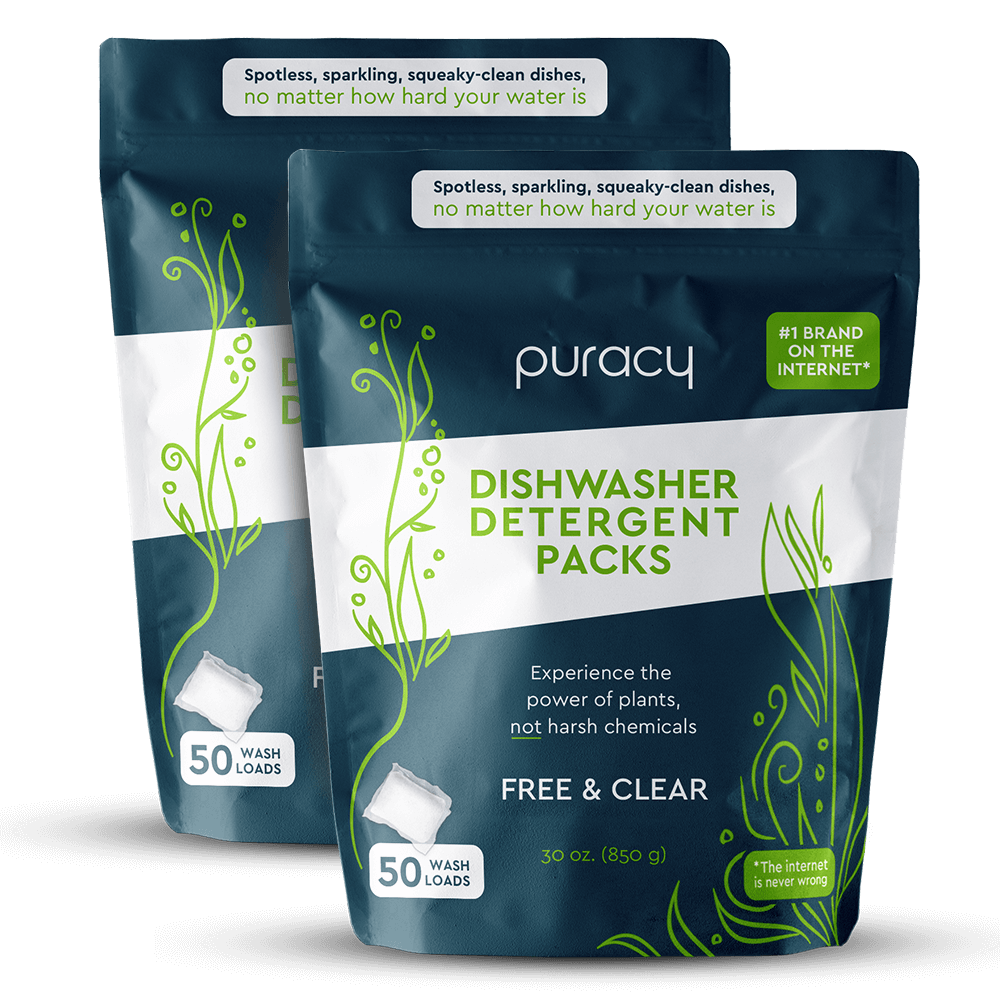 Shop Dishwasher Detergent Packs
Puracy natural laundry detergents and stain removers are effective yet gentle on sensitive skin
Puracy organic laundry detergent uses completely natural and biodegradable ingredients so it's safe on skin, fabric, even water and septic systems. It makes your clothes smell good too! 10x concentrated, one bottle of natural laundry detergent goes a long way — helping you create less waste and give you more cleaning power. There's 84% active ingredients in each bottle. And you already know this natural laundry soap is chemical free and plant-based, making it perfect if you've got anyone with sensitive skin or allergies at home.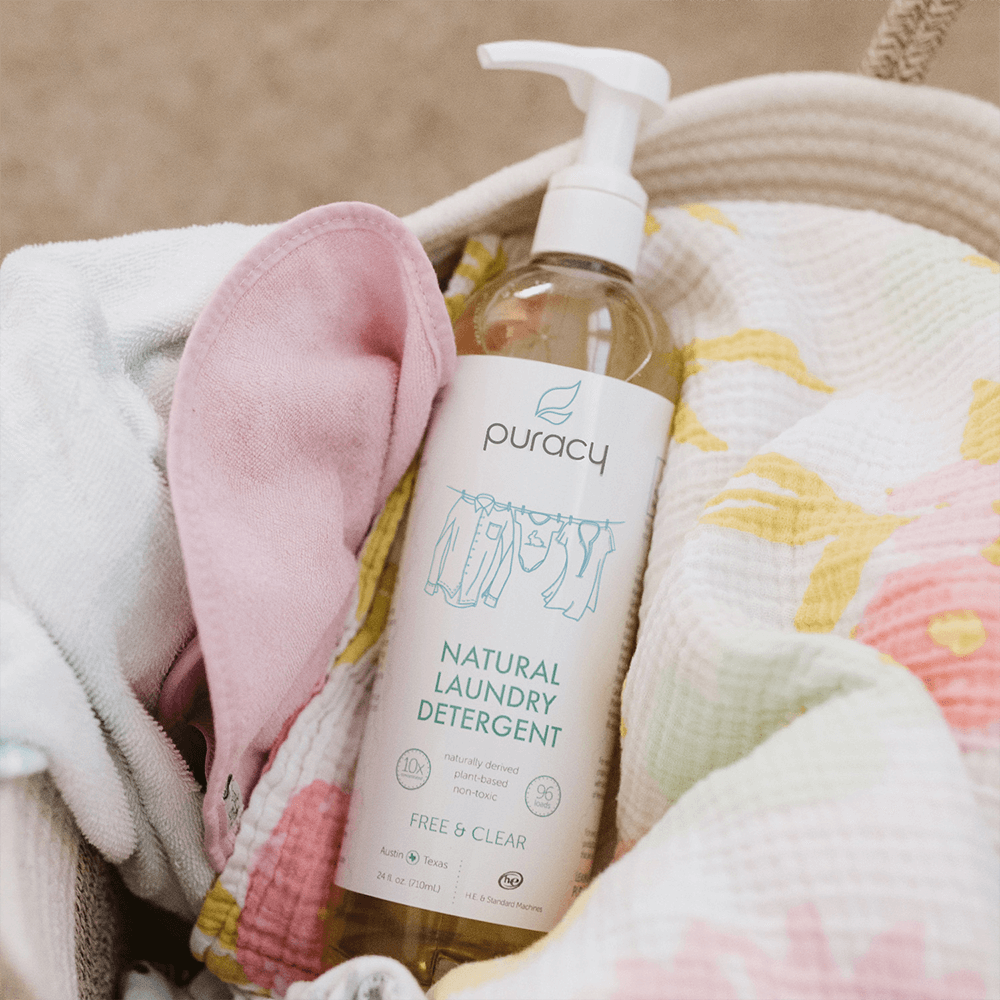 Shop Natural Laundry Detergent
If you've got some clothes with discoloration or stubborn stains, naturally-derived ingredients in Puracy color-safe stain remover gets out just about anything. The six plant based enzymes and surfactants work on grass, wine, coffee, cosmetics — even odors — without fading, bleaching, or damaging your clothes. Use the all-natural stain remover on any of your fabrics that can get wet (carpet and upholstery too). It even works to treat stains you can't get to right away.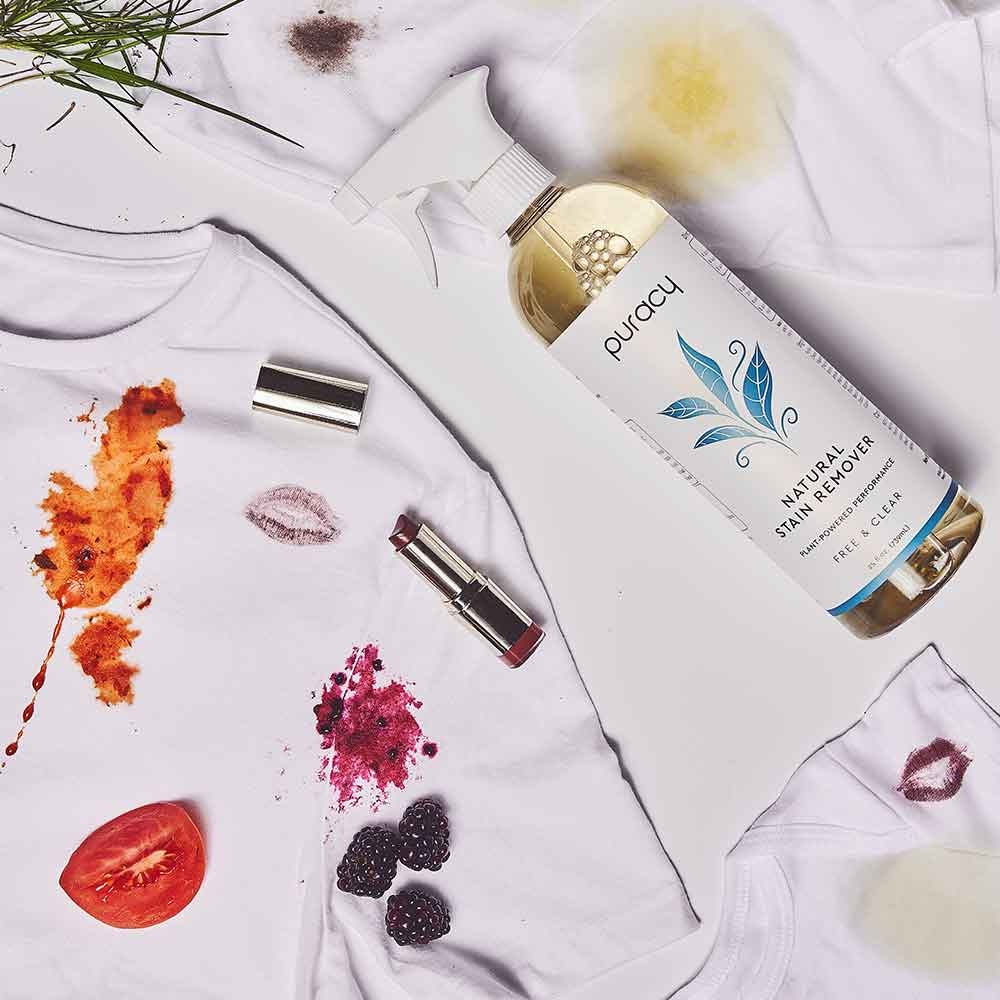 Puracy natural hand soaps and sanitizer keep hands clean, germ-free and moisturized
You wash your hands every day, all throughout the day — so why not use a natural hand soap that's kind to your skin and the planet. Puracy gel hand soap and foaming hand soap are biodegradable, sulfate-free, paraben-free, and free of any toxic chemicals. Keep these soaps around the house and never worry about what your family is putting on their skin. Puracy natural hand soaps are safe for kids and sensitive skin, and leave hands soft and clean every time.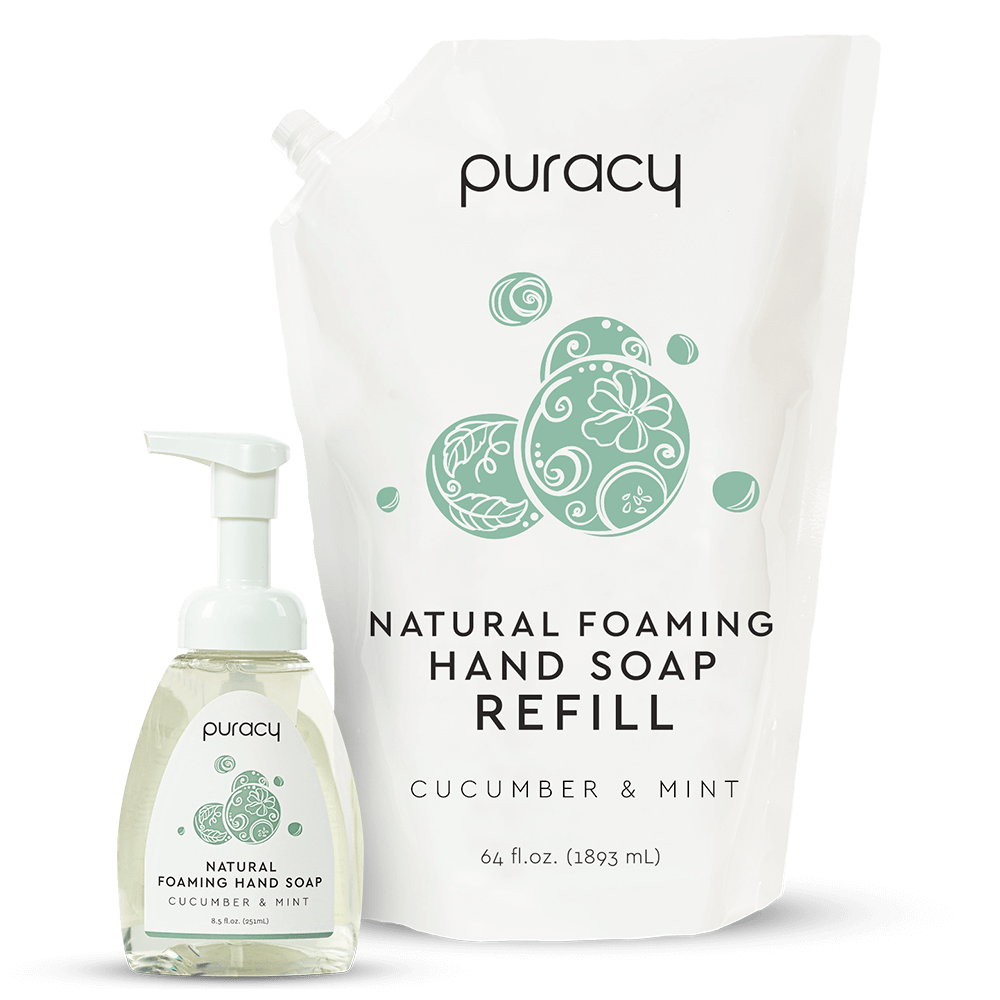 With moisturizers from plants, like Vitamin E and aloe, Puracy gel hand sanitizer keeps your hands from getting dried out or sticky (even if you use it a lot). The 70% alcohol hand sanitizer meets FDA requirements and kills 99.9% of germs. Available in a gallon refill, 12 oz. bottle, or TSA-approved travel sizes, you can stay stocked up on hand sanitizer wherever you go.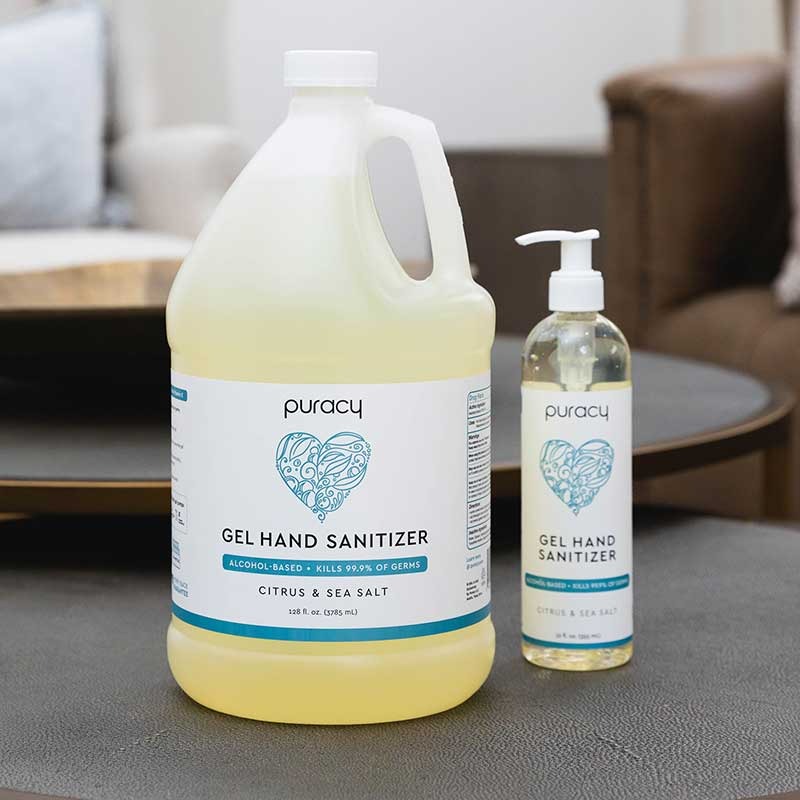 Meet the Founders of Puracy
In 2013, Sean Busch and Paul Tracy started Puracy because they wanted safe, plant-based products that really worked. They found out first hand buying natural products for their family, that often the most gentle products don't always get the job done. They've worked with industry experts like chemists, pediatricians, and dermatologists to get their cruelty-free and all-natural formulas just right, and are totally transparent with their ingredients. Puracy products have become top-rated and best-selling on Amazon, the go-to for families everywhere looking for organic and natural solutions for a clean home.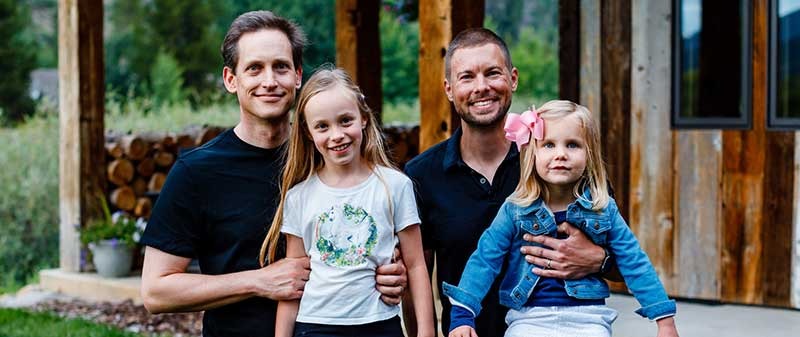 Shipping & Delivery
Puracy ships anywhere in the US, and orders get shipped within 3-4 business days of being placed. They offer free shipping for orders of $60 or more within the contiguous US. And if your order is under $60 it ships flat rate for $10.95. To learn more about shipping details, visit the SHIPPING page.