Home-based plant nursery in Visalia started by 17-year-old
Maddy's Secret Garden has been "blossoming" in business since 2014.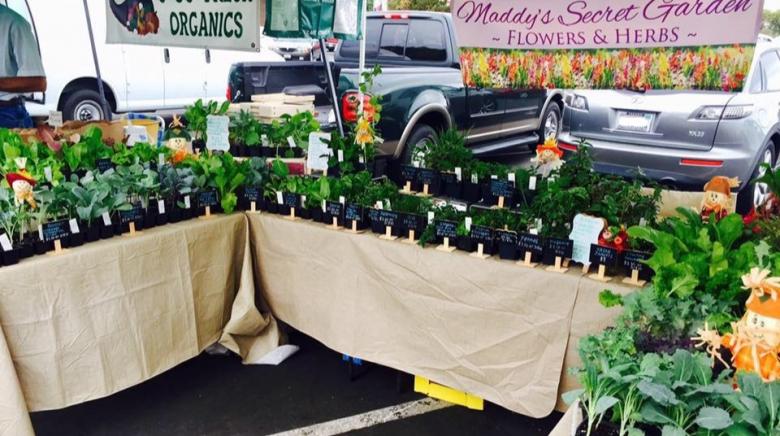 Upon walking into a plant nursery in Tulare, California one day, something sparked in 17-year-old Maddy Heeszel and her mother, Lori, as they thought how incredible it would be to sell plants at their local farmers' market. Of course, the idea seemed silly and far-fetched.
Maddy had already been taking horticulture as an elective at her high school and was very fond of plants, although her experience with them prior was fairly limited.
Still bursting with excitement but not without a pinch of doubt, Maddy and her mother bought a small bag of potting soil, a few seedling starter trays, and zinnias seeds – an easy-to-grow warm-weather annual.
After success, they began growing other things in their backyard as well: cosmos, dahlias, cornflowers, and tomatoes.
While the idea of selling plants at the local farmers' market seemed less and less possible, Maddy was still eager to make this thing work. With the help from her mom, Maddy was able to apply for the Saturday Visalia Farmers' Market and got all necessary inspections, licenses, and certifications.
Not long after applying, Maddy and Lori received a call that they were accepted into the Market, starting the first Saturday in August of 2014.
Today, you won't just find a few varieties at Maddy and Lori's booth; you can expect to find a plethora of flowers, herbs, houseplants, succulents, and vegetable plants.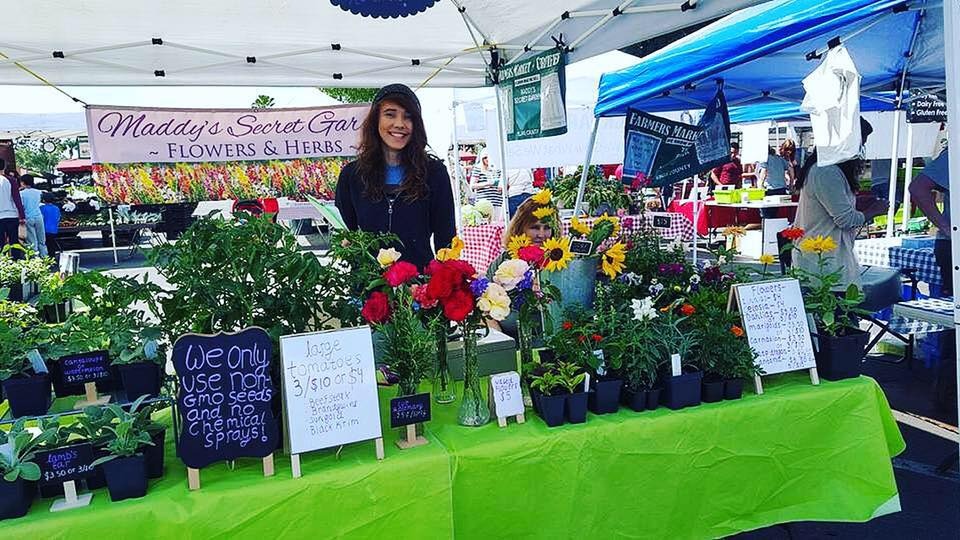 But Maddy's Secret Garden doesn't just sell your traditional favorites from Italian basil to beefsteak tomato plants; they also offer unique choices that are hard to find in the big box stores. These include scented geraniums, black radishes, mullein, purple kale, mustard spinach, red-streaked mizuna greens, blue snap peas, cinnamon basil, French tarragon, lemon coriander, and handfuls of others.
"While the unique items we offer do spark the interest of many, the traditional favorites will always be the top sellers. But in the end, it's not about selling just what other nurseries and big box stores offer; it's about making Maddy's Secret Garden one-of-a-kind. We love seeing our customers' expressions when they see hard-to-find or uncommon plants at our booth. It makes our day," says now 23-year-old Maddy.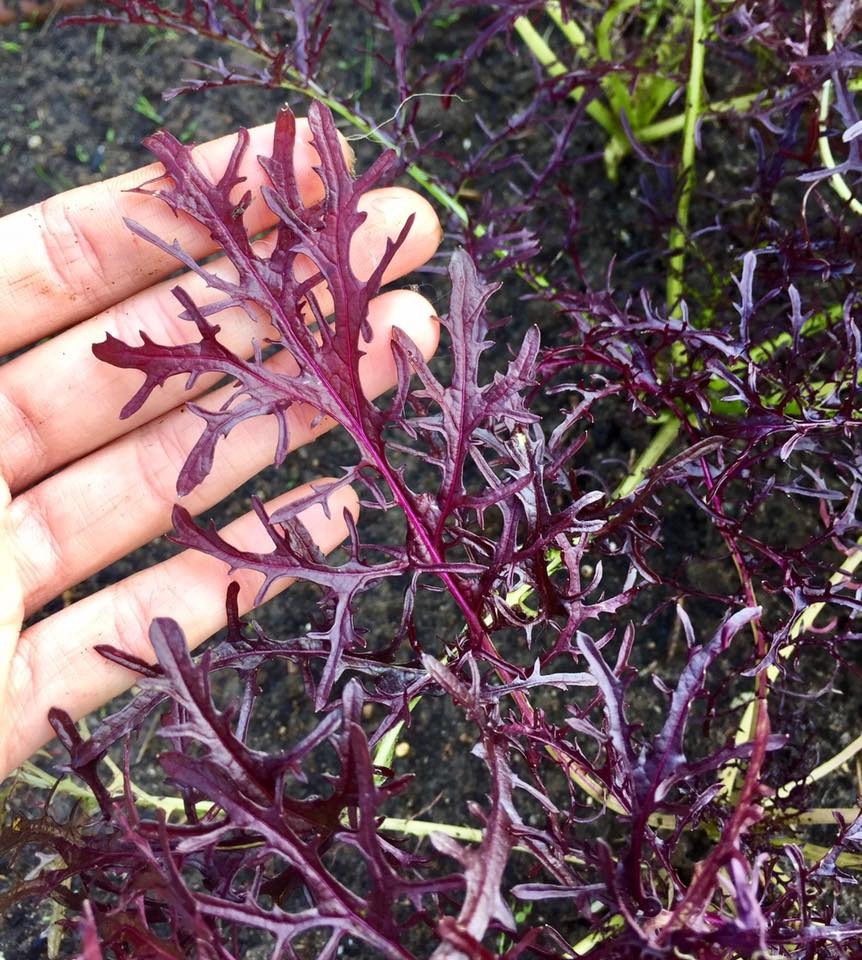 Best of all, Maddy's Secret Garden only uses non-GMO seed and never uses chemical products on their plants to deter pests and diseases. Instead, they utilize fine netting and the occasional organic spray to get the job done.
"Many of our customers are concerned about harmful chemicals on their plants, which is often why they come to us. We don't cheat the system. Our plants are grown naturally here in Visalia, California without the use of toxic substances that may be of potential harm to humans, pets, and beneficial insects. We use trial-and-error to find what works and what doesn't," she says.
For those without a green thumb, Maddy's Secret Garden sells other products as well: cut flowers, bulbs rooted in vases of water, and fresh cut rosemary. Great to give as gifts, Maddy and her mom also sell succulent arrangements.
Maddy, a 4.0 university graduate, full-time freelance writer, part-time social media manager, and mental health advocate, has grown the little plant nursery business alongside her mother, who also works full-time, into something blossoming and ever-changing.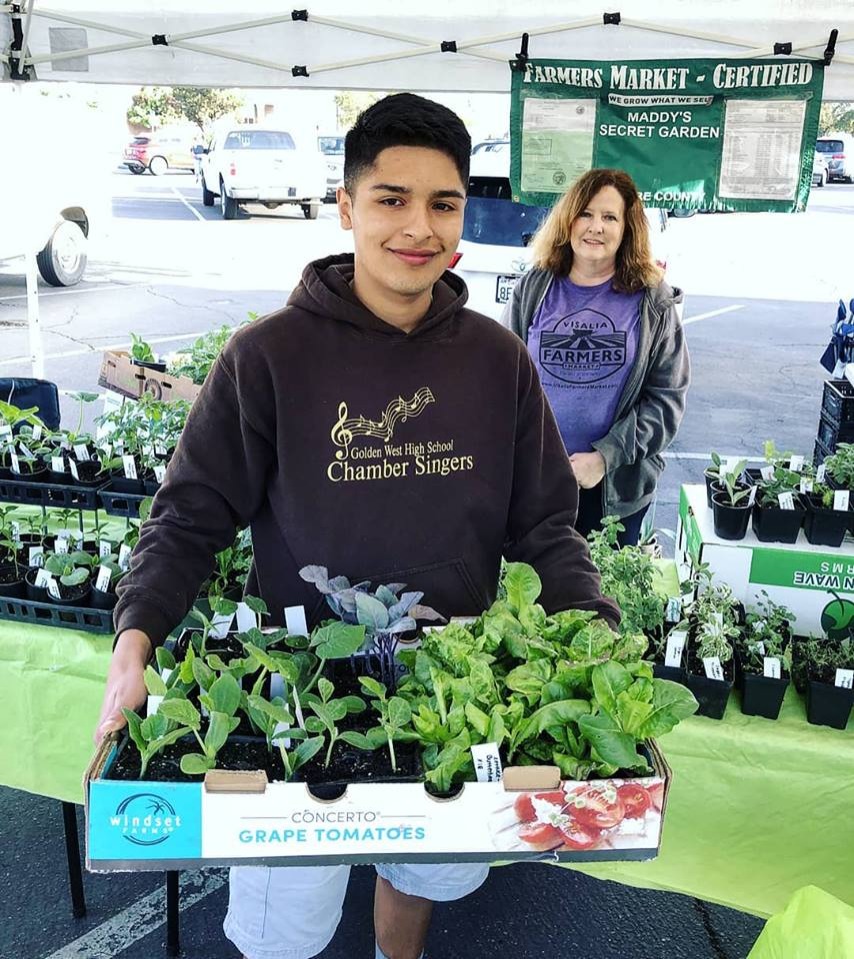 "My mom and I constantly have new ideas flowing. It's almost overwhelming! Our booth is always evolving according to the market and what our customers want and need. It's certainly a challenge, but I thrive with challenges; I don't want simple. You can say Maddy's Secret Garden is the perfect example of something that grew from nothing."
But the home-based plant nursery business didn't come easy, and quite frankly, both Lori and Maddy did not expect things to thrive the way they did.
"I would go outside each day with a metal watering can to water our seedlings one by one, which were sitting on old, wooden chairs and makeshift shelves in our backyard. Now, we have an actual nursery in our backyard with plant tables and mobile shelving units, commercial hoses, and an overhead watering system. It's amazing how far things have come" Maddy continues.
Maddy's Secret Garden is open all year 'round at the Visalia Farmers' Market every Saturday, even in the winter.
Visalia Farmers' Market
8:00 to 11:30 a.m. (March - November)
9:00 to 12:30 p.m. (December - February)
Sears' parking lot; corner of Caldwell and Mooney Blvd.
Visalia, California 93277
Follow Maddy's Secret Garden on Facebook and Instagram for updates!