Pipette baby skincare products use only clean, non-toxic, plant-based ingredients
Pipette baby skincare products with non-toxic, plant-based ingredients, nourish and moisturize your baby's sensitive skin, without compromising safety or sustainability.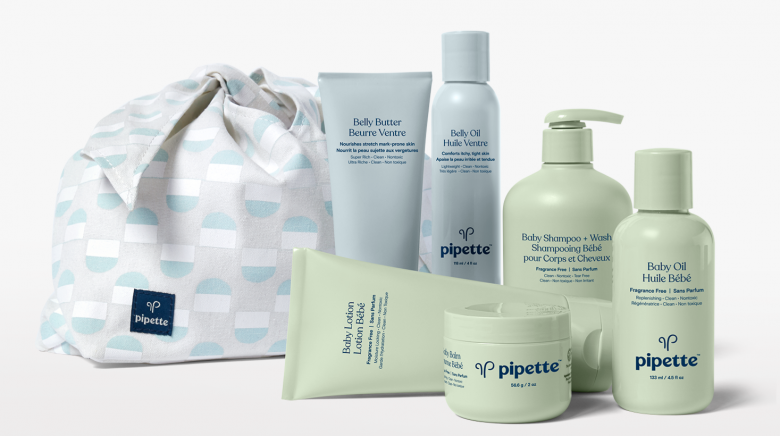 From their first moments, your baby deserves the very best. Pipette Baby knows that your baby's skin — soft, sweet, and absolutely perfect — is naturally balanced from the start. That's why they use only clean ingredients that work with skin naturally to hydrate and protect. Like squalane — the specially formulated ingredient made to support newborn skin, just like the squalene that's in baby's skin at birth. There are no synthetic fragrances or any toxic chemicals in Pipette Baby's clean baby care products. Hypoallergenic and gentle, created with pediatricians and dermatologists so you can trust they're effective and safe even for sensitive skin. 
And your baby's skin care products don't need to cause harm to the planet or animals either. Pipette Baby skincare is made with sustainability and the environment in mind. Many of their products — including Baby Cream to Powder, Baby Shampoo + Wash, and Baby Lotion — are verified by the Environmental Working Group (EWG). Vegan, cruelty-free, ethically-sourced ingredients make it super easy to choose a skincare product for your baby that's kind to the planet too. 
Pipette Baby clean shampoo and wash gently cleanses and hydrates delicate skin
Bath time for your baby should be calm and soothing — for both of you. Of course you want to use a natural baby shampoo with ingredients you feel good about.  Get that peace of mind with Pipette Baby's tear-free baby shampoo and wash. It's made cruelty-free and tested by dermatologists.
Glycolipids made from sugar gently cleanse baby's skin without drying it out. And plant-derived glycerin helps hydrate, balancing the moisture in your baby's skin. No irritation and no residue. This clean and gentle baby wash is safe for sensitive skin from head to toe, and gentle enough to use every day.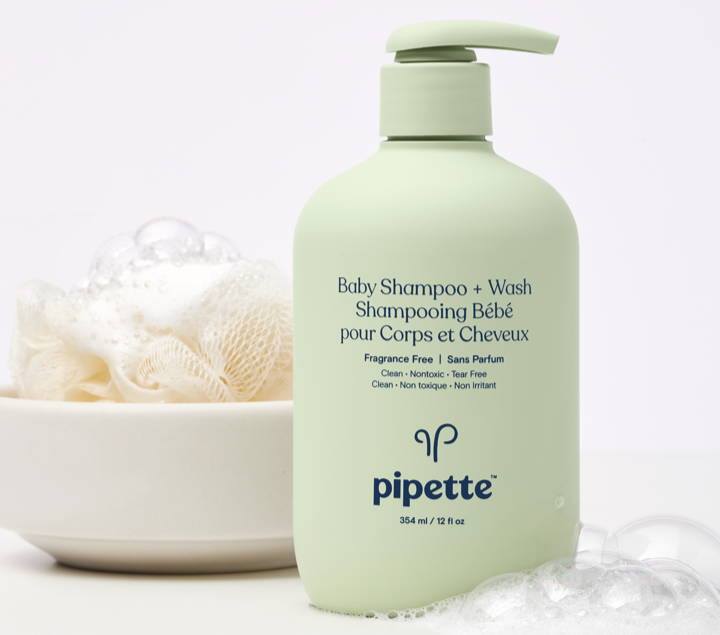 Shop Pipette Baby Skincare Products
Fragrance-free baby oil is lightweight and rich in antioxidants for naturally balanced moisture
Perfect for that calming massage to bond with your baby after bath. Pipette Baby's clean baby oil is free of fragrances (no need to cover up that special newborn baby smell) and has all the right plant-based ingredients to moisturize and protect. Plant-derived fatty acids, plus squalane and ceramides work with skin to keep it smooth, soft, and balanced. And acai berry sterols and vitamin E nourish skin with natural antioxidants. 
Tested by dermatologists and pediatricians, this fragrance-free baby oil is safe to use every day even on sensitive skin. Weightless and non-irritating, the hydrating formula will help you to replenish the moisture in your baby's delicate skin. It comes in a travel size too, so you never have to go without, even if you're away from home.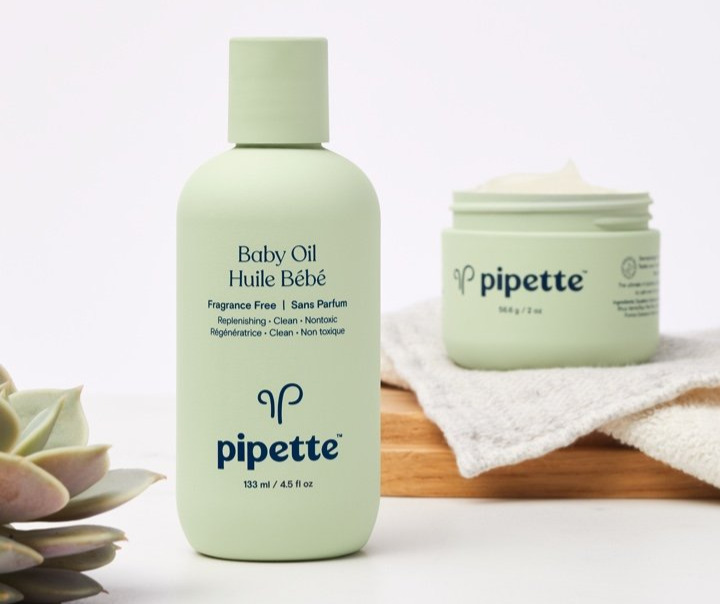 Pipette Baby SPF 50 mineral sunscreen offers baby-friendly, broad-spectrum UV protection 
Carefully formulated to be safe for baby and effectively protect from UVA and UVB. Everyone in the family will love this mineral sunscreen with SPF 50. It absorbs fast, won't weigh heavy on skin or leave a sticky feeling. Other sunscreens use chemicals to block UV, ingredients that can be damaging to the environment and that you sure don't want on your baby's precious skin. 
Pipette Baby's broad spectrum mineral sunscreen is formulated to blend as much as possible while sitting on the skin, blocking harmful rays with non-nano zinc oxide. Non-comedogenic ingredients and plant extracts — like gooseberry extract — helps to calm from irritation and heat from the sun. It goes on smooth, hydrating and protecting skin without causing harm to the environment.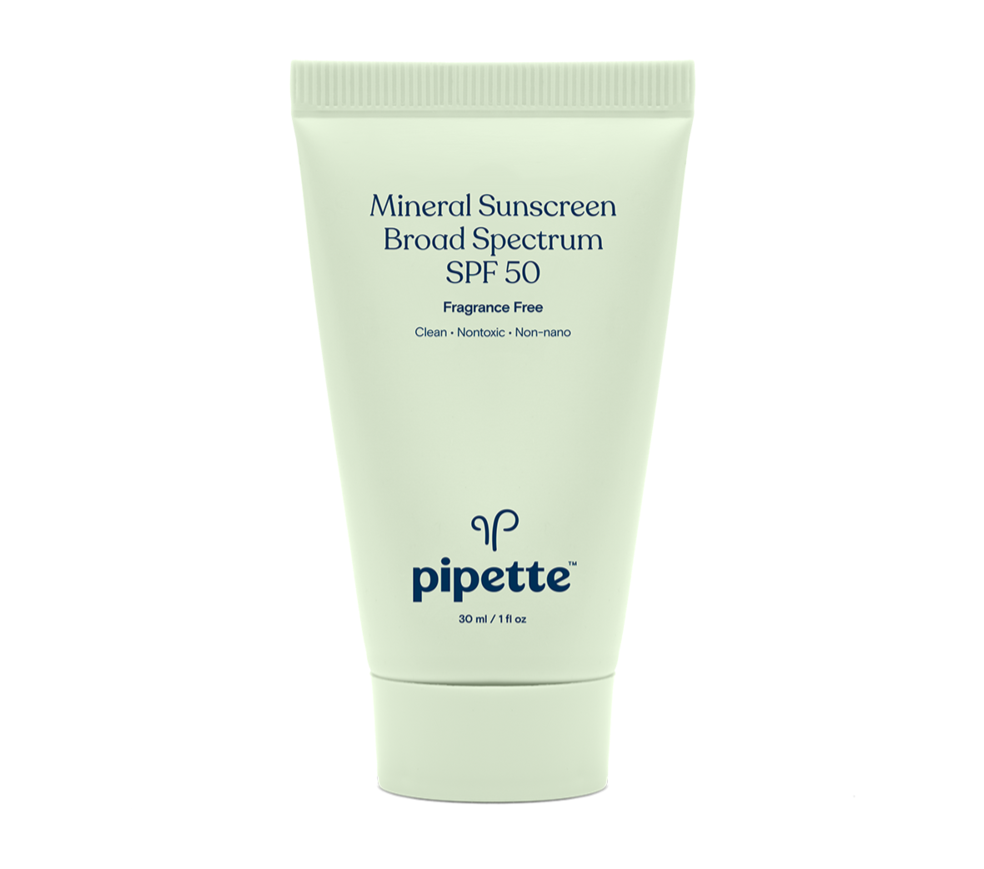 Shop Pipette Mineral Sunscreen SPF 50
Hypoallergenic and talc-free baby cream to powder for velvety-soft skin
As adorable as they are, those little baby rolls do get sweaty from time to time. But traditional baby powder can get everywhere. And it's not just the mess — it can be harmful if baby breathes any in. Fortunately, there's a much easier and safer way to keep your baby's skin dry and comfortable all day. Pipette Baby's Talc-Free Cream To Powder's hypoallergenic formula smooths on easily and dries to a powder finish without drying out the skin. 
Perfect for all of those cute pudgy rolls and creases, it keeps skin from getting sticky, sweaty, chafed, or irritated. Food-grade arrowroot powder and tapioca starch absorb wetness without any toxic ingredients, like talc. And it contains mango seed butter that's loaded with antioxidants and works to improve the skin's natural moisture barrier. The cruelty-free, mess-free baby powder alternative has no synthetic fragrances, and it's EWG-verified.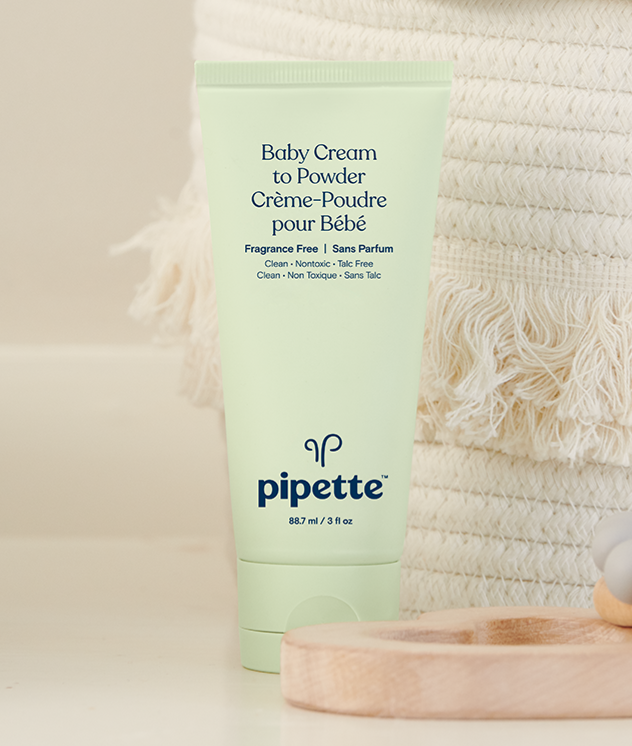 Shop Pipette Baby Cream to Powder
Nourishing baby balm delivers ultimate hydration, even on-the-go with Pipette Baby's balm stick 
From chapped cheeks or lips, to dry knees or the diaper line, sometimes baby's skin needs a boost of extra hydration. Pipette Baby balm is super nourishing and vegan, boosting moisture in the skin with rich jojoba and antioxidant-rich pomegranate, plus squalane and vitamin E. The deeply hydrating formula is made fragrance-free, and won't leave skin feeling sticky or greasy — just ultra moisturized and soft. 
When you're out and about, using balm in the jar can be difficult to manage. But with Pipette Baby's hydrating balm stick, you can easily and instantly soothe skin wherever you are. All the benefits of the baby balm, in the convenience of a stick. With clean, anti-inflammatory, and skin-balancing ingredients, tested for safety and gentle enough to use as often as you need to.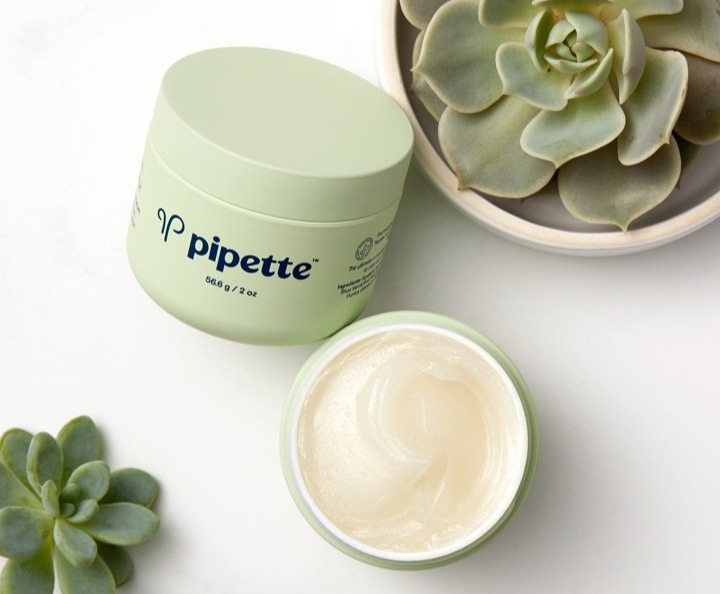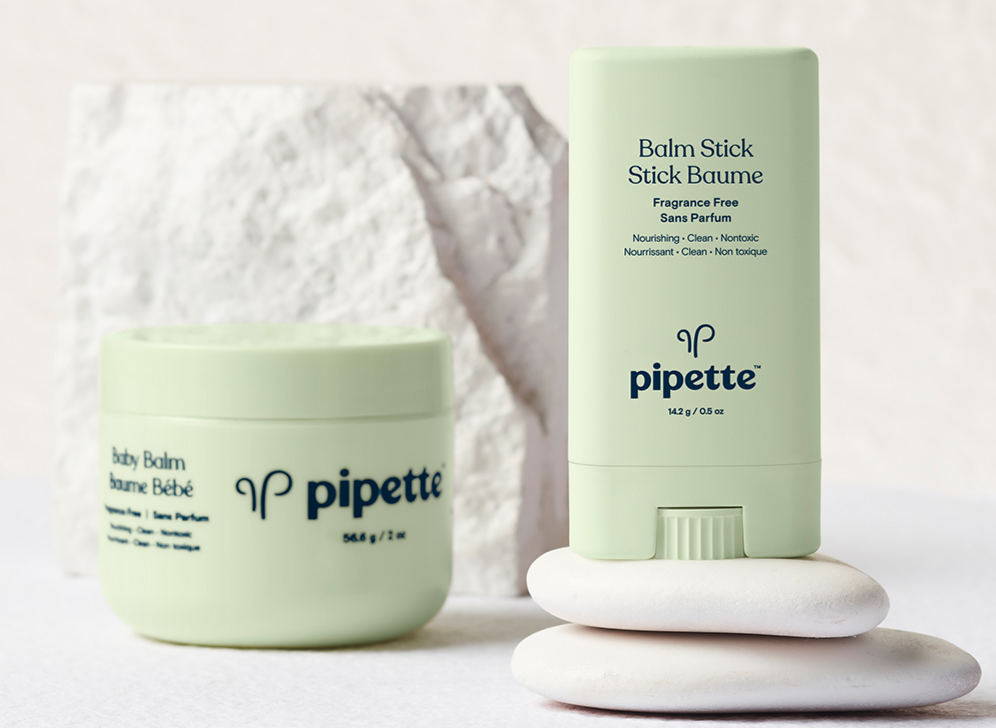 About Pipette Baby
Pipette Baby was formed in 2019 to make clean baby care easier and more sustainable for parents everywhere. Launched by industry leader Amyris, Pipette Baby shares their values with a commitment to sustainability and providing clean wellness products. They use biotechnology to come up with solutions  that really work without compromising safety or harming the environment. Like the plant-derived squalane that works with baby's skin naturally. Their ingredients are 100% clean, you'll never have to worry about sulfates, synthetic fragrances, phthalates, parabens, natural irritants, or petrolatum in their baby care products. 
Shop Pipette SPECIAL OFFERS & SALES
Shipping & Delivery
Orders ship standard to the contiguous US for $4.99, and 5-7 days after orders are fulfilled. Pipette Baby also offers free standard shipping on orders over $35 within the contiguous US. Visit the SHIPPING page for more details.