Cinnaholic - A Cinnamon Roll Dessert Shop
Handcrafted cinnamon rolls and desserts that are 100% vegan plant-based, and dairy-free.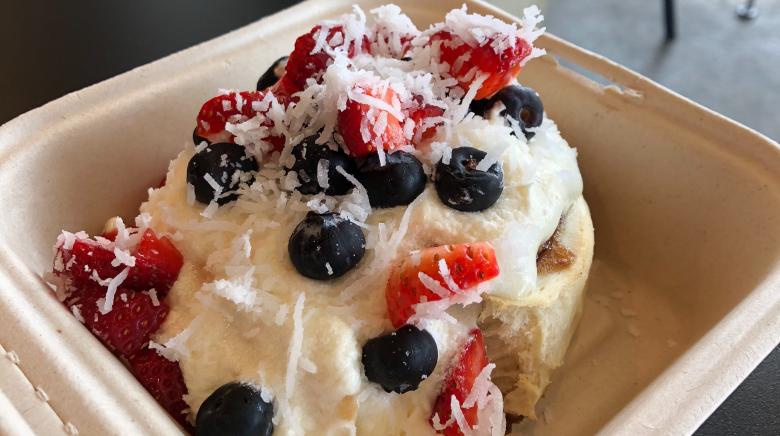 Recently, I purchased a cinnamon roll from Cinnaholic Gourmet Cinnamon Rolls and OMG! This place is out of this world delicious. 
Cinnaholic is an all vegan bakery located on E San Carlos & S 3rd St in Downtown San Jose. They have a frosting bar with 27 flavors! That's right, 27! 
These flavors include almond, butter pecan, hazelnut, cream soda, macadamia nut, key lime, pina colada, and the original frosting they call "Old Skool." 
If you're as indecisive as I am, you may have a problem deciding on just one flavor. But don't you worry, you can always double up, triple up, or quadruple up on the frosting (and toppings). 
They have a toppings bar with over 27 varieties including fruits, chocolate chips, jams, cookies and marshmallows! The list is endless. But before you think Cinnaholic is just cinnamon rolls, hold on. 
An Oreo Explosion
The make specialty rolls like the Oreo Explosion or the Spartan Roll (Go Spartans!) and you can also customize a cinnamon roll cake. 
So for you cinnamon rolls lovers out there who have a birthday coming up, you might want to consider ordering your birthday treat here. These rolls are fresh, light and delicious. They taste like they came out of the oven, oh wait, they did!
By the time I got my almond frosting, blueberry, strawberry and coconut ​creation, it was still gooey on the inside. Just like a cinnamon roll should be. It wasn't too sweet and it was very flavorful. Their products are delicious and the service is amazing! 
And students get 10% off!!
The cashier made me feel very welcomed and reminded me that students receive a 10% discount!  
That's something any college student can appreciate. But a gourmet cinnamon roll, is something EVERYONE can and should appreciate!