Magic or Tragic?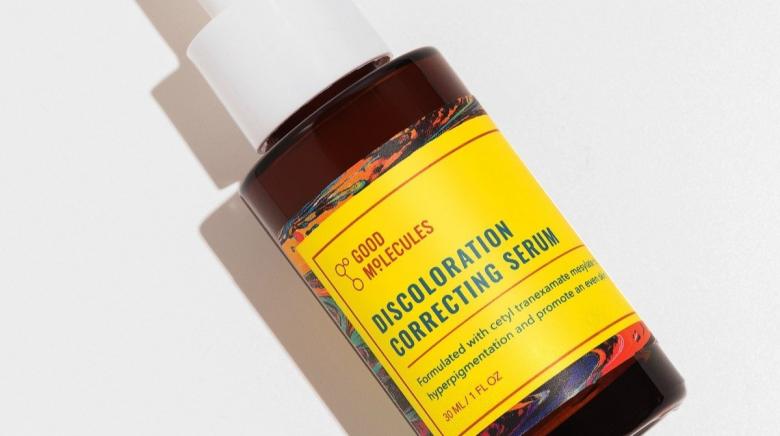 After spending countless hours in the Texas summer sun unprotected, I developed hyperpigmentation on my face. My skin decided to skip the "sun burn" phase and went right into what seemed to be permanent patch-like marks. In a desperate attempt to reverse the damage my carelessness caused, I bought any and every product that claimed to remove hyperpigmentation. With high hopes yet no results, the search was still on.  
While scrolling through my feed on Instagram years later, a sponsored Ad for Good Molecule's Discoloration Correcting Serum popped up. Unlike the previously tried products, this product claimed it would not only lighten hyperpigmentation, but it also claimed to hydrate while soothing the skin. After clicking on the "Shop Now" tab, I found that this product not only had raving reviews, but it was only 12 dollars...12 dollars! After doing a bit more research on the company and their products, I found that this was a small cruelty free business, and they only used clean ingredients. Two ethical views that were increasingly becoming more important to me. Hanging on to the ounce of hope I had left, I ordered the serum knowing that I may finally defeat the hyperpigmentation on my face, all while supporting a small business. 
Good Molecule's received their first star from me when the package was delivered one week sooner than expected. I opened the off-yellow box to find the serum amidst pink tissue paper, a sample of their Hydrating Bar Soap, and a Thank You letter from the company. Usually when ordering products from other companies, a free sample is rarely included. So to receive a sample my first time ordering with Good Molecule's, was a pleasant surprise.
The second star came when I picked up the serum and found it was in a glass bottle (glass packaging is known to help the shelf life and quality of products last longer). It was a 1 fluid ounce bottle, with a multi-colored label listing every single ingredient that the serum was made of. The directions seemed easy to follow and claimed to be a product that was safe enough to use daily, both morning and night. 
Now it was time. Time for the true test. Time for the trial that could set my skin free!
I started with a freshly cleansed dry face as suggested via the serum's label. Opening the bottle, I found a dropper was included, making it easy to control the amount of product being distributed. While placing a few drops of the serum on my fingertips, the first thing I noticed was the texture of the serum. It was thin and felt smooth, similar to silk. The color reminded me of that of a pearl. A beautiful white, sort of translucent color. It absorbed quickly into my skin, as I decided to not apply additional products afterwards, allowing me to track any skin reaction. 
The next morning I woke up with dewy soft skin. Days later, I noticed my hyperpigmentation had begun to lighten up. Weeks later, my skin had a much smoother texture, and there was a youthful brightness to it that I hadn't witnessed in a while. After a few months I noticed some of the hyperpigmentation was completely gone. Wow! Good Molecule's Discoloration Correcting Serum was doing it! It was doing everything I longed for and more. 
The results in such a short time span earned the serum's final three stars from me, making it a five star product. I still use the product to this day and will continue to do so. Good Molecule's Discoloration Correcting Serum is indeed, the magic potion.