Check out Sol Bol, the first acai restaurant in Downtown Visalia
Sol Bol not only serves the best acai in the county but has other delectable bites.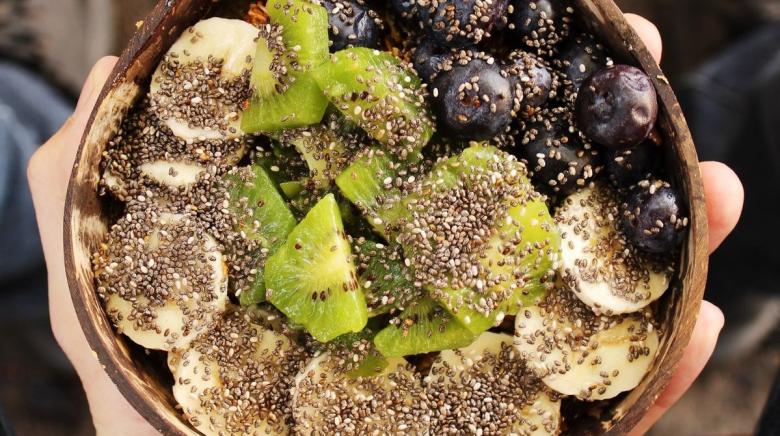 Anyone who's an acai snob knows that finding the perfect acai bowl is a needle in a haystack. You may have even tried to make your own acai bowl at home at some point. It might be cheaper, but it's simply not the same, and often, quality lacks when you go this route. Luckily, there are many great acai restaurants around the world that we can turn to, to satisfy our acai cravings.
Sol Bol in Downtown Visalia, California does not disappoint when it comes to their acai bowls. (Even better, they're NOT a chain restaurant. They're family-owned!) If you live in Central California, or don't mind taking a longer road trip from elsewhere, they're one of the hottest acai cafes around and certainly one you should try.
A Peek at Sol Bol's Acai Bowls
Options are plentiful at Sol Bol! You can order an acai bowl crafted with a predetermined set of ingredients, or can even build your own bowl to your liking. Select among two different bowl sizes depending on your appetite.
All preset bowls automatically come with an all-organic, fair-trade, 100% vegan acai base with gluten-free granola. The Sol Bol, their signature bowl, is topped with sliced bananas, strawberries, and a drizzle of honey. If you're a chocolate and peanut butter fan, go for their Sunrise Bol, which features bananas, sliced almonds, carob chips (like chocolate chips but without caffeine), and of course, peanut butter. Or, go a little tropical with their Sunrise Bol that offers bananas, strawberries, coconut, and almonds. Perhaps the healthiest option of their preset bowls, and perfect for fruit lovers, is their Sunshine Bol. It comes with bananas, blueberries, a choice of seasonal fruit, and a sprinkle of chia seeds.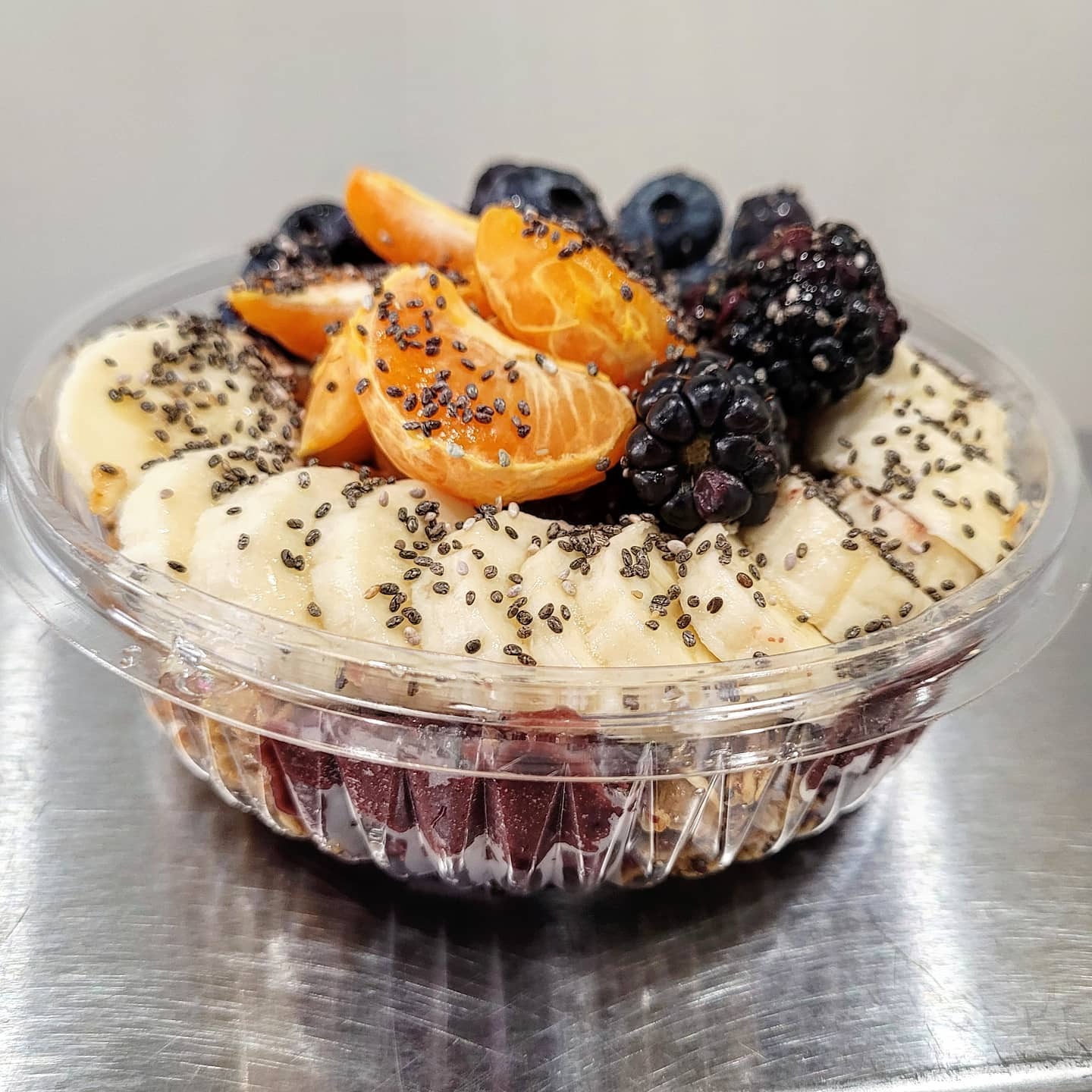 Sol Bol is flexible. Want to make the Sol Bol vegan? Ask for peanut butter instead of honey. Allergic to peanut butter? Order the Sunrise bowl with almond butter instead. Don't like bananas? Get your Sunset Bol with extra strawberries in replacement for bananas. Some even like the Sunshine bowl without the chia seeds. Everyone's different!
As for the build-your-own bowl option, customers have the opportunity to let their imagination run wild. Whatever their flavor palette is, their diet goals or restrictions, or simply whatever their current cravings are, Sol Bol has endless options.
Get a bowl with not only acai sorbet but, instead, dragon fruit sorbet, vanilla Greek yogurt, plain Greek yogurt, or even a bowl split with half yogurt and half sorbet. Pick among the eight fruits they currently offer if you wish. Add crunchiness with granola, carob chips, yogurt chips, or sliced almonds. Opt for other toppings including, but not excluded to, hemp hearts, coconut flakes, chia seeds, Nutella, honey, the list continues. Or, ask for just the base with no toppings.
More Than Just an Acai Bowl: Other Offerings at Sol Bol
While the acai bowls are a hit (and one of the most popular sellers) at Sol Bol in Visalia, California, they aren't the only thing they sell.
Panini Paradise
Apart from acai, you can enjoy a crispy panini at Sol Bol. It's about time someone offered a good panini.
The Eclipse Panini is one of their employees' top favorites. It features mozzarella cheese, cherry tomatoes, garlicky pesto, dried basil, and a drizzle of balsamic. If you want something out of ordinary, they have a new panini called the Galactic Crunch that has salami, jack cheese, red pepper flakes for a spicy kick, capers, and crunchy vinegar chips. It's out of this world!
Gluten-free, Vegetarian, & Vegan Selection
In a little town like Visalia, CA, it's difficult to find restaurants that can accommodate those with food allergies and who have specific dietary needs. Sol Bol, on the other hand, is more than willing to oblige with your needs.
For those who are vegan or vegetarian, this hot spot can whip up a mean plant-based panini. Meet the Vegan Delight Panini. It has roasted red pepper hummus, Roma tomatoes, match stick carrots, sunflower microgreens, and sliced cucumbers. Fresh and delicious!
Sol Bol staff are also willing to accommodate non-meat eaters by swapping out the meat in their meat-containing menu items for another ingredient of their choice. Avocado, microgreens, chipotle mayo, hummus, and boiled egg are just a few options you can instead opt for.
And if you're gluten-free for health reasons or by choice, they have a gluten-free bread option you can switch out to in replacement of their rustic Italian bread.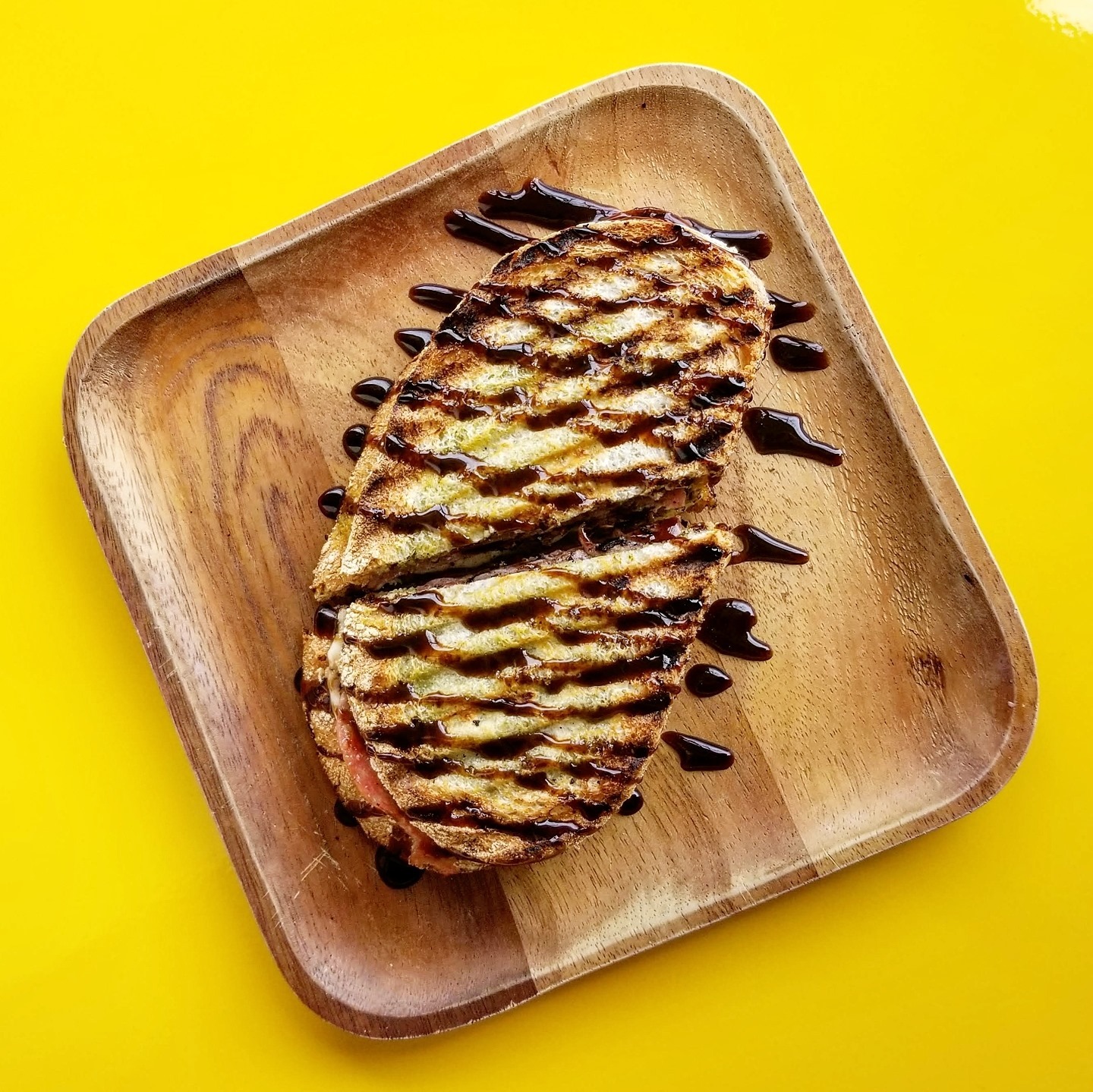 Toasts, Bagels, & More!
The menu items continue, folks.
A strong recommendation from customers and employees alike is the Signature Bagel at this cafe. This tasty bite to eat features cream cheese, mashed avocado, red pepper flakes, everything bagel seasoning, and balsamic. A flavor explosion in your mouth: creamy, a little crunchy, a pinch spicy, and the perfect garlicky taste with some sweetness coming from the balsamic.
Other offerings include build-your-own bagels and croissants, oatmeal, a variety of different toasts (try their Garlic Hummus Toast!), cold sandwiches, smoothies, and even chips to pair with your meal. Smoothies aside, drink options include, but are not excluded to, iced and hot teas (including tea lattes), drip coffee, organic berry agua fresca, fruit-infused water, and bottled drinks.
The best part? All their menu options are served all day long!
How to Get Your Hands on Sol Bol
Sol Bol is located in the heart of Downtown Visalia. They're suite buddies with Cafe India and right across the street from El Tarasco and Marcela's Home Store.
Stop on by the cafe to order for to-go, or dine in on their shaded patio or enjoy their sidewalk seating. They also accept phone call orders, or you can order and pay on their Square Store for pick-up. Orders can also be placed via DoorDash, Grubhub, Postmates, or Uber Eats for pick-up or delivery.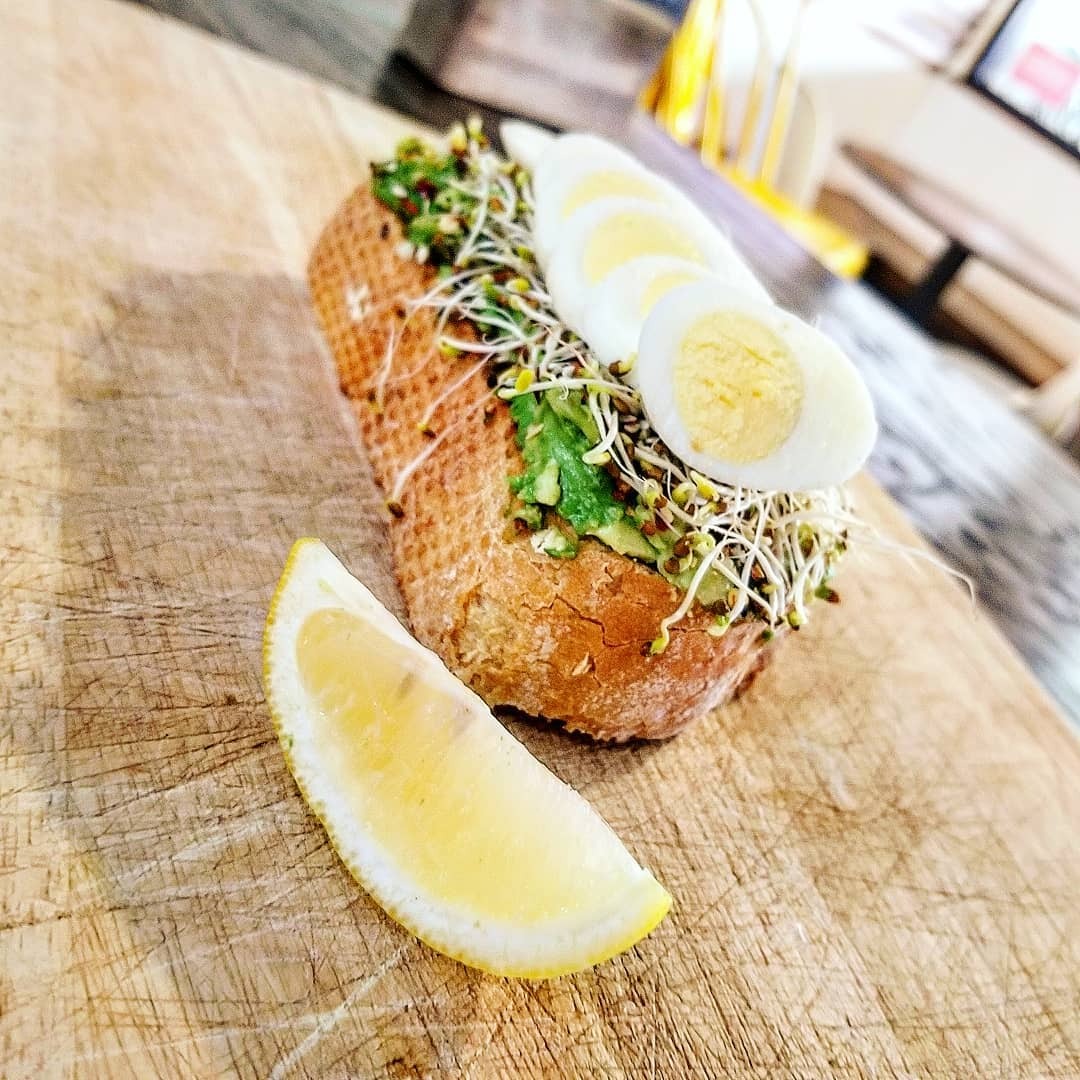 Location:
211 W. Main St #B
Visalia, CA 93291
Hours:
Monday - Saturday (Closed Sundays)
10:00 a.m. - 3:00 p.m.
Social: