Owners of Cruise Coffee and the Hot Pink Box unite to form a perfect partnership
One is a local drive-through coffee shop, the other, a dessert catering service. Together they make a perfect match for coffee and dessert in the Santa Cruz mountains.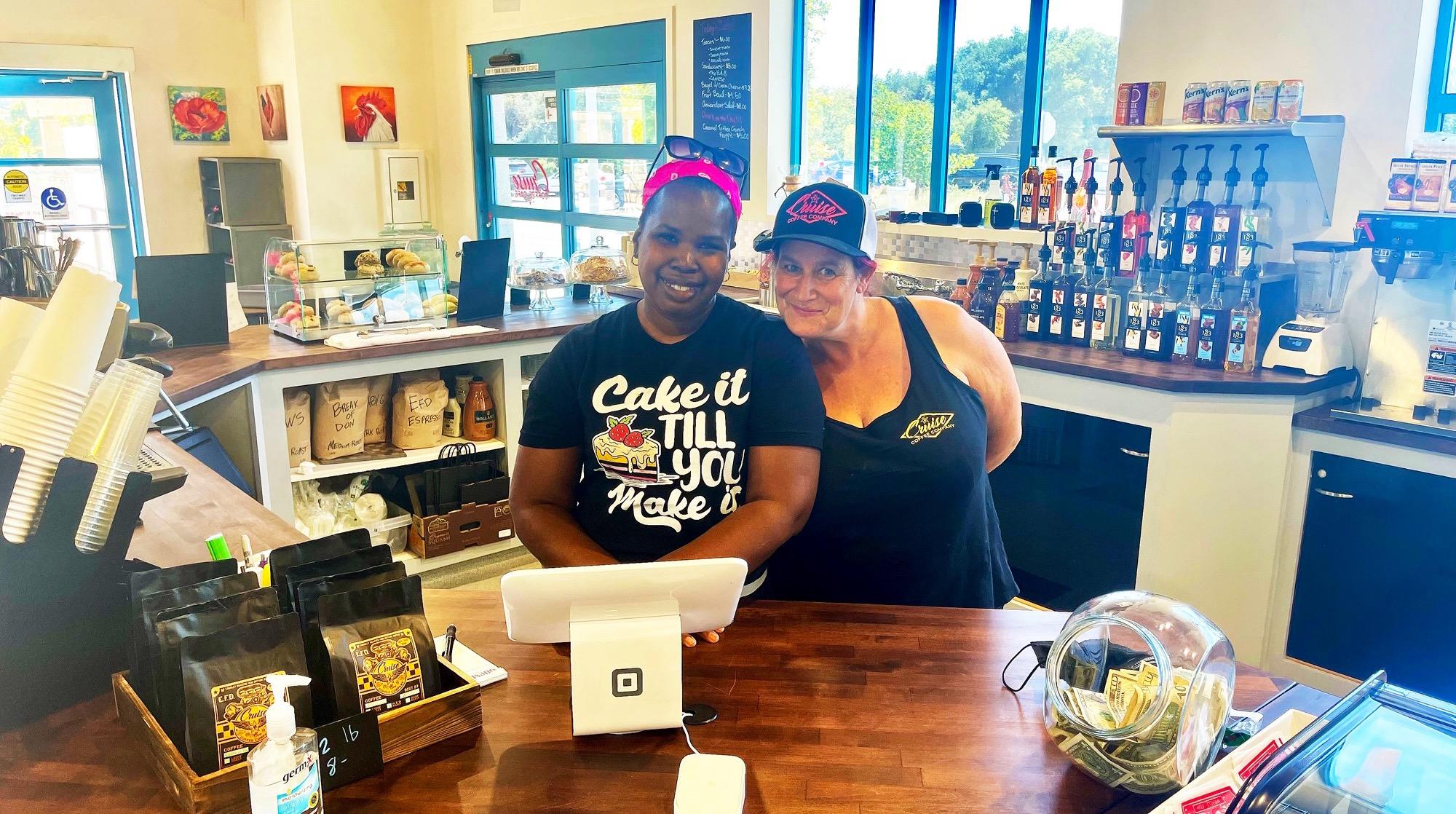 Both began in the Bay Area, but how did they each get their start? And how did they meet and join hands in business? 
Cruise Coffee 
It all started with a bike. One day, Erin Buchla decided she wanted to buy a bike, but not just any bike, she wanted one with a coldbrew distribution attachment. From this bike, the idea to sell coffee and other beverages came to mind, and she soon created Cruise Coffee in Scotts Valley, California.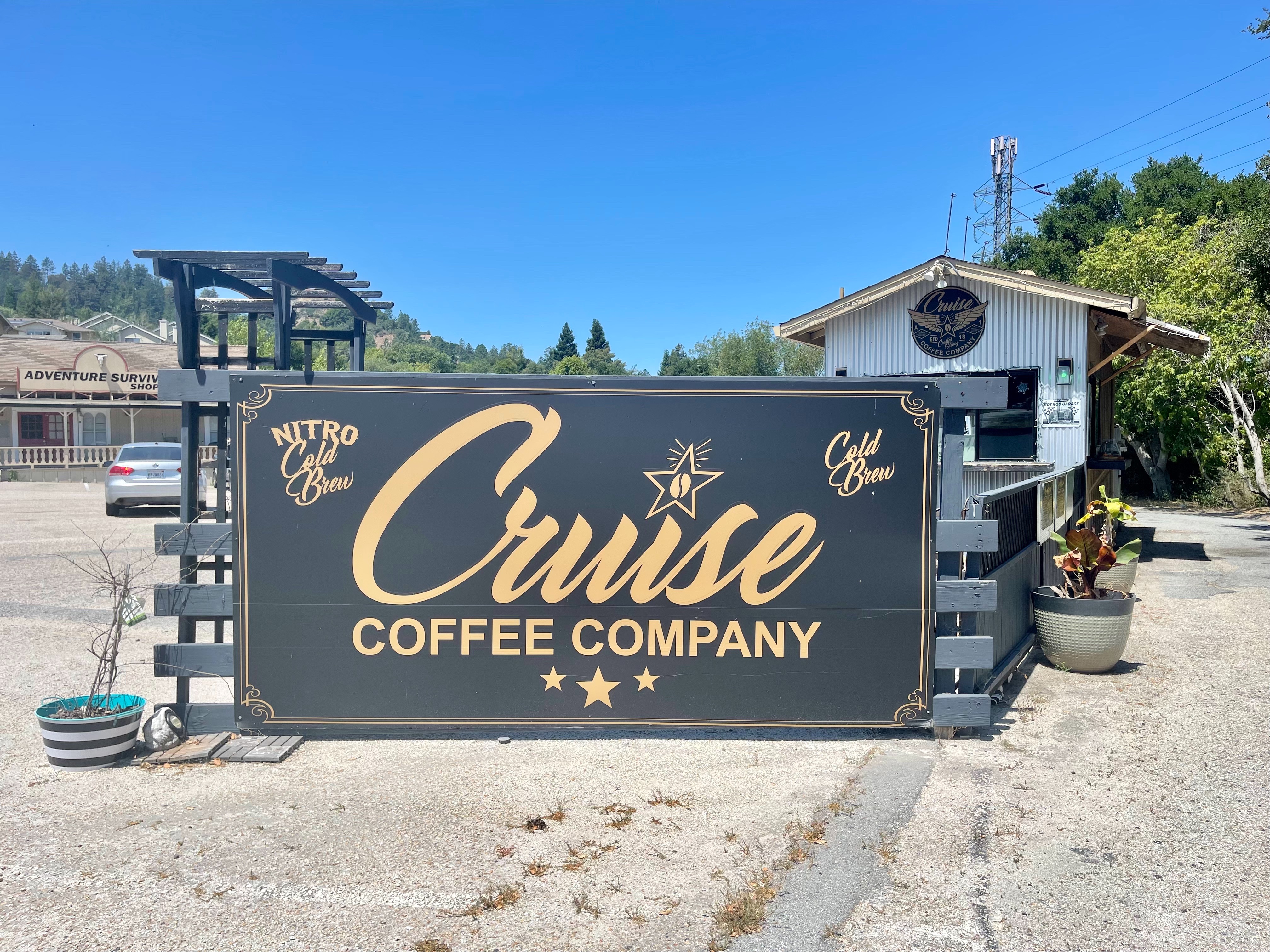 Cruise Coffee was given its name because of a few reasons: the bike Erin cruised around on that gave her the idea to sell coffee, then the fact that the first coffee shop is a drive-through where customers can "cruise" on by, then finally because she originally lived in Santa Cruz - the town just next to Scotts Valley. 
The drive-through has a loyal and steady customer base due to Erin's commitment to using fair trade, family farmed beans that are roasted in-house. That, and her dedication to providing excellent customer service and showing her love of the Scotts Valley community through special events and promotions that are to the benefit of the town.
The Hot Pink Box 
Brand-di Palmer has always enjoyed desserts, but hadn't thought about making them her career until she went to a high school graduation party with an extensive dessert buffet. She loved the idea of a dessert buffet rather than a traditional cake, but upon biting into some of the desserts she realized that although the buffet looked exquisite, the taste was awful - sugar and grease. Since then, she has kept that moment close to her heart and has vowed to make desserts that both taste and look great.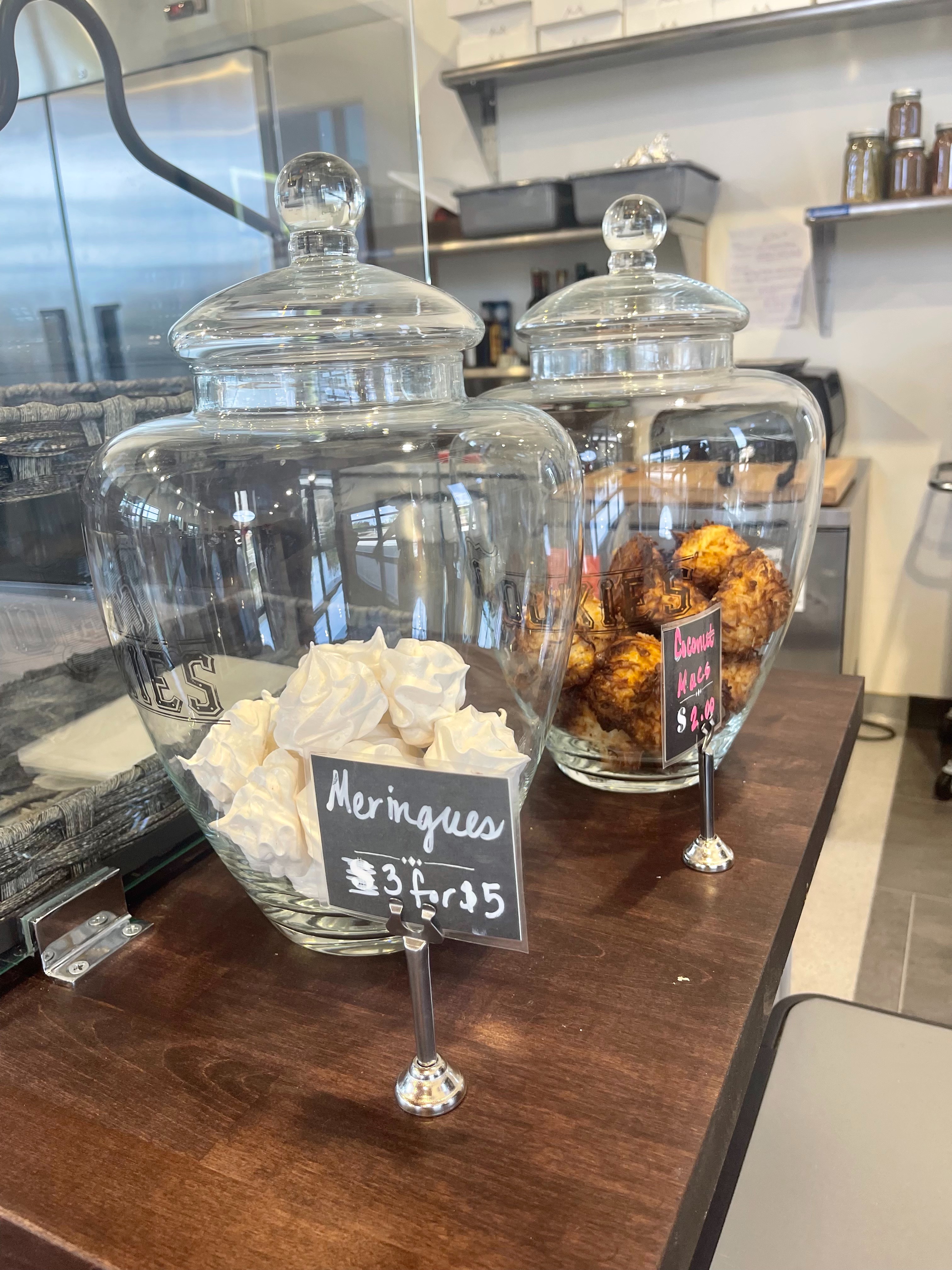 She decided to become a dessert caterer in 2007 and founded The Hot Pink Box, an elite dessert catering company that creates beautiful buffet arrangements of delicious food for all manner of events. 
But why call her business The Hot Pink Box? Well, her motto is, "there's always something good inside," helping signify and capture the excitement one feels when they first receive a box with desserts inside. For Brand-di, making desserts in addition to eating desserts can give her that special feeling. Her favorites: pecan sticky buns, individual cheesecakes, and cinnamon buns.
The Owners Meet and a Perfect Partnership is Formed 
The two small business owners met at a local Art and Wine Festival in Scotts Valley. Brand-di, part of the Scotts Valley Chamber of Commerce at the time, was in charge of procuring local vendors and needed a coffee stand. However, she didn't want to use a franchise, she wanted something local and unique. Thus, Brand-di was introduced to Cruise Coffee.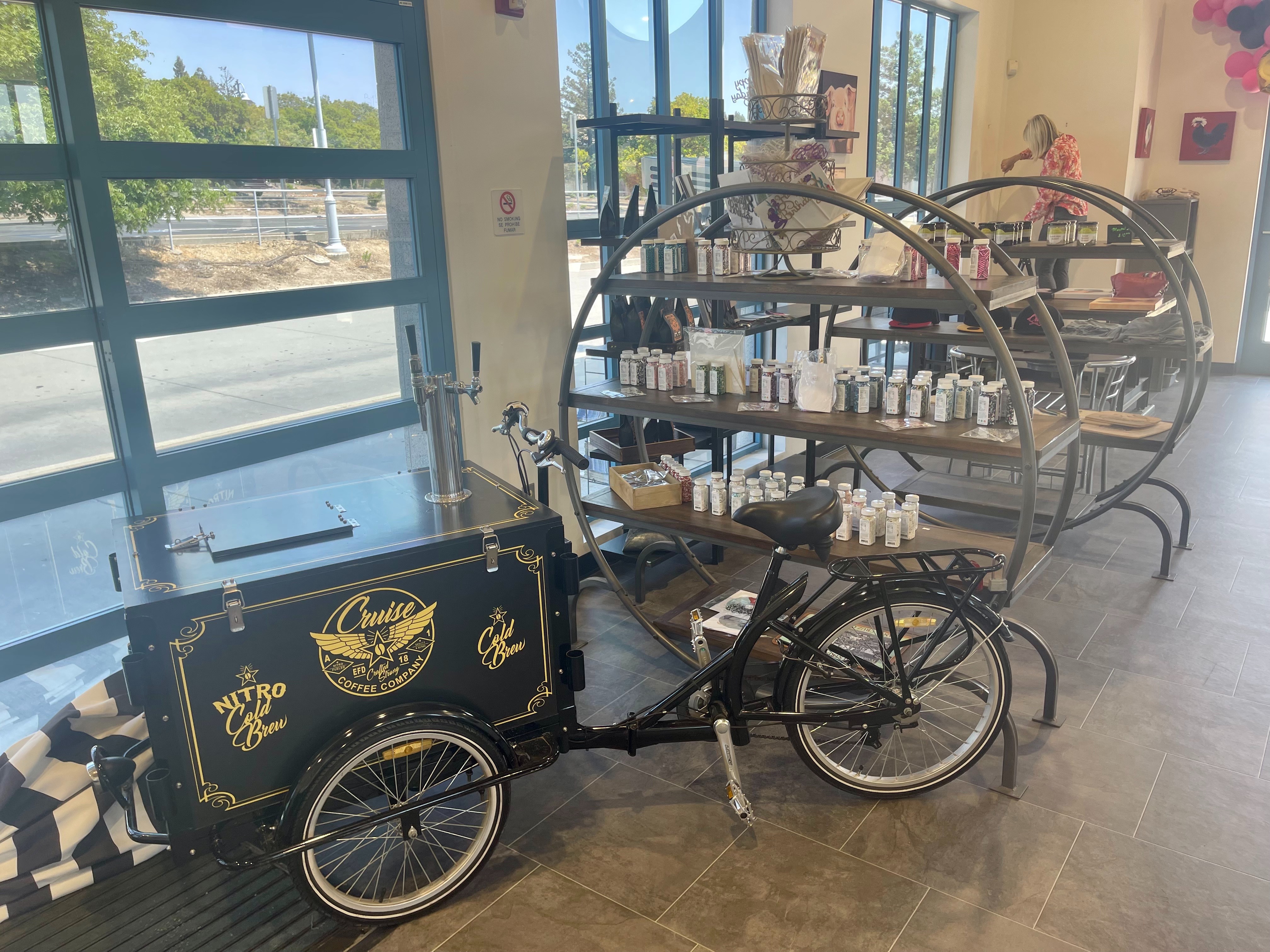 As Erin and Brand-di describe it, their first meeting showed that they clearly had a good balance. Erin first saw Brand-di at the festival in front of a champagne booth and immediately liked her, because who doesn't love a girl who loves champagne? Brand-di also liked Erin upon first impression, as Erin reminded Brand-di of her uncle who was also a fan of cars and car shows. The two felt like family right away. 
Interestingly enough, whereas for many businesses COVID-19 has marked some of the hardest days they've had, for Erin and Brand-di, it's what allowed them to open their new business venture together. 
When COVID-19 halted catering businesses, Brand-di knew she had to pivot and look into other ways to get her desserts sold. As it happened, Erin was looking to expand Cruise Coffee to a new location in Scotts Valley. But this time, it would be different. Erin had always wondered why Scotts Valley didn't have more well-known local bakeries and decided that any new space she opened would include a bakery.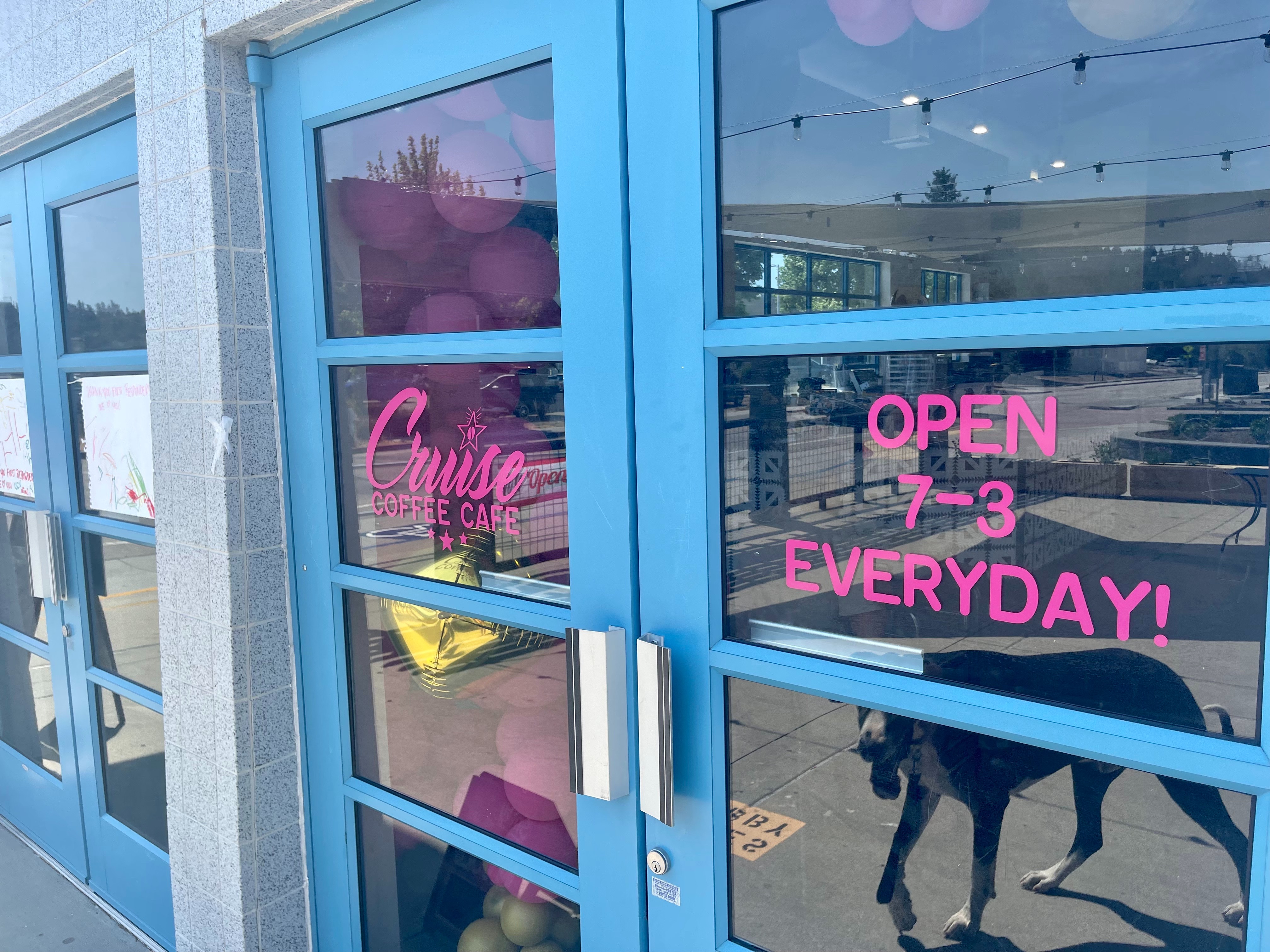 Together, they have formed the new Cruise Coffee - a collaboration between The Hot Pink Box and Cruise Coffee. According to the two new partners, although they each have their own staff, all of the employees have formed a tight-knit unit, one that even includes family members of Erin and Brand-di.
They consider themselves a great match, one somewhat quiet, one louder, one great at negotiation, one poor at it. Separately, Erin is rock 'n roll and Brand-di is gospel. Together, they're a somewhat Elvis Presley or Chuck Berry-esque mix that only leads to good things, or, Johnny B. Goode-things. 
The New Cruise Coffee 
The new location of Cruise Coffee sits in the Transit station of Scotts Valley. While not a drive-through, the location has ample outside seating and a gorgeous interior large enough for Brand-di and The Hot Pink Box to bake and flourish in. 
Since the new location allows for a full kitchen, the idea behind their menu is that the food is interactive. For example, sandwiches are open-faced and up to interpretation, additionally there are blank cakes offered for self-decoration. The menu rotates constantly, so you have to come in and find out what the new offers are and you can adjust them to fit your preference. Many desserts are also naturally gluten free, with other allergy-friendly options coming up as well.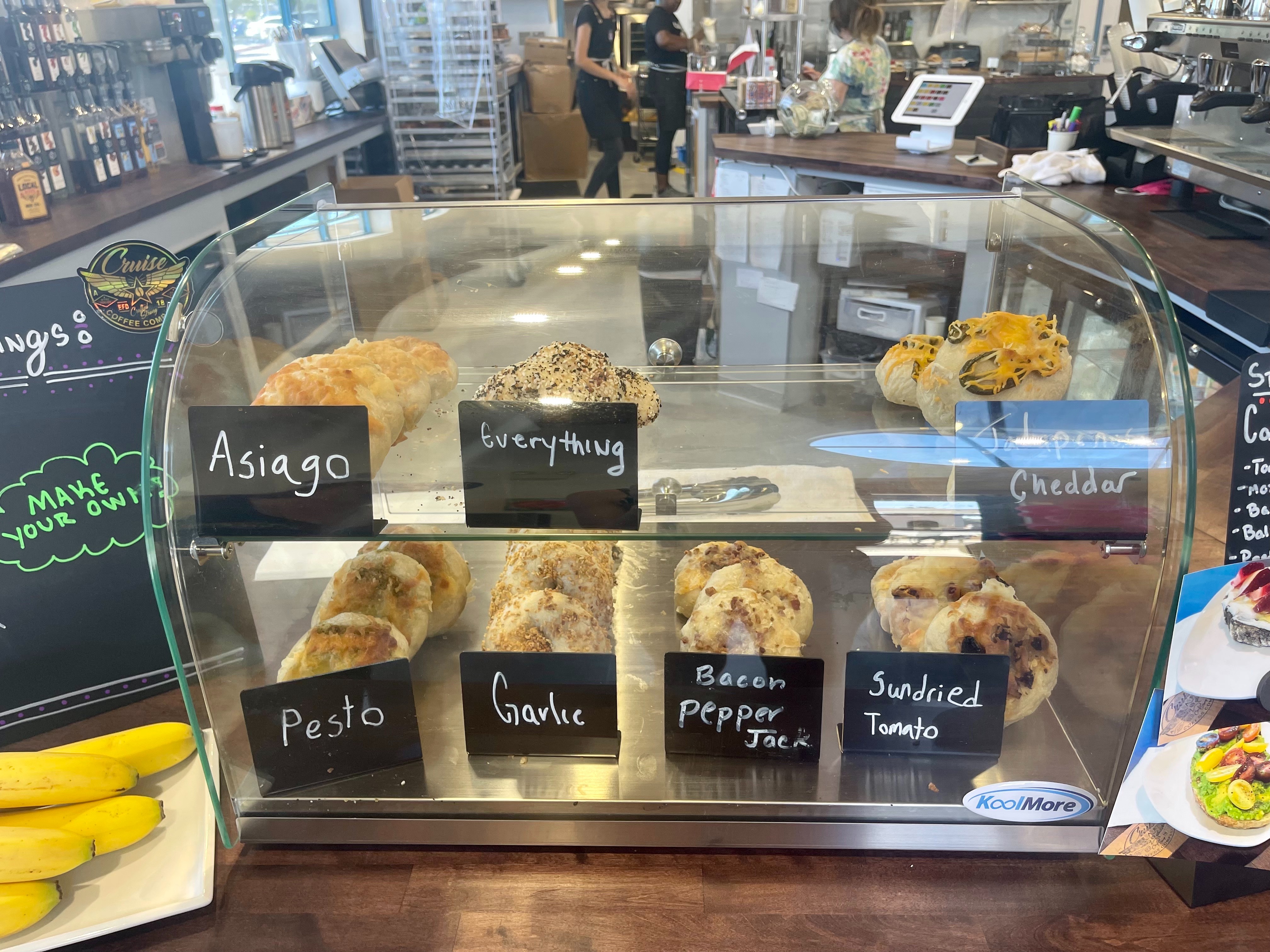 The new Cruise Coffee location is determined to contribute to the community. With their new surplus of space (compared to the smaller drive-through), they display local products and art pieces for sale, where all money goes directly to the artist once sold. 
Erin and Brand-di see the future of the new Cruise Coffee rooted in community and special events. They have plans to host or offer their products for after hour events - bridal showers, birthday parties, work events and the like. The space could be used for classes, for baking, photography, and more. They envision live music events and hours for senior citizens (seasoned citizens, as they like to say), where they would offer sweet tea and storytelling events. 
The new Cruise Coffee location is a proven hit. Opening day saw never-ending lines and friendly faces, so much so that Brand-di and Erin were dumbfounded and touched. They feel confident that they have the skills and the space to maintain that level of popularity, they just need word to spread!