Tony and Alba's Pizzeria Flourishes With a Strong Sense of Community
These small Bay Area pizzerias are reaping the rewards of their dedication to making first-class pizza, and cherishing loyal customers.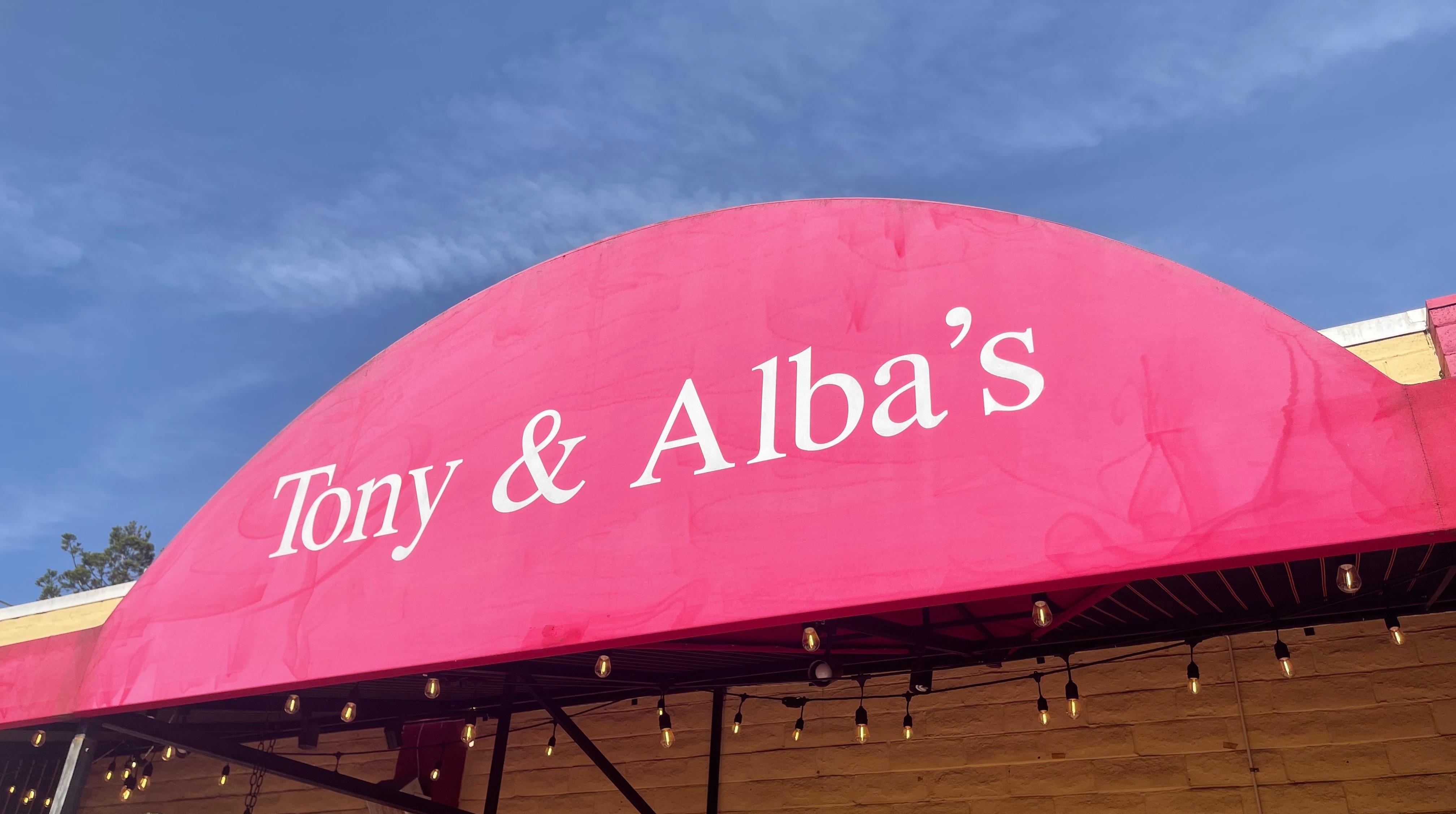 Great food, great friends, great times - these small pizzerias located in San Jose and Scotts Valley are winning over both critics and customers alike. 
Hard Work Leads to Success for Tony and Alba's
One would never be able to tell that Anthony (Tony) Salciccia wasn't always a pizza maker. In fact, he was originally in the cabinet business, but decided to change careers after developing back problems. 
The beginning of Tony and Alba's starts with Tony setting out to look at a property for sale. Upon finding it closed, he went to a nearby pizzeria for lunch. Two steps into the place and Tony knew that this pizzeria was the pizzeria, his future restaurant. The only problem… it wasn't for sale. 
This small fact wasn't a deterrent for Tony, and his charisma eventually won over the owner who sold him the property the very next week. 
Thus, the first Tony and Alba's pizzeria opened in June 1982 in Mountain View, California. At first they kept their operation small, with only a brick oven and a few assorted tables. Friends and family frequented the place, but word soon spread about how good the food was and the pizzeria quickly became a local success.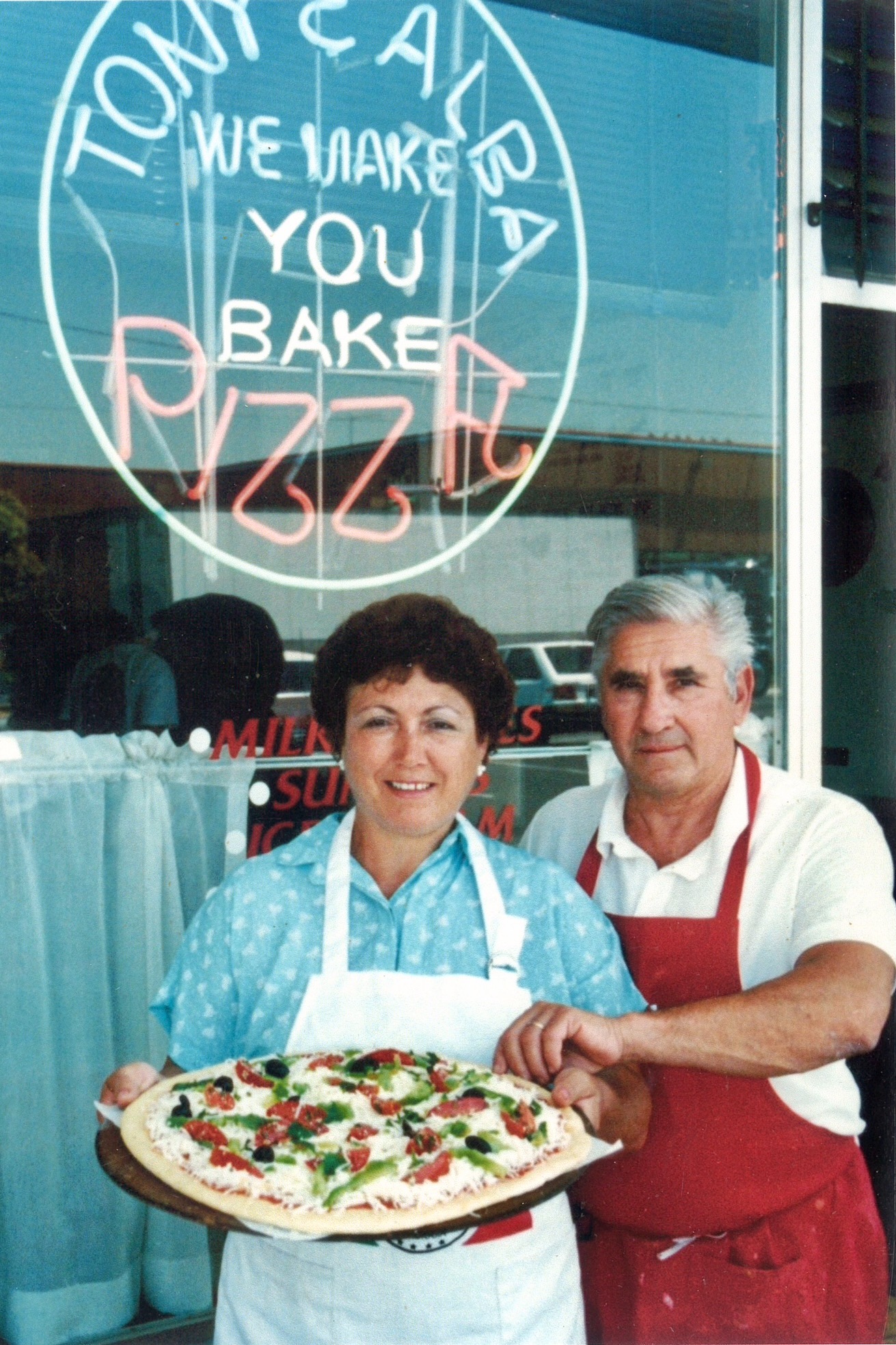 As love for Tony and Alba's grew, Tony decided to buy a trailer and keep it behind the restaurant so he could be there more often. He and Alba bought the neighboring store so they could expand, then another, and another, until finally almost the whole shopping center was a part of Tony and Alba's. 
Their continued success led to the emergence of multiple more locations in the Bay Area, with a staff of almost two hundred people at one point. However, after the economy faltered as a result of the Internet bubble, they decided to reduce their number of stores. 
Currently, there are two locations open. Of the two that remain, one location is in San Jose and is owned by the descendants of the Salciccia family, called Tony and Alba's Pizza and Pasta. The second location is in Scotts Valley and is owned by Dave Terwilliger, who has retained the Tony and Alba's name and has vowed to keep the same methods and taste that the Salciccia family so lovingly developed. 
What Makes a Tony and Alba's Pizza Different?
Since the beginning, originality has been of high importance to everyone involved in the Tony and Alba's pizzerias. Their pizza doesn't taste like something you could get at a chain restaurant by the roadside. Instead, it's memorable for a delicious taste you can't get anywhere else. 
To achieve this, great care goes into preparing, cooking, and serving the food. Their pizza dough is raised for three days and their red sauce, a recipe developed by Alba, is simmered for hours to get the correct flavor. Everything is either homemade, grown locally, or selected of the highest quality. Quality is the key word for Tony and Alba's, and they'll pay full price to get it and deliver it to their customers.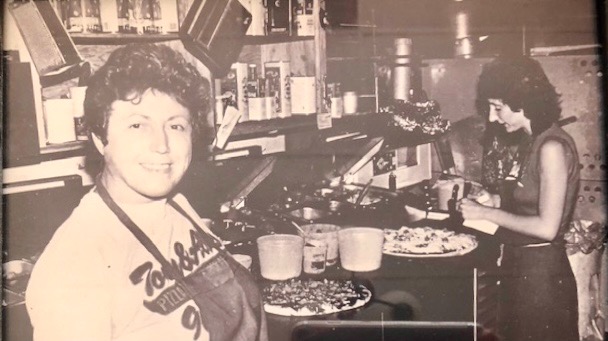 Their determination to make great pizza has resulted in awards such as "Pizza Maker of the Year'' from the National Pizza and Pasta Association, as well as "Best Pizza" from santacruzlive.com and their voters, among others. 
Although the restaurant does stick to its Italian roots with authentic flavors, they have long been known to experiment with new recipes so as to keep pushing the boundaries of their pizza making.
Most of these recipes were first developed by Tony, such as the A La Gilroy (fresh garlic, jalapenos, olive oil, and a topping of your choice) and the Alba's Clam (clams, garlic, and herbs). Luckily, the experimental tradition continues with choices like Zaffiro's Chicken'N Bacon, Garlic Prawn, and Spicy Thai Chicken from the Scotts Valley location.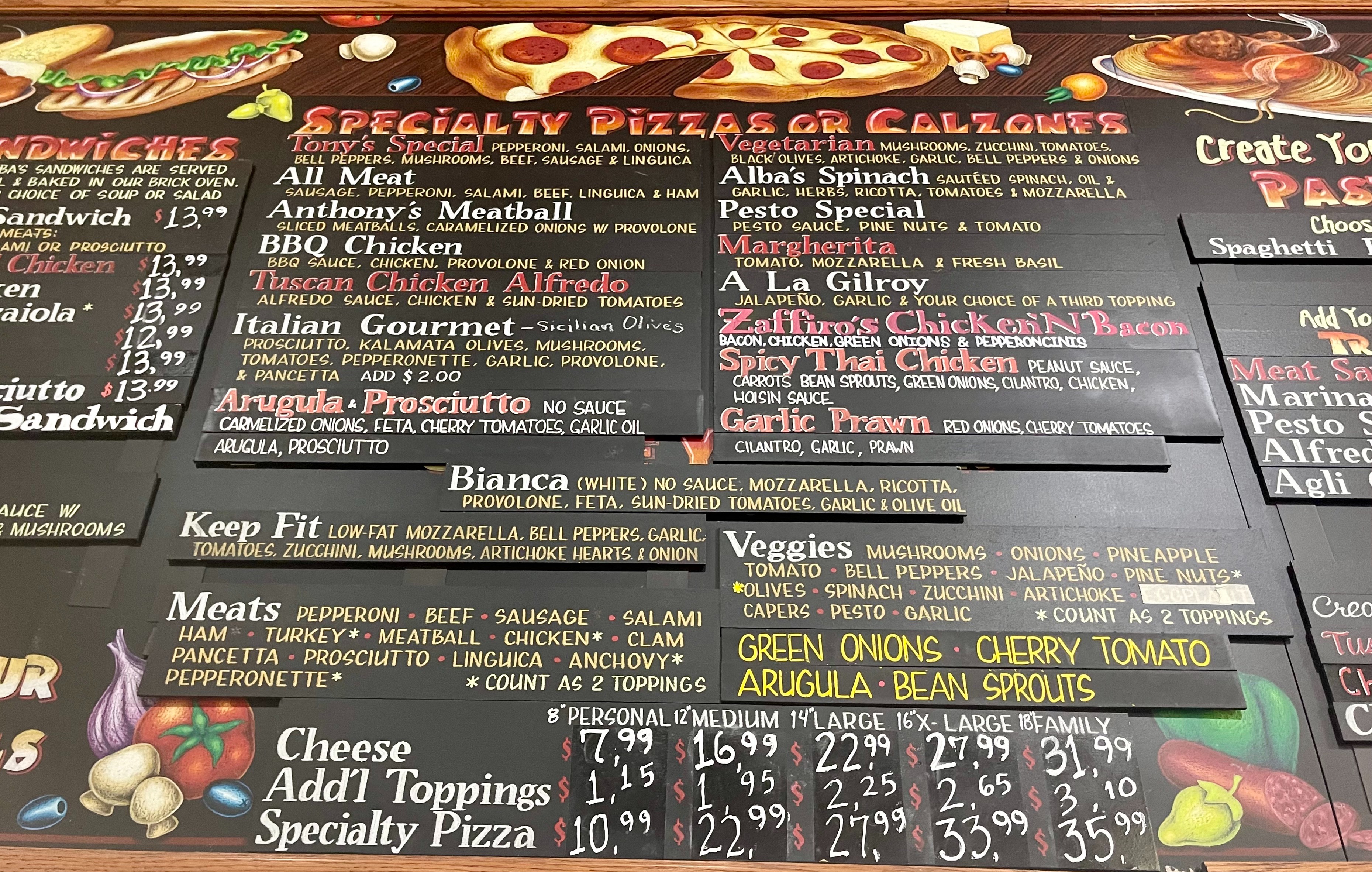 However, Tony and Alba's has more on their menu to be proud of than pizza! The rest of the menu has classic Italian fare, but Tony and Alba's is perhaps, other than their pizza, best known for their salads and their homemade dressings. Other popular menu choices include pastas, calzones, soups, sandwiches, and fresh garlic bread. 
Holding Strong Under the Strain of the COVID-19 Pandemic
As the COVID-19 pandemic overtook the world, the two remaining Tony and Alba's locations were able to make it through due to their work ethic and strong bond with the communities that their restaurants reside in. 
For instance, after COVID-19 became more prominent in the United States and initiated a lockdown, the owners at the San Jose branch decided to deliver free pizzas to senior citizens in the area. The response from this was so overwhelmingly positive, Tony and Alba's received enough donations to add salads to these deliveries and were featured in People Magazine.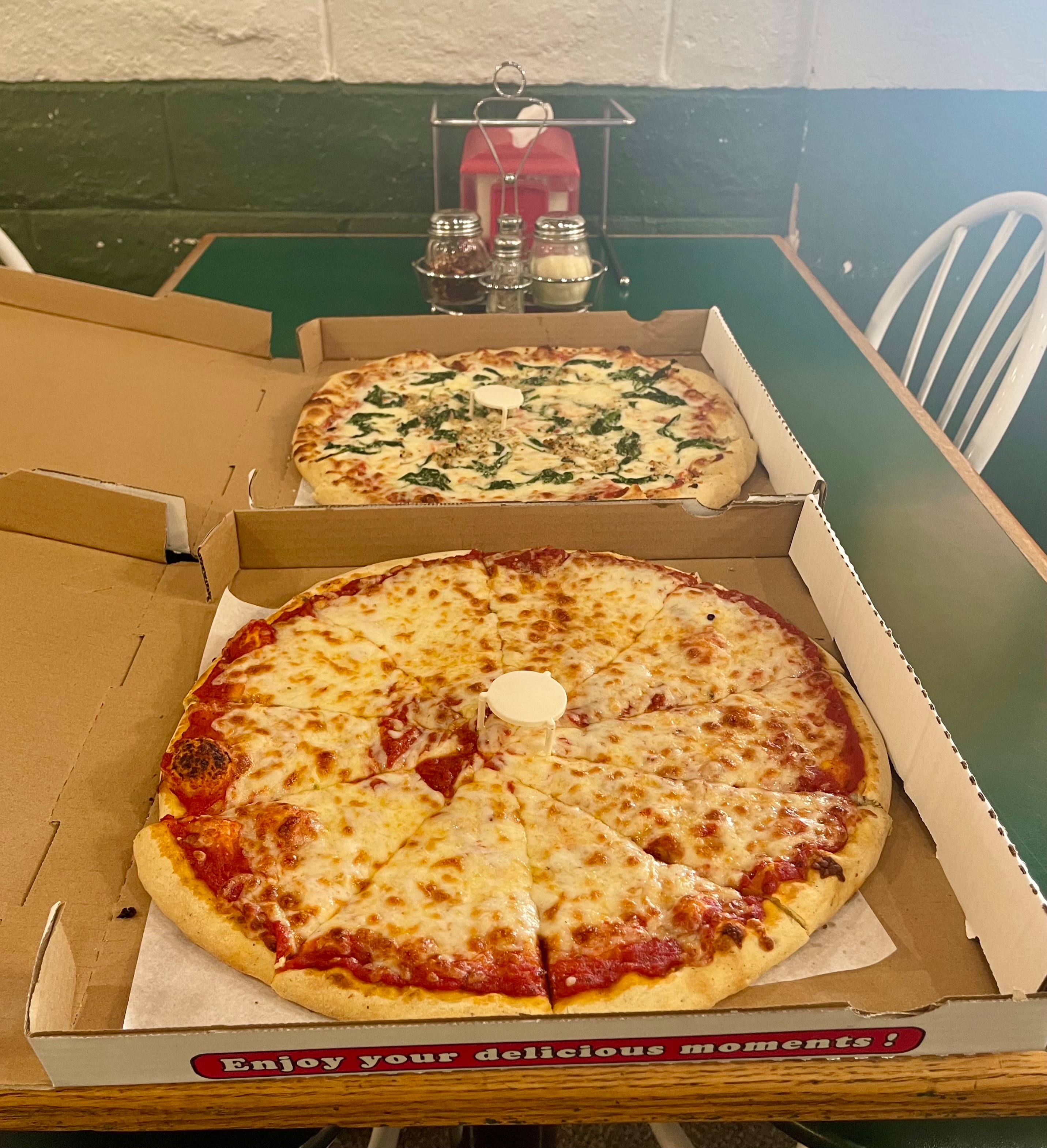 However, this gesture of goodwill has not been the only giveback that Tony and Alba's has made for their communities.
The Scotts Valley location has fundraiser nights where they give thirty percent of sales to different organizations within the community. These specialty nights have recently come back, after a brief hiatus during the worst of the COVID-19 lockdowns, with thirty percent of sales being given to local school programs. 
Another measure taken to make sure their customers wouldn't have to endure the COVID-19 pandemic without delicious pizza was to reinstate trust in their brand once the California lockdown restrictions eased a bit. The Scotts Valley location did this by having a promotion where employees were volunteers and everything on the limited menu (pizza, pasta, and salad) was fifty percent off. This was a success, and led to the reinstatement of the full menu. 
Pandemics, recessions, and other misfortunes can impact people in terrible ways. But, since Tony and Alba's has extremely loyal friends and customers, they can brace near any storm. 
Tony and Alba's Pizzeria Remains Community-Minded
As there are three generations of Salciccia descendants that work at the San Jose location, as well as an extended network of friends in Scotts Valley, so too are there customers from families that span generations, all enamored with the Tony and Alba's experience.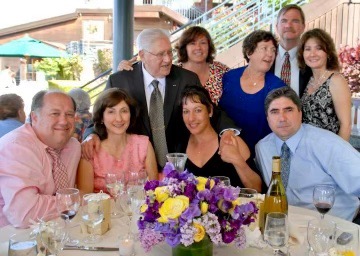 These regular customers could help most businesses survive anything -- natural disasters, recessions, and even a pandemic. The owners at Tony and Alba's know this, and strive to give back in any way they can. 
Tony Jr, the son of Tony and Alba Salciccia, says this commitment to community has existed throughout the entire existence of Tony and Alba's. 
He recalls that when the '89 Loma Prieta earthquake hit, much of the Bay Area was left in shambles and without power. Despite the lack of electricity, Tony and Alba's opened their doors and relied on gas-heating and candles to cook their pizza and light their store. They soon had a line out the door and had many grateful customers. Tony Jr recalls it as a favorite memory of his, because the community rallied together under the Tony and Alba's roof and felt like family. 
To Tony and Alba Salciccia, their customers were family and were the best part of their business. They liked to speak to customers as if they'd known them for their whole lives and if someone couldn't pay that day, Tony would tell them to pay him later when they had the money.
Honesty and respect was key to the early success of Tony and Alba's, and Tony would often give advice and mentor people who wanted to set up successful small businesses.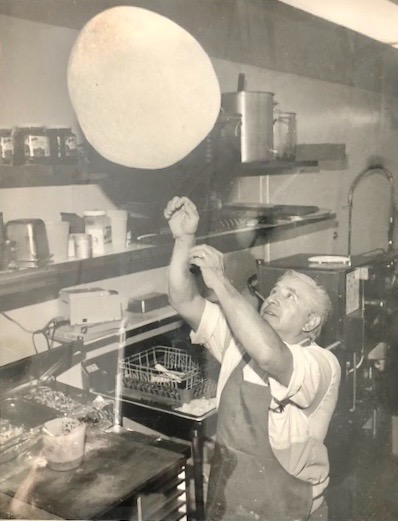 Tony Jr remembers his father as a trendsetter -- for flavors, for his place in the community, and for his business skills. According to him, Tony and Alba's was the first pizza place to offer any kind of online ordering in Silicon Valley. Tony Sr started this by way of a fax machine and when people doubted him about it, he promised that it would work. And it did, they started to get multiple fax orders a day, some for businesses that would become powerhouses in the media age. 
Tony and Alba Salciccia loved their communities, and the communities loved them in return. The Bay Area felt a collective great loss when in 2010, Tony passed away after complications from health issues. Hundreds of people came to his funeral wanting to pay their respects, so many that they couldn't fit inside the church. 
In his memory, the remaining Tony and Alba's locations continue to serve their communities in any way they can and treat their customers like family, with Alba keeping a steady eye over both them and the pizza.